Nitecore, a name synonymous with battery chargers and keeping vapers with full cells, has decided to change things up slightly and release its very own version of a 50 watt regulated vape mod with the Pro Box 50.  Now, before you scratch your head or burst out laughing, don't underestimate the power of a company that has years of experience in the market of handheld electronics.  Let's take a detailed look at the mod that's about to cause a stir in the vaping world.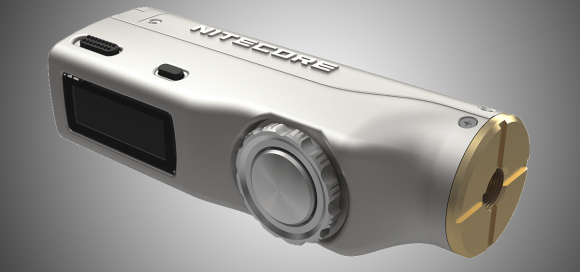 This company is widely acclaimed for attention to detail and putting out products that stand up to the test of time.  I have 3 Nitecore chargers sitting on the shelf behind me that get used daily, and the oldest one is 3 years old.  From the outset, the Nitecore Pro Box Q50 looks to be a solid, well designed piece of insanely small vaping equipment.  Light weight, not much heavier than a mechanical mod when you have the battery installed, this cast aluminum device measures in at 35mm by 24mm by 83mm, and is as solid as a rock.
The list of features may not be as long as we are used to, with a lack of temperature control settings, but for a 50 watt device Nitecore has put a lot of time and energy into this design.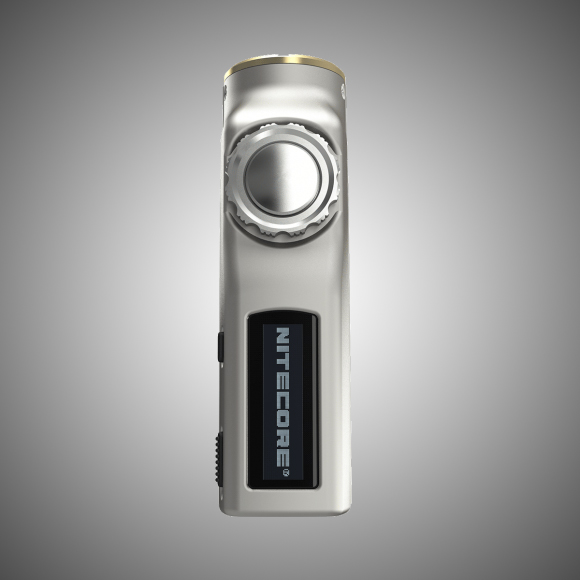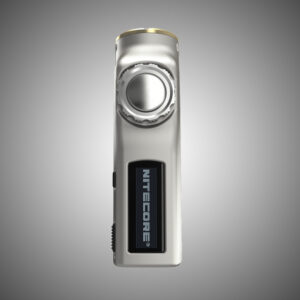 Starting at the top, the Pro Box Q50 offers a large brass 510 plate with a spring-loaded solid copper positive connection.  The spring is there to ensure solid conductivity with any tank, regardless of the length of the connector.  Next on the run down it has a large firing button sitting inside the wattage adjustment control dial.  Easy to operate and simple to use, changing the settings on the Pro Box Q50 is as simple as scrolling with your thumb.  With settings to fire coils between 0.1 and 2.5Ω, and a range of 7 to 50 watts, Nitecore's first vaping device is no slouch.

---
The crystal clear OLED screen will allow you to view your wattage in an instant and also take advantage of the mods hidden feature:  it has a memory function that will allow you to store up to 3 internal profiles.  Simply put, you will be able to change tanks/ RDA's on the fly, hit a switch and be ready to vape.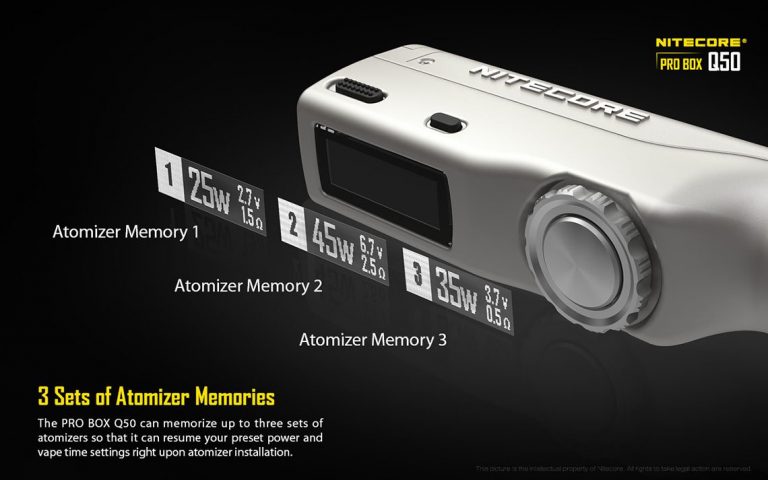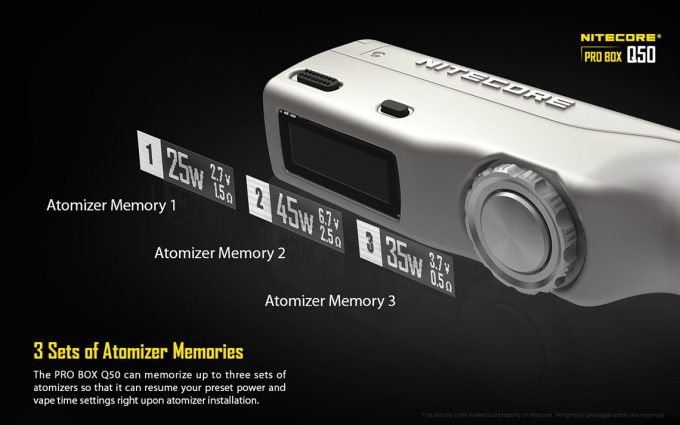 A simple yet effective built-in safety switch on the side of the device will ensure that vapers don't accidentally set this mod off in their pockets, although another cool feature of this device is a mountable clip that allows you to attach it directly to your belt or the outside of your pocket.
The cast aluminum body acts as a heat sink, dissipating danger away from the single 18650 bay that can be accessed from the base of the Pro Box Q50.  As you would expect from a mod that pays so much attention to detail, the double layered, interlocking fingers of the battery spring will take away any possibility of battery rattle.  While we are thinking about the base of the unit, a micro-USB port is embedded into the body to allow the Nitecore ProBox Q50 to charge its own battery on-board.
We couldn't be anymore pleased to see this new offering from Nitecore, and are interested to see how well Nitecore plays in the mod market.