High performance, epic flavor, and killer clouds brought to us by two of the biggest names in the vaping world.  The radical Recoil RDA by Grimm Green and OhmBoyOC is a collaboration that has many in the community (myself included) excited to see what a little bit of old school charm, mixed with some cutting edge innovation can mean for the future of the rebuildable dripping atomizer.  Over the next couple of minutes we'll take a quick look at the specs and design, just to decide if this beauty can really be a beast.  Kick back, relax, and lets pull this thing apart.
Ready For Some Recoil?
Beautifully balanced and designed to perfection, just one of the comments we have heard so far about this RDA.  Crisp, clean lines on the 24mm outer casing will immediately catch your attention before you even get near the 22mm build deck.  Constructed from 304 Stainless Steel, with a gold-plated brass 510 pin, everything on the Recoil RDA seems like it was made to stand the test of time.  PEEK insulation around the positive post makes for less chance of melting, and seeing as though this was developed for serious high volume vapers, otherwise known as those pesky cloud chasers, the ability to handle low resistance builds is a must.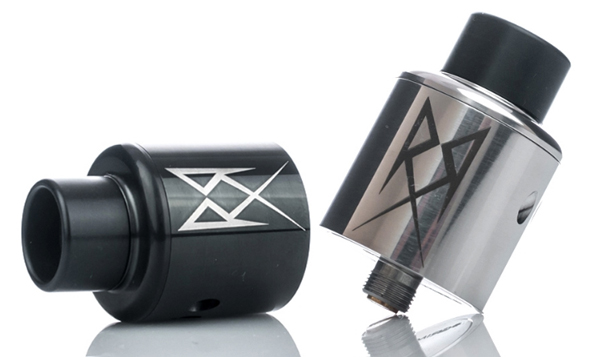 The split positive post may be something that others have moved away from, but it still holds a particular charm, especially as the center posts are lower than the negatives to make for easier building on the behemoth deck.  A 7mm deep juice well makes for ample room to hold a decent amount of e-liquid and the build's I can see being put on this little beast will drink it in 2 hits.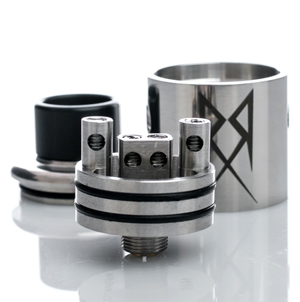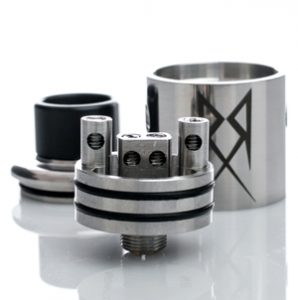 The kit comes with two top caps, removable top plates for easy refilling and those sleeves have an innovation that will beg you to build lower as the 4 slanted air holes are designed to shoot fresh air directly beneath the coils.  The "Clouds Bro cap" features two 3mm slanted slots on either side that will make even the warmest builds feel cool, and pump out clouds so thick that someone may call the Weather Channel to complain about the fog.  The "Flavor Bro cap" contains 4x 2.5mm airflow holes designed to rain in the mist and create killer flavor.  Those high, angled holes have a hidden agenda for the over-dripping masses, the way they are designed will help those of us that occasionally put too much in the well from ending up with a mod-full of e-liquid.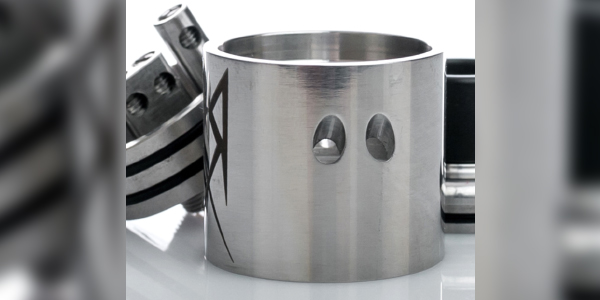 Everything about this RDA had been designed by vapers for vapers, from the proprietary drip-tip to the angled ceiling beneath the top cap, there is no mistaking that the Recoil was designed for the best experience possible.  Whether you're new to dripping or have been at it for a while, the Recoil looks as though it'll be a hard design to beat.
Grimm Green and OhmBoyOC have obviously put a lot of care and attention into building what they believe to be the perfect RDA, and this clean, tuned and aesthetically pleasing offering is sure to catch attention very quickly.
BUY IT HERE