If you're on the hunt for the perfect menthol-fruit flavor, then I've found just the perfect one from Beast Eliquids.  Actually, I didn't just find one, I found a total of three that make up this deliciously refreshing line-up of menthol flavors.  Let me tell you about it in this quick look or just watching the provided video.
While in attendance of The Vape Exhibit by ECC, I did my usual of trying new flavors in hopes that I'll find another all-day-vape to add to my list.  Fortunately, I seen a brand that immediately caught my eye, which was Beast Eliquids.  They had a nice booth, backdrops to match their bottles, and the overall theme was eye candy.  That being said, I tried all three flavors and immediately fell in love with the brand.  It was like they made these flavors especially for me — plenty of flavor, different strengths of menthol in each flavor, and the menthol didn't overpower the fruit at all.  I couldn't have asked for anything better!
Here's how it goes, there are 3 flavors that make up the Beast Eliquids brand.  There's TYGR SPIT, CBRA SPIT, and DRGN SPIT.  All are fruit flavors with menthol, however, each one has a different strength of menthol.  For example, TYGR SPIT has a nice hint of menthol, while DRGN SPIT has the most menthol of all three.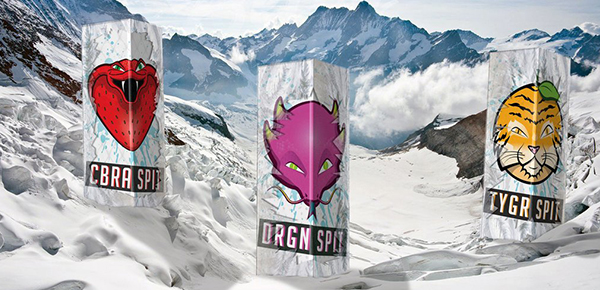 TYGR SPIT: "An exquite composite of juicy tangerine squeeze for an exhilarating citrus blend that takes you out of this world."
CBRA SPIT: "Stimulate your sense of taste with a refined rendition of freshly-picked strawberry."
DRGN SPIT: "A sensation blend with lively notes of dragon fruit in an aroma filled with fresh kiwi and refreshing hint of mint."
GET IT HERE: Beast Eliquids Combo
These eliquid bottles come in 60mL glass bottles and are available in 0MG, 3MG, and 6MG nicotine strengths.  What I like most about these flavors is that they're very noticable even with having menthol in them, and if you're a menthol vaper, you know it's hard to find a great menthol eliquid flavor that isn't overpowering the fruit flavor that comes along with it.  The flavors themselves are outstanding, and my wife and I are now on our 3rd set of these three flavors — yes, they're just that good.