Smok has delivered on some great mods in the past, but lately they're going beyond great with devices like the Smok R-Steam Mini.  We've seen some incredible mods being released here recently, like the H-Priv, G-Priv, Alien, and others that have made them the center point of the vape market.  The question is, what makes these devices so great?  I'm going to answer just that in this Smok R-Steam Mini Mod Review, which you can view in both a written and video format.
CHECK OUT THE R-STEAM MINI MOD HERE
APPEARANCE: Though I would love to fill this review with loads of content telling you how uniquely appealing the R-Steam Mini is, I simply cannot.  The R-Steam Mini doesn't look bad at all, but there isn't anything really noteworthy about its appearance, other than its OLED screen.  The truth is, this device is super simple and doesn't offer anything differently from what we're normally used to seeing from the rest of the brands that are on the market.
However, we do intend to still tell you what we're looking at here.  The top offers a 510 connection as normal, while the body fits perfectly with a 22mm diameter tank.  Speaking of the body, this particular R-Steam Mini Mod sports a black color coating, while the device itself has a zinc alloy construction.  On the front control face there's a 3 button configuration, an OLED screen resting between them, while at the bottom there's a micro-USB port.  On one side of the device it says the "Smok" name and logo, while the other side says "R-Steam Mini 80W TC."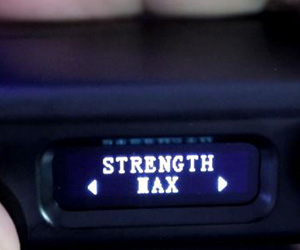 FEATURES: Its features on the other hand, offer plenty.  For starters, the 510 contact pin is square to prevent spinning, the OLED screen looks brilliant and a lot like a screen you would see from a DNA mod, and then you also have the ability to range from 1 watt and up to 80 watts.
Furthermore, the R-Steam Mini Mod has temperature control that supports Ni200, Titanium, and Stainless Steel wire, while letting you range from 200 degrees to 600 degrees.  But the feature I enjoy most out of this device is that it has these different strengths to change the output of the performance.  For example, you can stay at the same wattage, but increase or decrease the output of each hit.  This is a great feature to have with temperature control, since you can't adjust the wattage when in TC mode.  The R-Steam Mini requires a single 18650 battery, which would be held into the battery compartment securely by a magnetic battery door.  The last noteworthy feature that this device has is the ability to be upgraded in the future, meaning it's firmware upgradeable.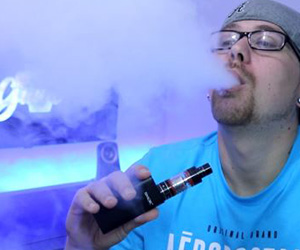 PERFORMANCE: When judging the performance of the R-Steam Mini by Smok, there really isn't anything to complain about.  It performs just as it should, and with the ability to range from 1 watt to 80 watts, you can't ask for much more, but we know all vapers do.

With that said, you'll be pleased with the optional strengths this mod offers, which will drastically change the performance of this mod in your favor.  No matter which atomizer you place on top of the R-Steam Mini, expect a consistent hit and great results.
Conclusion
Appearance

Features

Performance
Summary
The Smok R-Steam Mini Mod isn't anything spectacular in the world of mods, and I think that is quite obvious from its lacking eye candy when it comes to its appearance. However, it will surprise you when it comes to its features, along with its performance. It offers a compact size that's very mobile friendly, and for that, don't expect a higher wattage than the 80 watts that it offers. But, it does offer temperature control and an awesome optional strength feature that truly makes this device what it is. When you combine all of this with the easy of use and a nice performance, you get a mod that is definitely worth recommending.