Though the Smok TFV4 Mini may have taken the backseat due to new additions to the sub-ohm tank series by Smok, the TFV4 Mini remains to be one of the best performing tanks on the market.  The good news is that it's only become more affordable over time and the performance hasn't changed one bit, of course.  Even though older, I'm reviewing this product because I somehow missed it in the past and because Vapor4Life sent me one insisting on a review.  That said, I hope you enjoy this Smok TFV4 Mini Sub-Ohm Tank Review, which is available in both written and video format.
GET THE TFV4 MINI FROM VAPOR4LIFE HERE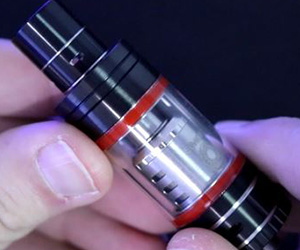 Appearance: The Smok TFV4 Mini offers a nice appearance with its stainless steel construction that's been coated in a black color.  The top sports a unique dual barrel drip tip that has quad adjustable airflow, giving the drip tip a look of its own.  The top base offers nothing visually, other than lines that appear from the top fill hinge lock.  Just below that is pyrex glass for the tank part, while the bottom base offers a similar appearance to the drip tip — due to the quad adjustable airflow.
While the looks of this tank aren't to die for, it certainly offers the more high-end appearance when it comes to sub-ohm tanks.  It all depends on what look you're wanting exactly when debating if this is the right sub-ohm tank for you.  If you're going for a stealth look, you probably won't find the appearance too appealing, but if you're going for a look that lets people know you paid the price for a sub-ohm beast, then you may have just met your match.  For me personally, I enjoy a more stealthy look, because I prefer my mod to get all the attention.  Either way, there isn't anything to complain about in the appearance department.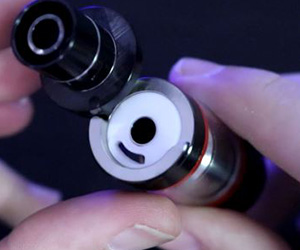 Features: Its looks may not be exactly your style, or it may be, but there's no denying that you favor its many features.  The TFV4 Mini is known for its many features and coil options, and to start we must mention once again its dual layered drip tip that offers quad adjustable airflow control.  Moving down, its top fill system with the hinge lock design is simply amazing, making filling the tank a breeze.  I like the fact that you don't have to unscrew anything, you simply just slide it over, fill er' up, and back to vaping.
Next there is the tank part that is encased by pyrex glass.  This tank has a hefty 3.5mL e-liquid capacity, even though it's been dubbed the "miniature" version of the TFV4.  The TFV4 Mini would have even more of a tank capacity if it wasn't for the large coils it uses, which are nearly the largest pre-made coil housings on the market.  And, the reason why they're so large is because of the actual coils that's in them, such as the TF-CLP2 pre-installed coil that is a dual clapton, or the spare coil that comes included in the kit, the TF-S6, which is a sextuple coil.  Towards the bottom base you can take full advantage of quad adjustable airflow, which becomes very useful since these coils can handle up to 100 watts of vaping power.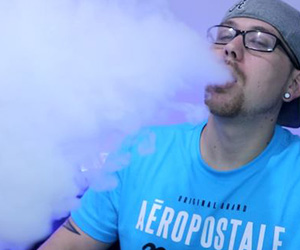 Performance: As for the performance of the TFV4 Mini by Smok, you really can't ask for much better than it offers.  The coils in this thing are flawless, they put out great flavor, and of course the vapor production is massive with each use.  I used to stress to people how important a high viscosity liquid was to getting the best vapor production, but when it comes to the TFV4 Mini, it really just doesn't matter — big clouds are to be expected.
Not only do I love the coils available for this tank, but that quad adjustable airflow control shouldn't be overlooked.  It's nice to truly dial-in exactly on what type of vape you want, and you can do it in both the drip and on the bottom base.  I found that I like the drip tip either closed half way or all the way, while the bottom base airflow is wide open.  I do that because I don't want it to be too airy since I'm not at its highest wattage it can go, but I do want to maintain the best flavor possible.  How you use this tank is up to you, but we can both agree that it performs great in which ever way.
Conclusion
Appearance

Features

Performance
Summary
The Smok TFV4 Mini is an incredible sub-ohm tank. Even though it's a bit older of a model, it still performs just as it did when it was surrounded by all the hype. The good thing here is that it's more affordable than before and its many coil options are still available. The performance this tank offers is what's made it so successful, and again, even though it's older doesn't mean it should be overlooked.