The Food and Drug Administration sent out an email to manufacturers on December 9th, 2016 with a new compliance deadline, extending the December 31st, 2016 Company Registration and Product Listing deadline to June 30th, 2017 for United States manufacturers of Pre-8/8 Products.
The updated information can be found in the guidance document or you can go here to see the email that was sent out.  There are some manufacturers in disbelief of this new and shocking news, so we're pleased to announce that the FDA deadline extension has been confirmed as legitimate — confirmed by multiple manufacturers in the "Vape Industry Help Group – FDA Tobacco Registration" Private Facebook Group, as well as SFATA.
NOTE: In an effort to point attention to this Vape Industry Help Group, it's a group set up for vendors/manufacturers to help one another through the FDA Registration process.  If you are a vendor/manufacturer and you're currently in need of help with this registration process and/or would like to help aid others, please visit the Vape Industry Help Group – FDA Tobacco Registration Facebook Group Here and simply click the "Ask To Join" button.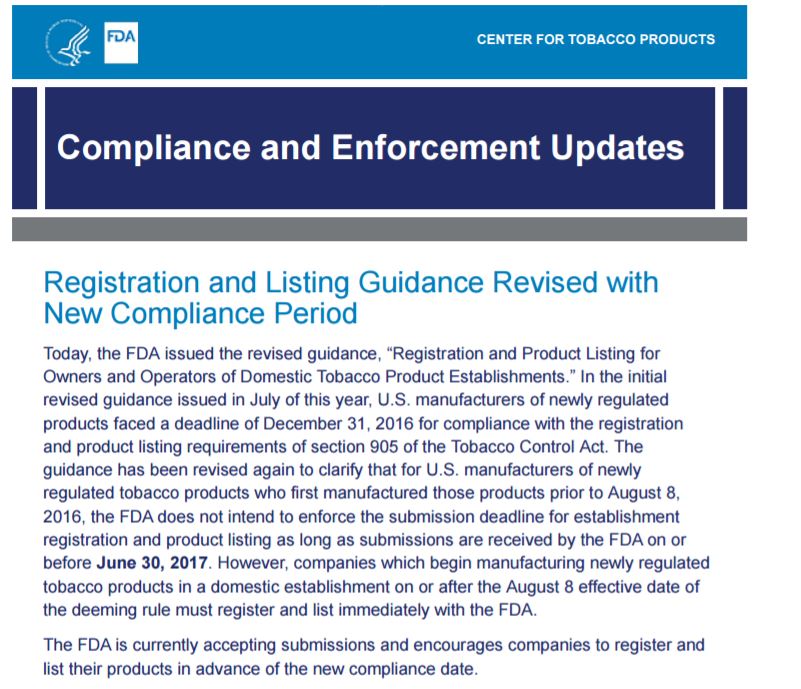 Although this is great news for manufacturers within the vaping industry, many are left wondering what sparked this 6 month extension that manufacturers were still in a roller-coaster trying to abide by.  We want to believe it's just the good 'ol FDA trying to help out and do as much as they can in an already terrible situation, but unfortunately that isn't the case.  Some believe that they've extended the deadline due to the FDA Director being instructed to stop enforcement, as the next Congress will only repeal the rules.  In fact, the chairman of the Senate Homeland Security and Governmental Affairs Committee, Sen. Ron Johnson, has been on the fight for vapers, even pledging to Wisconsin vapers that he would fight for them.  Sen. Johnson sent letters to three federal agencies asking them to stop enforcing the regulations, because he said that the incoming Trump administration will likely reverse them.  Others believe that the FDA has extended the deadline due to the lack of preparation, underestimating the sheer amount of vape manufacturers that are in it for the long-haul and not just the quick buck.

This is all great news for manufacturers, as it gives them a bit more breathing room and allows them to spend more time with their family these holidays, and not working around the clock to save their business from the staggering teeth of the Food and Drug Administration.  However, manufacturers shouldn't rest too easy just yet, because the Registration and Product Listing site will be shutdown for the weekend; system maintenance began at 09:00 PM EDT on December 9th, 2016 and will go on until 11:59 PM EDT on December 11th, 2016.  This notice only adds to what some are thinking, in which the FDA has highly underestimated the large scope of the industry as plumes of submissions are filling their web-space.
"Someone needs to regulate the FDA's web team."
In addition, there are several manufacturers within the
Vape Industry Help Group – FDA Tobacco Registration
Facebook Group that are becoming frustrated with the functionality of the website and the submission process that the FDA has provided in the FDA Unified Registration and Listing System
(FURLS)
website.  When asked about these frustrations, Troop from
The Plume Room
 stated
"After going through the process of registering products on the FDA website, I feel someone needs to regulate the FDA's web team. It's that bad. Not very user friendly at all."
Creator of the Vape Industry Help Group and owner of JHT Vape, Skip Murray shared with us "I am so intimidated by the process, I have registered and not gone any further. The site is too complicated and I lack horribly in the skills to do this. I have no idea how to get images of our labels with out spending a ton of money and printing each one and then photographing it. I want to be in compliance, but it feels like the FDA set us up to fail. Bit by bit this patriotic old broad is losing her pride in being an American. I am disgusted that public health had nothing to do with health and everything to do with financial statements."
The manufacturers within the vaping industry still have a hard road ahead of them, and though this extension is great news for the moment, there is no telling what could change in the months leading up to the new deadline.  Until then, keep fighting the good fight, and hopefully we'll prevail.