In the world of vaping, there's no rebuildable atomizer that has made an impact quite like the Goon RDA by 528 Custom Vapes.  To give you guys a little history on the Goon RDA, the design was a collaboration between 528 Custom Vapes and blueeyedgoon83 on Instagram — a vaper known for inventing the alien clapton coil, the arched clapton coil, the tsuka coil, as well as a few others.  The Goon became one of the most popular rebuildable dripping atomizers that this market has ever seen, and the hype surrounding this remarkable atomizer doesn't seem to be letting up.  This is GuideToVaping's review of the Goon RDA by 528 Custom Vapes.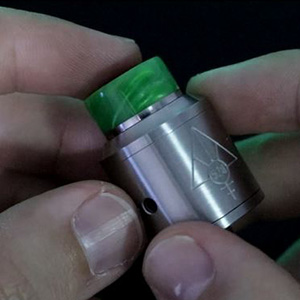 Appearance: The Goon RDA looks solid in appearance, which mainly stems from its stainless steel construction and simple design.  The top of the Goon features a delrin wide bore drip tip, but I haven't experienced it much since I immediately wanted to give my Goon a better-than-stock look with a Relentless Mods drip tip.  Aside from the drip tip, the top says 528 Custom Vapes, then a slight bevel makes its way to the body of the rebuildable atomizer.  The body features 3 holes on each side, which is for the adjustable airflow control, while on the front of the Goon there is a 528 Custom Vapes logo.  The bottom of the RDA says 528 Custom Goon, there's a serial number, and a 510 connection.
What sets this RDA apart from the rest on the market isn't its looks, because truthfully there is nothing eye-popping that differentiates it from others that exist.  When you buy a Goon dripper, you must understand that you're buying an atomizer that is simple in appearance, but delivers that "wow" factor when it comes to its internal design and its performance.  However, you must know that you can change of the look of this RDA, as there are many optional parts available for it from 528 Custom Vapes and other brands.
Features: The features is where this RDA shines, although there really isn't anything at all to complain about in the appearance department.  The beauty of the Goon is that it offers a large build deck, a deep juice well, and the gold-plated steel clamps that rest on gold-plated bridge posts.  This means there's two posts, and clamps on each post, which is held down my two screws each.  A lot of vapers now days have moved onto more complex coils that have a flat design, such as the Alien Clapton coil and the Staple Staggered Fuzed Clapton coil.  And, with clamps instead of holes, it's easier to install these coils for them to be positioned correctly.  I must say though, when you're using a coil with wide legs, such as the Staple Staggered Fuzed Clapton, it's a difficult install for two coils.  Something like the Alien coil will be much easier of an install since the legs aren't wide and offer more room.
Aside from all that, the bottom 510 pin is constructed of copper, this RDA has Pek insulators, and there's a screw at the bottom that makes replacing the positive and negative bridges very easy.  The stock drip tip is a half of an inch in size, and the RDA is 24mm in diameter.  The last thing I want to mention is the adjustable airflow control — there are 3 holes on each side of the Goon, allowing you to adjust them to a wide open position or closed off completed, and you even have the option of only having one side of the airflow open for a single coil configuration.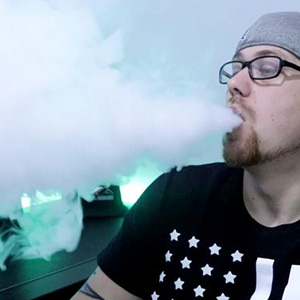 Performance: How does it perform?  It's great, I have no complaints at all.  The airflow options with this RDA is perfect, it feels smooth with each hit, and the flavor is outstanding.
Chances are you're going to throw a monster coil or coils on this bad boy, so you already know the vapor production will be just right.  I mean, it's an RDA, and we all know that we can adjust the airflow to find our balance between flavor and vapor.  Using a single coil in this RDA with only one side of the airflow opened up for that one coil felt a bit restricted, so I definitely prefer more airflow than that one side offers.  I opened up 2 holes on each side and that gave me great airflow, plenty of vapor production, and I didn't really notice any change as far as the flavor.
Conclusion
Appearance

Features

Performance
Summary
The Goon RDA by 528 Custom Vapes is incredible to say the least. Though it doesn't offer anything crazy as far as its appearance goes, nor does it offer a feature that we haven't already experienced, other than the clap style posts, it just feels right using this RDA. Ever since I received the Goon RDA, I have not stopped using it since -- I've used it every day for months, and before this I was more prone to using a sub-ohm tank for my daily. The airflow just feels perfect and the coils you install inside this thing makes the experience even better. I'm going to snatch this Staple Staggered Fuzed Clapton coil out of the Goon and go back to the Alien Clapton coils though. I also plan to upgrade to colored bridge posts, colored clamps, and different screws that are colored. As you can tell, I like the Goon a lot, and I'm sure you will as well.