The all new AMP3 Charger by Vapor Shark offers a compact size, a quality feel, and it charges batteries really, really fast! Check it out in this accessory review that's in both written and video format as always!  The first thing I want you to know about this charger is that you get 2A charging across all three channels/bays, plus its got a compact size, and it also acts as a power bank featuring Qualcomm quick charge 2.0 technology.  Continue reading and I'll tell you more about the Vapor Shark AMP3 Charger.
GET THE AMP3 CHARGER AT VAPOR SHARK HERE
Appearance
The AMP3 charger offers a compact design, yet boasts 3 battery bays.  The top features an LCD screen, just below that says the Vapor Shark brand name, and below that is the three channels to insert batteries.  The top of the charger has a function button and 2 USB ports for the input and output.  When purchasing the AMP3 charger, you have a black or white color option to choose from.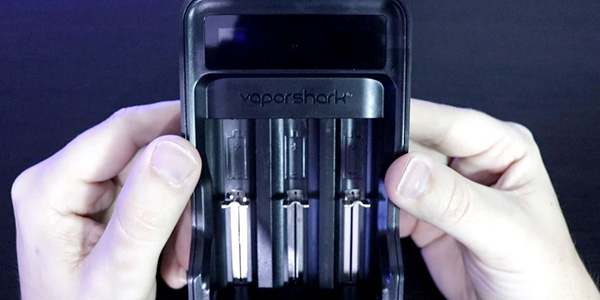 Features
The Vapor Shark AMP³ is a universal smart charger that incorporates authentic Qualcomm® Quick Charge 2.0 technology to enable 2.0A charging on all three channels simultaneously. With intelligent current delivery, voltage limiting and temperature protection, the AMP³ is designed to offer maximum compatibility and ensure healthy life cycles for all of your batteries, regardless of the brand or capacity. The AMP³ monitors and charges each channel independently, letting you mix and match batteries of different sizes, charge states and capacities without fear of overcharging or short circuiting. Additional protection features include reverse polarity detection, constant current/voltage delivery, trickle-charging and auto-off functionality. The AMP³ also functions as a 5V/2.0A power bank, letting you recruit your backup batteries to perform high-speed USB charging duties whenever and wherever you need it. Once all of your backup batteries are charged and ready to rock, you can use the included wall adapter and Micro USB cable to juice up your Vapor Shark mod or any Quick Charge 2.0 enabled device.
What I've enjoyed most about the Vapor Shark AMP3 Charger is that you have 2 amp across all three channels, meaning you can have 3 batteries charging at once, and very fast.  Most chargers offer 2 amp charging only on 2 channels, and that is one of the main key features of this AMP3 charger.  You notice the difference from the first charge, because it charges your 18650 batteries (and other battery sizes) at rapid speeds.  Some people prefer charging their batteries slower, so having the function button to let you cycle through the amperage options is nice to have.  I seriously doubt I ever use the power-bank option, but it's nice to know it's there for when I ever do.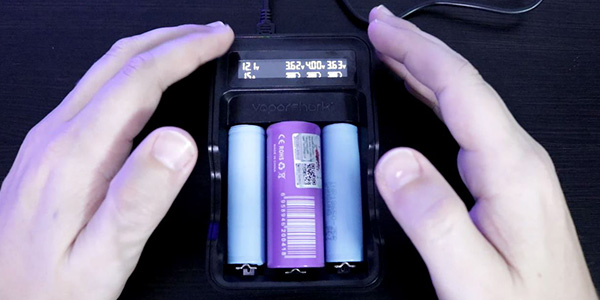 Performance
As mentioned, the performance you receive from using this AMP3 Charger is amazing.  It charges batteries super fast, so much so that with my first charge I went to check the charging status of the batteries and they were already finished.  I honestly couldn't believe they charged that quick.  Another thing I've noticed is that is shows me the true voltage of my batteries when they're completely charged.  On my earlier charger that I've used, it was showing that it charged up to a higher voltage.  It's nice to see on the LCD screen when my batteries are actually losing their charge, which will let me know when I need to replace them with new ones to get the best experience I can from my vaporizer.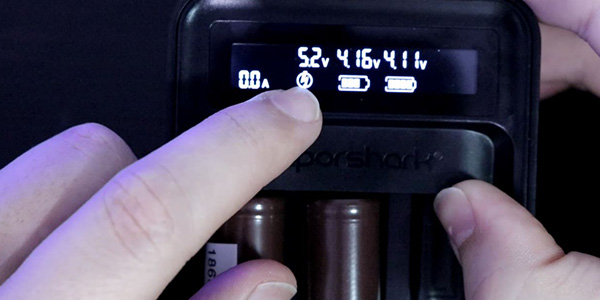 Vapor Shark AMP3 Charger Review
Appearance

Features

Performance
Summary
The AMP3 Charger by Vapor Shark is one that I've grown to enjoy instantly. This charger is fast, and if any of you pick it up, be sure to comment on this review to let others know that I'm not just hyping up the product. I'm still amazed at how quickly it charges my batteries. I slide a couple 18650 batteries in the slots and before I know it, they're ready to go. This charger performs just as Vapor Shark said it would, and I honestly didn't expect anything less from a brand that I know only puts out the best products. I like my AMP3 Charger, and I highly recommend you picking one up if you're shopping for a new and better performing charger for your vape batteries.