Since August 8, 2016 vapers, vape shops, and the many advocates representing them were under the impression that vape shops were no longer allowed to change coils, refill tanks with e-liquid or even assemble the starter kits that customers purchase.  However, the FDA has just issued a new guidance on the rule, clearing up the misinterpreted rule specifically for vape shops.
One may wonder how could vapers, advocacy groups, and the shops themselves misinterpret such important data — well, it all stems from the FDA's on-going mumbo jumbo that it uses in all of its explanations, speeches, and documents.  There's been many that have tried to get clarification on the new rules, but unfortunately not everyone can understand the agency's coded text, except them (which is what they've aimed for).  This new guidance on the rule finally documents rules in plain English, which is much easier to understand.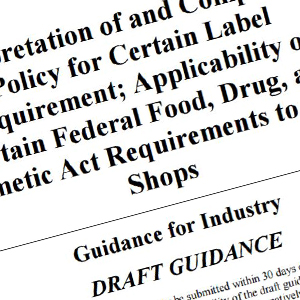 The Guidance for Industry "Interpretation of and Compliance Policy for Certain Label Requirement; Applicability of Certain Federal Food, Drug, and Cosmetic Act Requirements to Vape Shops" shares that vape shops are allowed to change coils, assemble customers starter kits, and even refill e-liquid tanks on site and in the vape shop.  They will be allowed to do this for customers without having to register as a tobacco products manufacturer.  Great news, indeed.

What exact activities can vape shops do for their customers without being considered as a manufacturer?  Take a look below at some of the information provided in the new guidance:
Vape shops are allowed to show and explain the use of an ENDS product without assembling the product.
Vape shops are allowed to maintain a product for the customer, such as cleaning, inspecting and replacing coil heads, glass tubes, and seals, as well as general maintenance.
Vape shops are allowed to replace coils in an ENDS product for customers, but the coils must be identical coils — same ohm and wattage range.
Vape shops are allowed to assemble products that were packaged together in an ENDS kit.
Although the FDA has shared that replacing coils for customers in vape shops are allowed, they also share that anything other than the stock coils included in the package (or for that particular product) is prohibited, meaning vape shops are not allowed to build coils for customers.  Included as well, vape shops are prohibited from filling any closed-system devices.
This is great news for vape shops, as the previous interpretation of the rule greatly limited vape shop employees from providing customers with basic customer service duties.  Not only did this limit the customers knowledge of the product, the potential information gained from vape shop employees, but it also jeopardized the safety of the customer due to inexperience.  This new draft guidance changes all of that.