Kick your vaping experience into high gear with the new Sigelei Kaos Spectrum Mod, as it offers the latest technology, high performance, and remarkable appeal that you could only dream of.  This new addition to the Sigelei family is equipped with a unique LED strip surrounding the face of the device, allowing you to customize the device with 6 interchangeable colors.  You'll have the capability of having the strip light up on each draw or have it to where it will stay lit all the time.  It's an outstanding new device by Sigelei that you'll definitely want to continue reading about.  We hope you enjoy this Sigelei Kaos Spectrum Mod Preview!
GET THE KAOS SPECTRUM MOD HERE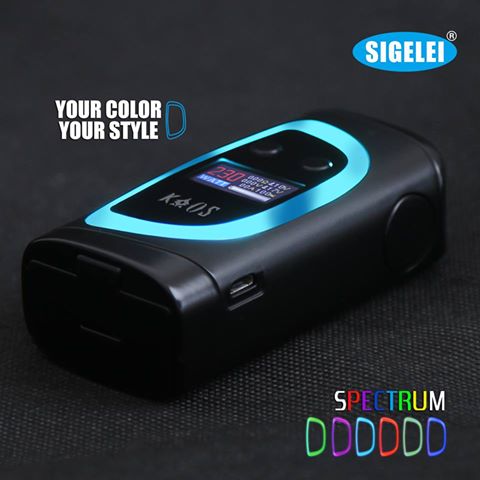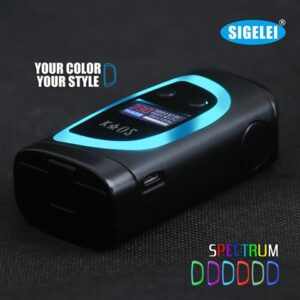 The all new Sigelei Kaos Spectrum is a fascinating new mod that's focused on appeal just as much as it has with its performance.  It stands 88mm by 45mm by 30mm, giving it a balance between size and allowing just enough room to hold two 18650 batteries.  As you would expect, the Kaos Spectrum is equipped with a 510 threaded connection and uses a 0.96 inch TFT color display screen.  Though this device is compact and lightweight, it's still constructed of a zinc alloy material to give it a solid durability for lasting use.  Along with an incredible looking colored screen and a three tactile button configuration, the Sigelei Kaos Spectrum gets its "spectrum" name due to the LED strip positioned on the front control face of the device.  As mentioned, it allows for 6 interchangeable colors that lets you customize the device to really stand out from the crowd.

As for power, the Sigelei Kaos has the capability of ranging between 10 watts and 230 watts, so power wouldn't be an issue.  And, the latest technology is available as well due to its full temperature control suite that supports Ni200, Titanium, (304, 316, 317) Stainless Steel, a TCR mode, and a TFR mode.  While using the TC you can fire down to 0.1Ω and range from 212 to 572 degrees.  Lastly, the new Kaos Spectrum by Sigelei is equipped with fast and balanced charging support.
Question: Could the Kaos Spectrum Mod be the Alien Mod killer?