2. Innokin iTaste Smartbox Starter Kit
Presented in a fashionably unique structure, the iTaste Smartbox Starter Kit by Innokin delivers in every way, maintaining simplicity, enhancing performance, and this is all done with the essence of high appeal and superior quality. The starter kit consists of the Innokin Smartbox Mod and the Innokin iSub-V Tank, both matching in appearance, as well as performance.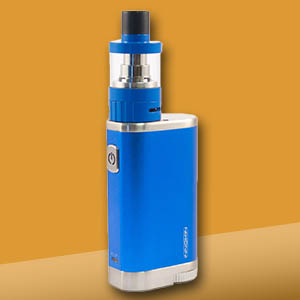 The iTaste Smartbox Starter Kit looks phenomenal, as it's offered in several color options. It has a single button configuration, just one fire button to operate the device. The top sports a 510 connection, the fire button being placed just beneath and on the side of the device, ventilation for the battery compartment on the opposite side, and the bottom has a battery cap to hide the battery compartment. The iTaste Smartbox Mod stands just 2 3/4″ tall, 1 5/8″ in width, and only 7/8″ in depth. It requires a single high amp 18650 battery for its power, and requires an external battery charger for the battery sold separately to be charged. What you must understand about the iTaste Smartbox is that it's designed to be in its most simplest form, while also being equipped with the most advanced internals. It uses the Innokin AETHON chipset that allows for automatic intelligent wattage control, which is capable of reaching up to 45 watts, a minimum resistance of 0.4Ω, reverse polarity protection, low voltage warning, short circuit atomizer protection, and a three color battery indicator light. We believe that the Innokin iTaste Smartbox Starter Kit is one of the best starter kits for new vapers because it's one of the most advanced mods internally, while being one of the most simplest and easy to use mods externally.

Being a starter kit, the Smartbox Mod is combined with the Innokin iSub-V Sub-Ohm Tank. It features a durable stainless steel construction, it offers a reasonable 2mL e-liquid capacity, it has fully adjustable airflow control, a no spill coil swap system, and it takes advantage of iSub Series coils, giving users the ability to use a 0.5Ω Kanthal coil head that's pre-installed, a spare 0.5Ω Kanthal coil head, and a 1.2Ω Kanthal coil head for superior performance and vaping satisfaction.
---
Pros:
 The Innokin Smartbox Starter Kit features great appeal, a healthy performance, and has been designed for ease of use and simplicity to make vaping as comfortable as possible for
new vapers
.  
Cons:
 While the Smartbox is modernized with a fantastic chipset, plenty of features, and the ability to use an 18650 battery, it could detour some 
new vapers
due to the fact that it doesn't have a micro-USB port and requires users to charge the battery on an external charger.