5. Wismec / MyVapors MyJet Starter Kit
One of the most known brands in the vaping industry, Wismec, has collaborated with MyVapors to deliver a highly unusual vaporizer that delivers a slim, very portable, and easy to use system that has been created specifically for those new or on-the-go vapers. Unlike everything else on this list of the best starter kits for vapers, the MyJet Starter Kit is a Vapor Pod System that features a pod style tank and an all-in-one design. This type of system has recently become very popular among new vapers and even the most advanced vapers that are on-the-go.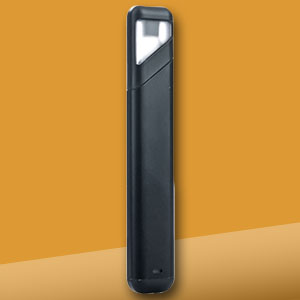 The MyJet Starter Kit by Wismec and MyVapors is an intelligent vapor pod system that's perfect for those who enjoy slim and portable devices. It features an all-in-one design, uses fillable pods with a 1.2mL e-liquid capacity, and has a voltage based output. There is a built-in 350mAh rechargeable battery that is equipped, as well as an LED light indicator to display its voltage output from 3.0V to 4.2V. Furthermore, the MyJet Starter Kit uses gold-plated connections, a proprietary connection, as well as a proprietary charging system. Its performance is widely accepted for its size, offering a 1.3Ω horizontal coil with 28 gauge Kanthal and using cotton wicking for a consistent performance. And lastly, there are a slew of safety features built into the device, such as atomizer protection short circuit protection, low voltage protection, and resistance detection. Included with the MyJey vapor pod system are two empty pod cartridges and a personal carrying charger. What makes this a solid contender as one of the best starter kits for new vapers is its ease of use, performance, portability, and its low-cost of just $28.95!

---
Pros:
 The MyJet Starter Kit by Wismec and MyVapors offers a unique pod system design, great performance for its class, it's very portable, and
new vapers
can stay discreet while using it.  
Cons:
 The
vapor pod
system may be an interesting design that has attract many within the little time they've been on the market, but its battery life may not be quite enough for most vapers, even if the vaper is new to the scene.