About The Wismec Predator 228 Mod
The Predator 228 mod is designed by Sinuous Designs in the USA and manufactured by Wismec. It's constructed from premium Zinc Alloy, making it very durable along with featuring greatly quality for its price.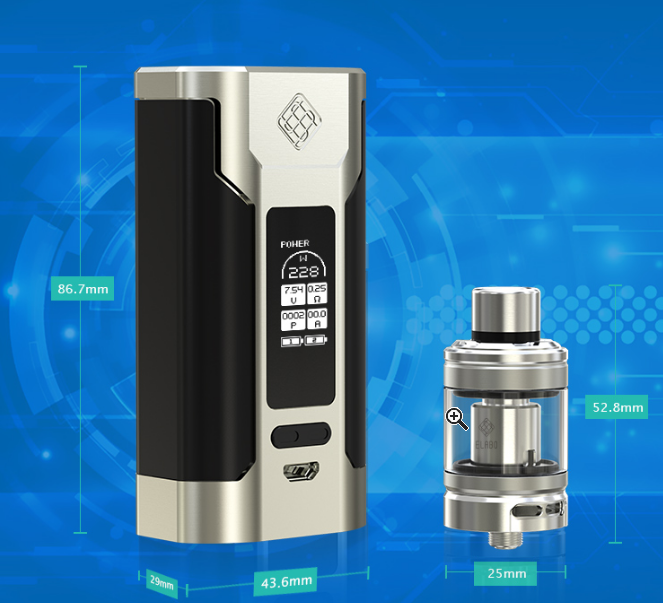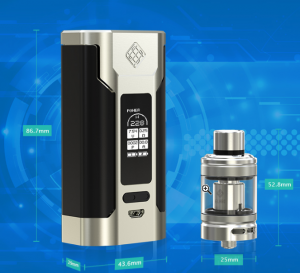 It's sleek, its futuristic design is simplistic and functional — every aspect carefully crafted for an epic box mod with a tiny footprint. Measuring 43.6mm by 29mm by 86.7mm, and weighing only 166.2 grams, the Predator feels comfortable in the hand. The brushed metal effect on the outside works perfectly with the available color options, each incorporating the large firing button and its mirror perfect for a symmetrical feel. The large OLED screen, adjustment buttons and charge/update ports are all framed perfectly within the design.
The dual 18650 battery compartment is completely hidden away, accessible via a hinged, locking base. Large vent holes are present in the base in the event of a catastrophic failure, but with the amount of on-board protection circuits, it's highly unlikely that will ever happen. Temperature control settings range from 100 – 315° F ( 200 – 600°C) and are available for Nickel (Ni) wire, Titanium (Ti), and Stainless Steel (SS). Wattage ranges from 1-228 watts on coils between 0.1Ω and 3.5Ω, making this a versatile and effective device for anyone whether they are just starting out or have been vaping for years. The screen set-up is easy to read and simple to navigate, there are no crazy button sequences to access menu options, and overall the Wismec Predator 228 is an easy device to use.

NOTE: The Predator can be purchased as a standalone device or as part of a kit, which includes the proprietary Wismec Elabo tank. By visiting the next page you'll see we go more into detail about the two options.