Kanger's back at it again trying to reclaim leadership in the market with the new Kanger FIVE6 Box Mod Kit, which features great looks and huge battery life. Kanger is one of the most known brands on the market, but it's been pushed back as brands like SMOK, Wismec and Sigelei take the spotlight. Could the Kanger FIVE6 be the the game changer we've all been waiting for from this iconic brand?

GET THE KANGER FIVE6 BOX MOD KIT HERE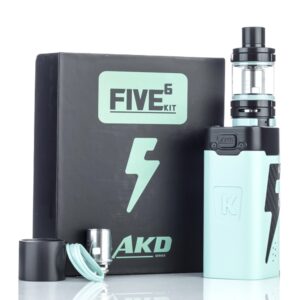 The Kanger FIVE6 Box Mod Kit combines the FIVE6 Box Mod and the FIVE6 Sub-Ohm Tank. The FIVE6 Box Mod has a zinc alloy and plastic chassis with an aluminum alloy casing, an automotive grade finish, and carbon fiber "5" logo accents. What's so fascinating about this mod isn't the looks, although it looks great. It's actually its ability to hold five 18650 batteries at once for massive battery life. However, it isn't just battery life you have to be excited about, the Kanger FIVE6 Box Mod also delivers up to 222 watts of vaping power, it has a power bank mode, a side-mounted mode select button, a side-mounted USB port, an OLED display, and stainless steel 510 threading with a spring-loaded brass pin.
The Kanger FIVE6 Tank, on the other hand, is constructed from stainless steel and glass, while featuring a 29mm diameter. It sports a hinge and lock top fill system, an 8ML e-liquid capacity, a built-in PCB with coil selection technology, dual adjustable airflow control, a delrin drip tip, and it's based on the FIVE6 Tiger Coil that's capable of reaching up to 180 watts.