iJoy has become a leading brand by setting a clear path and delivering new and innovative products for the vaping market. It's continued that momentum throughout the last several years, and now developing a new futuristic Capo Squonk Mod with the potential of changing the course of how we vape.
For many years now squonking has become a style of vaping that's found sanctuary by only the elite, but it seems as if iJoy now looks to push squonking towards mainstream vapers. It isn't necessarily the soft curves, clean lines and overall futuristic design the iJoy Capo Squonk Mod holds, it's the deliverance of its features that are equipped, such as the option of running 21700 or 20700 sized batteries, the ability to take advantage of the industry's latest tech, and safety features that go beyond the average run-of-the-mill squonk mod by ensuring the protection of the user. Granted, some of these features are already present within many of these type of devices, but none of them seem to deliver the full package that the new iJoy Capo Squonk Mod has achieved. Continue reading to see the advancements that iJoy is making.



Meet The iJoy Capo Squonk Mod
Based off of the original Capo Box Mod, the new iJoy Capo Squonk Mod utilizes many of its same great features, yet greatly improving on appearance, advancing many of those features to perform better, and giving users even more possibilities when it comes to battery options. iJoy has aimed beyond your typical single and dual 18650 battery configuration by machining the Capo Squonk Mod with the capability of holding either a single 21700 battery or a single 20700 battery, both being top-loaded. The uniquely built battery compartment warrants less space required compared to dual 18650 mods and ensures greater battery life than using a standard 18650 battery. Maintaining a more than reasonable output, the iJoy Capo Squonker has the capability of delivering up to 100 watts in vaping power and offering a minimum resistance as low as 0.05Ω.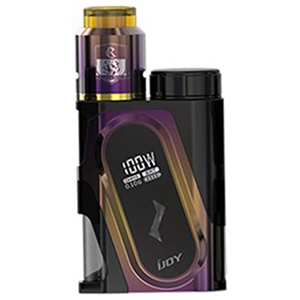 As with any mainstream device of today, this device too offers temperature control with support for ni200 nickel, titanium, stainless steel, and TCR adjustments, but reports reveal that iJoy went even further by advancing its TC function and allowing the capability of using any wire type with its temp control. A unique custom user mode that iJoy has become known for throughout a list of its most recent mods will also be available as an extra feature. Safety features have become of importance to the big brand, equipping it with short circuit protection, over-current protection, over-voltage protection, and overcharge protection.
These are all great features but this device really shines with its greatest feature of all, a squonk-ready bottom-feeding section that offers a 9ML e-liquid capacity. The iJoy Capo Squonk Mod Kit will include a squonk Combo Triangle RDA that sports an innovative triangular gold-plated build deck, side airflow, a wide bore 810 ultem drip tip, and a gold-plated BF pin. You have the ability to enjoy five vibrant and sexy color options, including black, blue, red, orange and yellow, and after its release a reported 10 total colors will be available. And lastly, another one of the most intriguing parts of this device is its appearance, sporting soft curves, clean lines, a slightly tilted OLED display on its front, and an overall futuristic appeal that's sure to please.