Feast your eyes upon this Uwell Valyrian Tank Preview, a snapshot of the vaping market's latest addition to the sub-ohm tank category. The Uwell brand has gained more popularity through the course of several years, slowly creeping it ways into a leading role with products like the Uwell Crown Tank Series, the Rafale Tank, the Rafale X RDA, and now the Uwell Valyrian Tank is launching the brand even further due to the remarkable appearance, stellar features, and enhanced performance to surpass all of its past offerings.
Meet The Uwell Valyrian Tank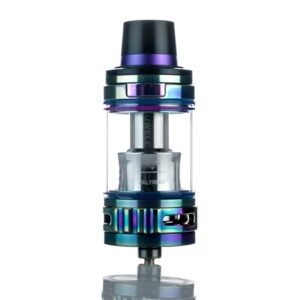 Meeting the new Valyrian Tank by Uwell will send goosebumps throughout your body because the sub-ohm tank is quickly being recognized by the vaping community as one of the greatest tanks manufactured by Uwell yet. The Uwell Valyrian Tank is an evolutionary sub-ohm tank platform, featuring a quality construction of stainless steel and glass to ensure top of the line durability for the user. Along with a larger than average 25mm diameter base, the Valyrian Sub-Ohm Tank can afford a hefty capacity, allowing for up to a 5ML maximum e-liquid capacity. Due to convenience becoming a top-rated feature for vapers in this era, Uwell has also included a heat insulated flip-to-fill top cap with 5mm by 8mm dual fill ports to make it even easier and quicker than ever to refill the high capacity tank.

To enhance the performance of the Valyrian Tank, Uwell has equipped it with a precision triple adjustable bottom airflow that sports 8.5mm by 3mm each air slot. Couple that with Valyrian Replacement Coils that use a 0.15Ω parallel dual coil and you're setting yourself up for an incredible experience. The high performance coil presents a threaded coil design, unique interchangeable pins and it's capable of reaching up to 120 watts while maintain stability and consistency from its organic cotton wicking material. Stainless steel 510 threading and a 24K gold plated contact is also a feature on the Uwell Valyrian Tank, giving it great conductivity and providing a superior connection each and every time it's attached to a device.
What All Comes Included
When you buy the Uwell Valyrian Tank you'll receive everything needed to use the product to its full potential. Not only will you receive the Uwell Valyrian Sub-Ohm Tank, but the package also includes two 0.15Ω parallel dual coils, one that's pre-installed while the other is used for replacement. There are two extra inner coil airflow pins that will be included as well, along with one extra drip tip. What has become a packaging standard for sub-ohm tanks adds the inclusion of a replacement glass tank section just in case you accidentally drop or damage the pre-installed glass tank section on your Uwell Valyrian Tank. To complete the packaging contents, a spare parts pack is also included, as well as a user manual with provided tips and instructions by the manufacturer.