6. Vandy Vape Pulse BF 24 RDA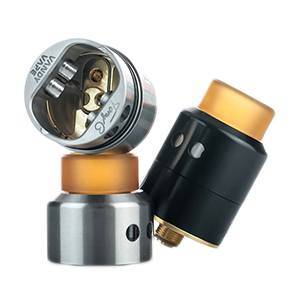 For a while I had my eyes set on the Vandy Vape Pulse BF Mod, but what I overlooked was this Vandy Vape Pulse BF 24 RDA. Why, I have no clue. However, I'm so glad that I did more research on this matching RDA for the Pulse mod. The Pulse BF RDA is designed in such a way that it's perfect for squonking, perfect for easy and quick coil builds, and perfect for the Pulse BF Mod. It's constructed of stainless steel, it uses a 24K gold plated 510 contact, and it's 22mm in diameter. While the outer appearance isn't something as if the wheel has been reinvented, it does offer a pleasing sight that offers just enough appeal. Aside from the 11mm bore ultem drip tip, 11mm bore delrin drip tip, and 510 adapter that comes includes, there is so much more that's noteworthy when it comes to its internals. The Vandy Vape Pulse BF 24 RDA shares a locking midsection, a slanted jet funnel adjustable top airflow, and a dual terminal post-less style build deck. This is where the magic happens. Each terminal is 2.5mm each, it has side mounted Phillips screws, it uses a PEEK insulator, the deck and screws are gold plated, there's a juice flow splitter in the center (game changer), and it has a deep 7mm juice well. What I like about this RDA is that you can simply drop in the coils easily, and when you squonk the e-liquid comes out on each side to hit your cotton perfectly. It's a great design.
GET THE VANDY VAPE PULSE BF 24 RDA HERE
---
7. Vaporesso Revenger X Freedom Edition Kit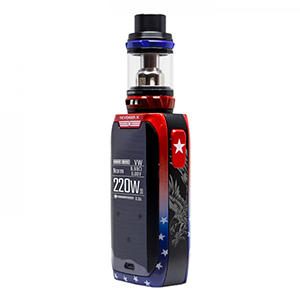 Kicking off Veterans day with a mod that shows a little American pride is the new Vaporesso Revenger X Freedom Edition Kit. It combines the Revenger X Mod with the NRG Tank and features a splendor of patriotic red, white and blue. What's special about this one is that not only is it the new and improved upon Revenger X, taking place of the original Revenger Mod, but it's a DirectVapor exclusive, meaning you can only get this edition at one place. I felt many of you that have serviced our great country will find this mod most interesting. Aside from the incredible display of patriotic colors you'll get to experience a 0.96″ OLED screen, an ergonomic design, mobile-specific vibration adjustment, and the ability to hold two 18650 batteries. Moreover, the Vaporesso Revenger X Mod uses the OMNI board 2.2 chipset that's capable of reaching up to 220W and comes equipped with several modes, including temperature control, TCR and more. One thing you'll really enjoy about this device is that it has a micro-USB port capable of a 2.5A rapid charging rate. As for the included NRG tank that completes this kit, enjoy a stainless steel and glass construction, a slide and top fill design, a 5ML e-liquid capacity, and experience the GT Core Family that really brings this kit to life!
GET THE REVENGER X FREEDOM EDITION KIT HERE
---
8. Vandy Vape Berserker MTL RTA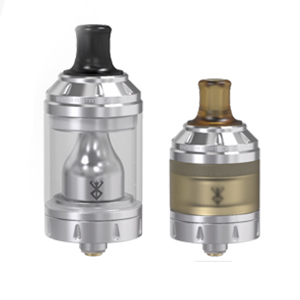 This new product is one that's definitely noteworthy, because not only is it an RTA, but it's Vandy Vape's first mouth-to-lung RTA. It features a 24mm diameter and offers a threaded top fill system, which is comprised of two large kidney fill ports that are 9mm by 4mm each port. The tank section uses a 2ML Ultem tank, while there is an option to use a glass section for a 4.5ML e-liquid capacity. The top, however, sports a 5mm bore Ultem drip tip to match, while a 5mm bore delrin drip tip is included. Dual adjustable bottom airflow rests at the bottom, with adjustable air slots in sizes of 0.8, 1.0, 1.2, 1.4, and 1.6 to a defined airflow experienced. And lastly, the Vandy Vape Berserker MTL RTA features a two post, single terminal build deck with a PEEK insulated positive post, top mounted Phillips screws, a single internal air tube on the build deck, and dual wicking ports for consistent wicking and constant flow of liquid.

GET THE VANDY VAPE BERSERKER MTL RTA HERE
---
9. Eleaf iStick Tria 300W Kit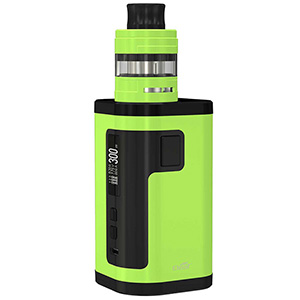 For those that are diehard fans of the iStick Series, we felt it was a must to include the new Eleaf iStick Tria 300W Kit. Believe it or not but I have several friends that still enjoy using the iStick 50W. In fact, I recently sent one of my old iStick 50W's to a friend just a couple weeks back. When I saw this iStick Tria 300W Kit, I knew there would be many of you excited to hear about this one. The kit consists of the iStick Tria 300W Mod and the Ello Sub-Ohm Tank. The Tria Mod features a spring-loaded 510 connection, a 0.91″ OLED screen, and offers a three-button control face. Powered by three 18650 batteries, which are bottom loaded and can be charged at 2A via the built-in micro-USB port, you'll find that this mod is perfect in every way. Aside from it offering great appeal and several appearance features, it also allows you to reach up to 300 watts. Enjoy other features like Bypass mode, the ability to upgrade the firmware, and temperature control that supports ni200 nickel, titanium, stainless steel, along with TCR functionality. As for the Ello Sub-Ohm Tank, it has a 25mm diameter, a 2ML e-liquid capacity that's expandable to 4ML, there's a top fill system that features a sliding mechanism, and you'll be able to adjust the bottom dual airflow with ease and fine-tune your experience. Lastly, this kit includes two drip tips, one that's a tapered 9mm bore white delrin drip tip and one that has a 13mm bore black delrin drip tip.
GET THE ELEAF TRIA 300W KIT HERE
---
10. Joyetech ATOPACK Dolphin Pod System
What I assume will be one of the most overlooked devices on the market is the new Joyetech ATOPACK Dolphin Pod System. The ATOPACK Penguin is a pod system that I fell in love with immediately after using it, yet a lot of vapers overlooked it and didn't give it the time of day. I suspect the ATOPACK Dolphin will get the same treatment, unfortunately. However, I feel that this device is most certainly noteworthy. It doesn't deliver the best looks, it doesn't have fancy screens and LED bezels, and it doesn't even have the best battery life compared to other options on the market. What is does have though is the convenience perk, one of the most sought out features when users look for a new device. The ATOPACK Dolphin is an All-In-One refillable pod system that's super easy to use, it's very compact and mobile-friendly, and offers a performance that you seriously wouldn't expect. Besides all of that, it's very affordable. Mimicking the shape of a Dolphin, this new device by Joyetech is the latest pod system to grace the ATOPACK family. It features a fillable pod system that has a 6ML e-liquid capacity and uses the JVIC coil system, supporting both mouth-to-lung and direct-to-lung users. It has an oversized firing button towards the top, a micro-USB charging port with a 2.0A charge rate just below, and five LED battery life indicators spanning the bottom portion of the device. Lastly, you'll be able to enjoy a 2100mAh built-in battery and gains some top-notch performance via the direct voltage output, where the output is based on the current state of the battery. The Penguin is a pod system I turned many vapers onto and they were very pleased, just as I am myself. I figured the Dolphin would be a great fit for this list as it's merely an improved upon version.