The brand JUUL was started to help cigarette smokers quit smoking. These devices are an alternative to smoking and each JUUL Pods of vape juice has such an intense flavor you'll ever be able to find. Enjoy curbing your nicotine cravings with these flavorsome pods. Each JUUL Pod pack comes in a four-pack and is equivalent to one-pack of analog cigarettes.
JUUL PODS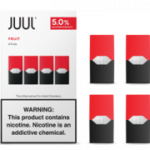 Fruit Medley is a vape juice that will satisfy all of your fruity cravings. This fusion between succulent southern peaches, freshly picked grapes, and juicy wild berries will have your taste buds in a frenzy. With every inhale and exhale of this mouth-watering vape juice the taste of this fruity concoction will excite your taste buds like no other.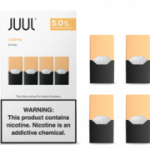 Who doesn't love the taste of dessert? Well JUUL Pods brings you the succulent taste of a Creme Brulee. As you inhale Creme Brulee, the taste of vanilla custard washes over your taste buds preparing them for the dessert roller coaster they are about to go on. As you exhale, the Creme Brulee taste becomes complete and coats your taste buds in the delightful dessert flavor.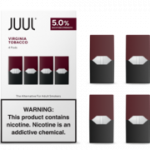 Craving an authentic cigarette taste without any guilt? Virginia Tobacco JUUL Pod brings you the taste of tobacco like no other. This vape juice will leave you feeling as happy as you can be. Virginia Tobacco delivers a subtle taste of sweetness that will leave your taste buds tingling. Virginia Tobacco pod provides a solid throat hit that you won't be able to forget and have you throwing your cigarettes to the curb in no time.
Who doesn't love the taste of cooling and refreshing mint? JUUL delivers you this delightful taste in a vape juice you can enjoy all day long. From the first inhale to the last exhale, your taste buds will be completely and utterly satisfied. As you inhale JUUL Pods Cool Mint, the taste of mint will send shivers down your spine. As you exhale, the mint flavor subsides leaving your taste buds tingling.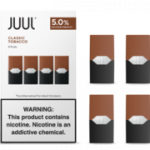 Bring your taste buds to euphoria with the taste of classic tobacco. The taste of robust tobacco with aromatic notes that will have your entire body covered in goosebumps. As you inhale Classic Tobacco the taste of slightly sweet tobacco will hit your taste buds. As you exhale a solid throat hit that will have your eyes drifting close from pleasure. Once you try this vape juice you won't ever be able to put it down.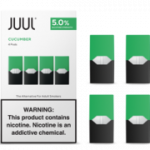 A refreshing cucumber flavor with just a hint of mint will have your mind in a whirlwind of flavor. With every inhale of Cool Cucumber, your taste buds will be hit with the taste of freshly grown cucumbers as refreshing as can be. As you exhale the mint washes away the cucumber taste leaves your taste buds feeling as soothing as possible. Live your life to completion with Cool Cucumber.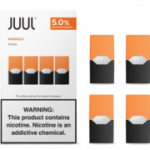 Mango is what makes the world go around. JUUL Pods brings you the taste of ripe, juicy mango with notes of freshly picked tropical fruits that have just the right amount of tangy and sweet. With every inhale of JUUL Mango your taste buds will be hit with the taste of a new underlying fruit flavor. With every exhale, the mango taste washes over your taste buds calming down their excitement from the other tropical fruit flavors.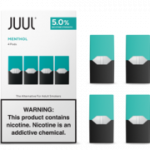 For those of you who can't handle change, the taste of classic menthol and tobacco is brought to you by JUUL Pods. This combination of flavor will have your taste buds going haywire and bouncing off the walls. As you inhale Classic Menthol, the tobacco taste hits your taste buds. As you exhale, the tobacco and menthol flavors intertwine and dance across your taste buds leaving them feeling refreshed and ready for the rest of the day.
JUUL Pods are meant only for JUUL devices and will bring you such intense flavors and you'll never be able to put them down. As soon as you try one of these pods you will have to try all of the other ones. If you're looking for the best deal on JUUL Vape Pods, the best place to get them is by visiting West Coast Vape Supply. This online store sells the JUUL Pods 4-Pack Pick 3 Bundle, which is 12 pods total. You'll choose three pod flavors out of eight different flavors, and you can experience your most preferred flavors so that you can find that all-day-vape you've been looking for. The tastes are remarkable and you'll have plenty of pods to try out and enjoy from this special bundle deal. Visit the bundle page and explore your favorite tastes, feel smooth draws, and never look for another pod flavor again!