The disposable vape market is a crowded one but the Twst Disposable Vape is at the front of the pack. It delivers a convenient and satisfying vaping experience. Vapers will love that the bright and amazing flavors that Twist ELiquids is famous for are now available in compact disposable vape.   
Disposable Vapes
The preferences of adult vapers have shifted over the years. The majority of adult vapers and smokers looking to make the switch have gravitated towards easy to use devices that place a premium on convenience, flavor and nicotine strength. 
Disposables have surged in popularity because they check all of these boxes. Disposable vapes take full advantage of potent nic salts and are available in a wide range of flavors. This is important at a time when the manufacturer of the top-selling prefilled vape pod device has pulled all of its top-selling flavors from the market. Combine the loss of popular vape pod flavors with the fact that disposables are often a better price performer and it is easy to see why disposables ecigs are the hottest thing in vaping today. 
Like the prefilled vape pods they are gradually supplanting, disposable vapes owe most of their success to the advent of nic salts. With a lower pH level, more nic salts can be added to a vape juice formula without making the experience too harsh to tolerate. 
Nic salt disposables deliver a silky smooth throat hit even at nicotine levels as high as 5 and even 6.8 percent. So potency clearly is not an issue when vaping disposables. In fact, many vapers are looking for lower nicotine levels.  Most disposables are only available in a single nic strength, generally 5 or 6 percent, but the Zaero Disposable is available in four nic strengths: 0, 1.8, 3 and 5 percent. If 5 percent is a bit stiff for you, don't miss out on disposables. Just check out the Zaero instead. 
Four nicotine levels is actually more flexibility than most refillable vape pods offer. For reference, if you wanted to buy a bottle of Twst Nic Salts for your vape pod, your only choices would be 3.5 and 5.0 percent.  Juul is down to four flavors, all tobacco-based, and the available strengths are 2.5 and 5.0 percent. The Twst Disposable we are reviewing today has a nic strength of 5 percent. 
Twst Eliquids
Twist ELiquids first gained recognition with a lineup of sophisticated and exciting ejuice flavors. With a heavy emphasis on authentic and summer-themed fruits, their master formulators turned out such classics a Pink Punch Lemonade, Honey Dew Melon Chew, and their venerable Peach Blossom Lemonade. These classic 70% VG ejuices have stood the test of time. They are ideal for sub-ohm vaping and big-time clouds. 
As larger devices and clouds fell out of favor and nic salts surged in popularity, Twist was again at the forefront with Twst Salts. Relying on many of the same summery fruit flavor profiles found in their regular vape juices, Twst Salts are a favorite of refillable vape pod users. 
With an arsenal of impressive nic salts at their disposal, it only made sense that Twst would make a foray into the disposable vape arena. 

Twst Disposable Vape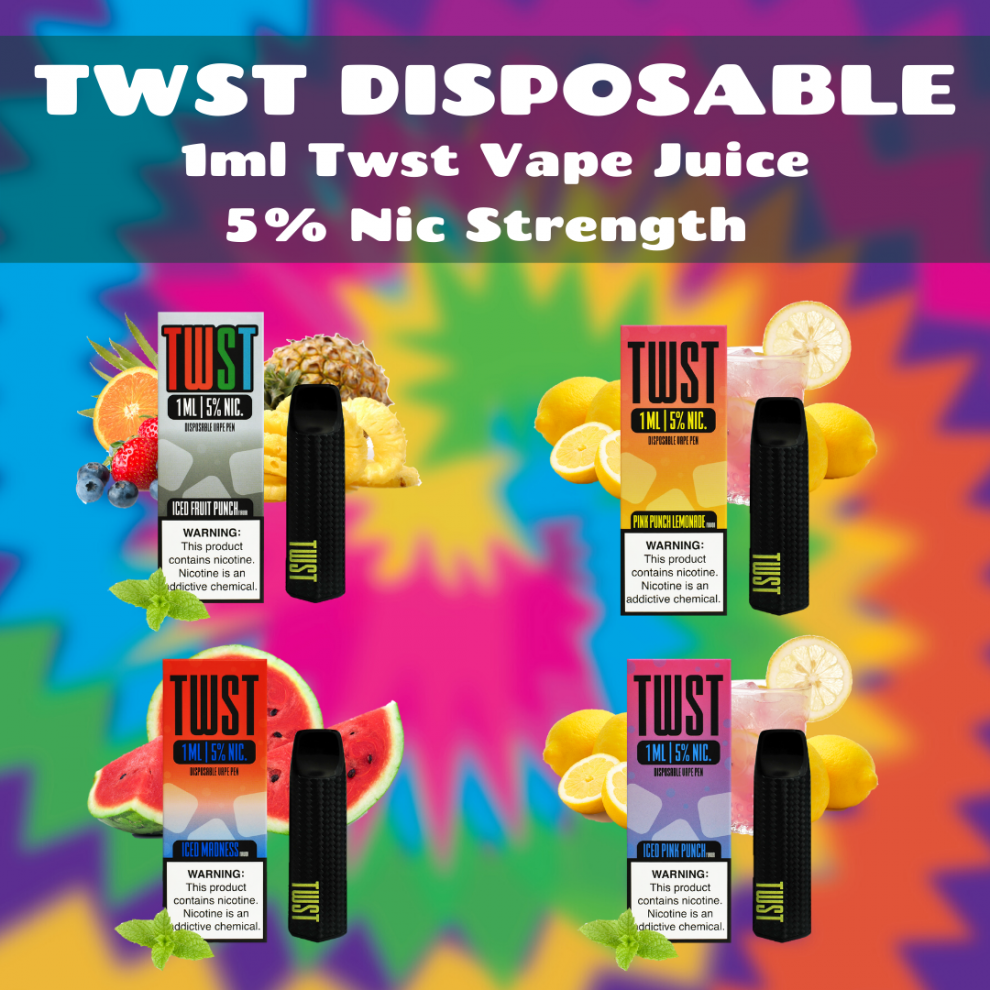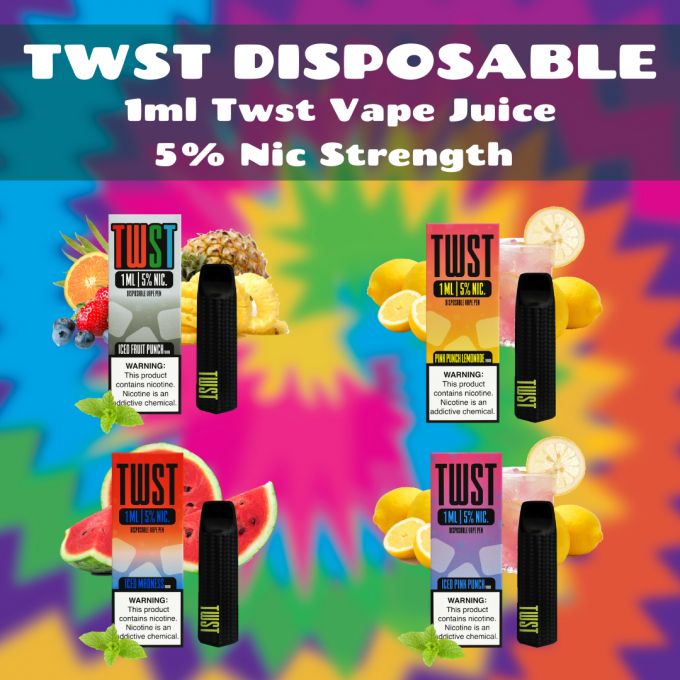 The Twst Disposable is a tiny, thumb-sized disposable. At less than 4 inches in length, it is comparable in size to the Mojo, Nano, Stig and Myle Mini disposables. It also adopts a similar form factor and technology, as the battery is placed parallel to the juice reservoir. 
The Twst Disposable has a plastic shell but relatively high quality feel. The finish is an almost carbon-fiber pattern rather than smooth, hard plastic. The mouthpiece is fairly long and nicely tapered. This is an auto-draw design, like basically every other disposable nic salt ecig, and a blue LED lights up when the Twst is in use. 
Despite the size of the mouthpiece, the draw itself is tight and satisfying. Closer inspection reveals that airflow is channeled through a single hole not much bigger than pin head that is offset to one side. This makes sense as the battery takes up almost half of this tiny device's width and the coil is set off to one side.  
The massively popular Twist vape juice formulas are the draw here, no pun intended. And you will happy to learn that this disposable delivers. The Twst Disposable's primary selling point will always be the flavor but the device itself is quite capable. It fires consistently and the flavor does not get muted after multiple hits or when the juice supply runs low. 
Twst Flavors
There are four Twist Eliquid flavors to choose from. Twst Iced Madness is a classic lush ice style flavor. The watermelon really pops in this formulation and Iced Madness is certainly up to Twist's high standards. The magic of watermelon ice combination is pretty much established at this point. If you like Lush Ice vape juices, this disposable is worth sampling. 
There are two takes on the popular Pink Lemonade flavored vape juices. One is iced and one is not. Both are outstanding. Pink Lemonade is a great and balanced flavor. It threads the needle between beverage and fruit vape. The tartness complements the sweet flavors and makes for an all-day vape. The addition of icy menthol adds even more satisfaction. The cooling effect on exhale really works well with sharp lemony inhale. 
The final flavor, an Iced Fruit Punch, is a delightful vape that avoids being overly sweet with a healthy blast arctic chill. Like any great fruit punch, you can taste the individual fruits if you want but the cohesive whole is what matters. Again, the cooling on exhale really adds some enjoyment to an already strong flavor. 
Conclusion
With not a whole lot to separate disposables in the area of performance, consumers will want to make their picks based on flavor. If you are a fan of Twist Eliquids, the Twst Disposable is an obvious choice. Pink Punch Lemonade Twst is an especially balanced vape for anyone who is looking for a composed fruit flavor that is free of icy flavor notes.