What's fascinating about Cuttwood is that there's only 4 e-liquid flavors under the brand, yet they're one of the largest e-liquid manufacturers on the market.  I've passed up trying this brand multiple times, at conventions and locally because I didn't venture much outside of my daily line-up at the time.  However, I finally gave 'em a try and have fallen in love with the delicious tastes the brand has to offer.  Today, you'll be reading my Cuttwood Monster Melons E-Liquid Review.
Quality / Packaging
Monster Melons has a nice quality taste to it, and this is seen throughout its other Cuttwood branded flavors.  Each Cuttwood flavor comes in a glass dripper bottle that is labeled with its widely known Cuttwood "The Sauce Boss" logo.  Below that displays the flavor name, and just below that it boasts "Hand Crafted * Los Angeles, CA".  I honestly think its slogan is what turned me off from trying them before… 'the sauce boss' sounds more like they're devoted to tobacco flavors.  As a note, I didn't know any of the flavors names back then, just knew of the logo/slogan that they use.  Anyhow, to the left of that are warnings, then the opposite side shows a big "C" logo and the nicotine strength.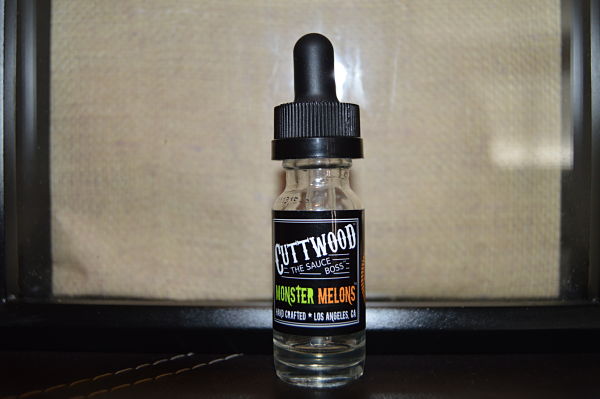 Flavor
Targeting a trifecta of refreshing tropical flavors, Cuttwood's Monster Melons E-Liquid is a mixture of mango, cantaloupe, and papaya.  Granted, each of these flavors taste great on their own, but when Cuttwood mixed them together just so perfectly, it became the one of the best flavors I have ever tasted.  It has such a unique taste and a very different feeling that the flavor gives your mouth, which isn't anything I've ever tasted from any other flavor.  I've now been on this flavor for months and eventually burnt myself out on it because I vaped it non-stop, but it's definitely still sitting close to me for when I want a very refreshing and delicious taste of melons.
Vapor Production
Being that Cuttwood branded e-liquid has a 70% VG mix, you'll definitely have no problems pushing out large clouds.  With the right build, ramp up the wattage and add in some Monster Melons, and you'll be chucking clouds with the best of them.  With such of a high VG mix, you would assume the flavor isn't as loud, but I assure you, the flavor is more than enough, especially on a dripper.