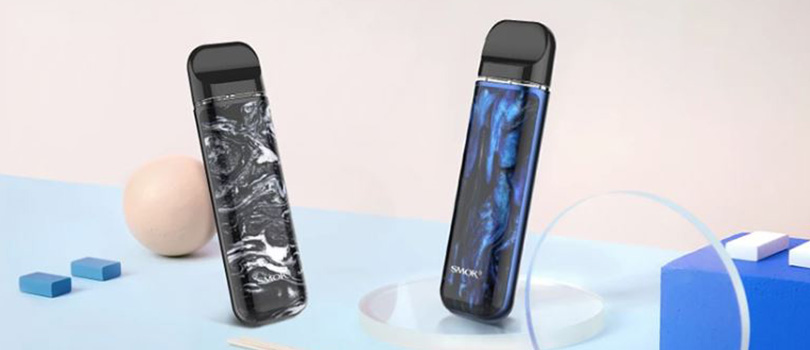 Evolving in a manner that is beyond fascinating, SMOK continuously pushes the boundaries of what is normal. Whether it's the constant roll-outs of new products, the innovation that surrounds the brands and its massive portfolio of devices and tanks, or the incredible performance that each delivers, the brand is absolutely incredible through and through. What's most impressive about the SMOK brand is its ability to consistently stay ahead of trends by being the first to release a hot item. For instance, it was one of the first to release its version of a high-powered mod, one of the first to release a sub-ohm tank, and one of the first to create a pod-based system.
Still following the trend, it continues to push out new and innovative pod systems, and this time it's improving on one of its most successful pod systems yet, the original SMOK Novo. The SMOK Novo 2 Kit is the latest within its arsenal, boasting a larger battery capacity, an improved design, a higher wattage output, a redesigned air-sensing switch, a longer warranty period, an improved LED indicator, and improved pods to deliver even better performance than ever before.
SMOK Novo 2 Kit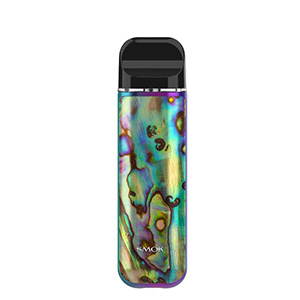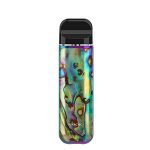 The SMOK Novo 2 Kit is amazingly compact, incredible portable, and it's all possible due to the impressing small size of the device. It stands merely 88.3mm by 24.5mm by 14.5mm, so you can expect to easily store it in your pocket or handbag when going mobile. No need to worry about accidentally pressing buttons because there are none. In fact, the Novo Kit Pod System operates with a draw-activated firing mechanism, and due to SMOK's improved air-sensing switch, which places the sensing element on one side of the u-shaped air intake passage, contactless suction is prevented to better improve the way the device operates.
Giving off a sleek appearance, the shape of the SMOK Novo 2 looks very familiar to the original, yet now offers eight different colors that are available to deliver a jaw-dropping appearance. Using the same design, you'll find that the curved body provides an exceptionally well made comfortable grip, along with using the same whistle-shaped mouthpiece that many have found to be very comfortable on the lips.
One of the features of this new offering that you'll find pleasing is the improved battery capacity. The Novo 2 Kit by SMOK now features a built-in 800mAh rechargeable battery, which is a leap from its past offering. Charging is made simple with an integrated USB port, and knowing when to charge is no longer a hassle, as there is an improved LED indicator on the device to let you know when a charge is required. And, along with the larger battery capacity, you can expect to see even greater power opportunities. The new SMOK Novo 2 has a maximum wattage output of 25W, as much as a 9W difference from the previous version.
Running along with the new battery capacity and maximum wattage output, the new Novo 2 Pod mesh together seamlessly. There are even more pod options than before, now including the Novo 2 Mesh 1.0-ohm Pod, the Novo 2 DC (dual coil) 1.4-ohm MTL (mouth-to-lung) Pod, and the Novo 2 Quartz Coil 1.4-ohm Pod. The Novo 2 Mesh Pod is included in the kit, which provides a large heating area and very dense vapor clouds, providing a greater performance no matter which of your favorite e-liquids it's paired with. As you would expect from one of the industry's top vapor pod systems, the Novo 2 Pod is also replaceable, features an integrated coil, it's refillable with a side fill hole, and offers a 2ML e-liquid capacity that will allow you to enjoy lengthy vape sessions and less downtime.