Swisher International Inc., a popular cigar maker best known for its Swisher Sweets branded cigars, has announced that it is entering the e-cig market and has formed a company called E-Alternative Solutions, which is said to help develop, market and distribute electronic vaping solutions.
We have the ambition to become a market leader in the evolving e-alternative category — just as Swisher has in the tobacco market for over 150 years.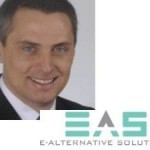 With almost 20 years of marketing and management in the consumer packaged and electronic goods markets, Miller has hired Jacopo D'Alessandris as President, while Miller will serve as the CEO of E-Alternative Solutions, the now sister company of Swisher.
The e-cigarette and vapor space has been growing rapidly but is still in its infancy. Breakthrough technology and innovative marketing, coupled with Swisher's expertise in the tobacco space will be the key ingredients I will focus on to build EAS' success.
Unfortunately for Swisher, they're moving into the market late and will most likely offer the same general product that every other tobacco company that entered also, has offered.  Because of the late entrance, they'll play hell making a name for themselves in the electronic cigarette industry.
However, with the belief they they can make an impact… or money, the company will begin by offering two proprietary "liquid vapor products", which are currently being tested in select markets, as well as being sold online.