First Impressions
Until its release, I've never seen a disposable vape so small, especially one that is chargeable. The 7 Daze Egge is remarkably compact, yet I was fascinated that it still manages to deliver as many as 3000 puffs. When I first received the 'Egge', I noticed quickly how it received its name. It's small, rounded, and closely resembles an egg, yet more elongated to house both its battery and cartridge. It is comfortable to use, fits perfectly in the palm of your hand, and doesn't appear to be a device made for vaping. That's what makes it so special though.
When you first receive the device, you would think that there would be a set of detailed instructions on how to operate such a device. Instead, everything is taken care of for you before it ever leaves the factory where it's made. The device comes pre-charged, pre-filled with whatever flavor you choose, and there aren't any buttons. Everything works automatically and requires nothing more from me, except to inhale.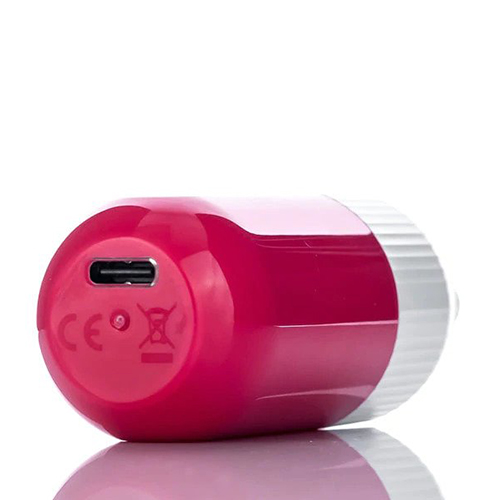 What I noticed first was the little details that made a big impression. The top has a smooth, comfortable mouthpiece that is a part of the device's body. Though rounded, there are flat spots on both sides of the device so it doesn't roll away when I set it on the counter or nightstand. On one of the flat sides there is a small LED battery indicator, and towards the bottom is a USB-C charging port, giving me the ability to recharge the 400mAh battery quickly.
Although the device is incredibly small compared to others on the market, I could easily see how I would enjoy using the 7 Daze Egge Disposable Vape more than any others I've tried in the past. Its size makes it easy to simply toss in your pocket in the morning. In the afternoon, it's super convenient that it comes charged, filled, and ready to be used. In the evenings, a 30-minute charge allows me to continue vaping, meaning there is very little downtime. Ultimately, you're paying $13.99 for almost a week of vaping, which is reasonable.
The Performance
I never thought the performance of this device would be so good. You would never think that such a small disposable vape could satisfy you in the same way or better than other devices on the market. I believe the grunt of the performance is due to the mesh coil that is being used. It's known throughout the industry that mesh coils boost the flavor and vapor output, and it definitely shows in this one. On top of that, the 400mAh rechargeable battery is hard-hitting, and with these two performance features together, it makes for an amazing vape.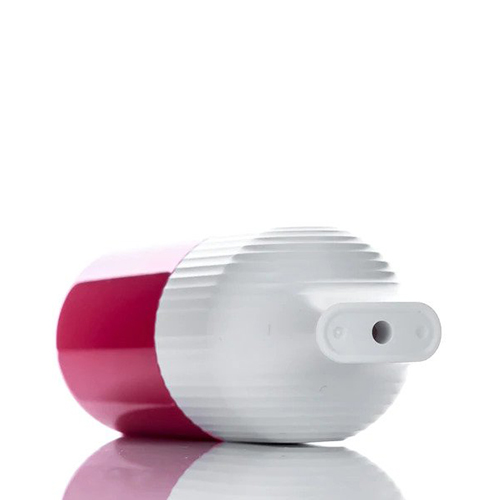 How It Hits
Unlike some devices, there were no rotating airflow adjustments and no buttons to activate it. It was as simple as putting my lips to the mouthpiece and inhaling. It has the perfect airflow, and thanks to how great the performance is with this disposable, every hit is consistent and satisfying. It's the perfect device for on-the-go vaping and getting a quick fix during breaks. It uses tobacco-free salt nicotine available in 50mg, so it doesn't have too much throat hit. If you take a big enough hit, however, you will notice some harshness.
The 7 Daze Egge Flavors
Being a 7 Daze Reds Apple fan already, I chose the two most familiar flavors to use. This is my opinion of both of them:
OG Reds Iced – I am a huge fan of the original 7 Daze Reds Apple Iced flavor, so I already knew this would be a flavor I would enjoy. OG Reds Iced recreates the taste of refrigerated apple juice, which is one of my favorite drinks. When I first take a puff, I can taste a perfect balance of apple and menthol flavors. When I exhale, I could really tell how well these two flavors come together, and the taste continues to linger.
When trying flavors, sometimes the taste isn't just right and it has to grow on you a bit for you to truly enjoy it. OG Reds Iced is one that has been tried, tested, and proven. The flavors have been perfected, and the balance between the flavors has been perfected too. 3000 puffs are just the right amount for you to really savor the taste.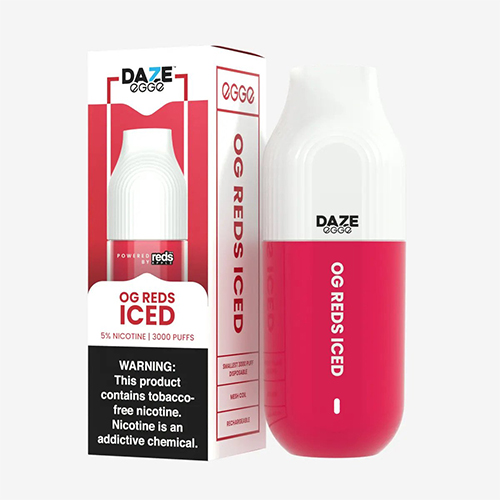 OG Reds Watermelon Iced – As another favorite from the Reds Apple collection, OG Reds Watermelon Iced is one I'm extremely familiar with. It's a vape juice that I've used several times throughout my time vaping but I prefer it in spurts. Even though it tastes great, you have to be a fan of watermelon flavor to vape it over and over. In this blend, you'll taste a mix of the signature Reds Iced with watermelon. Since the watermelon flavor is so dominant, you notice it most, aside from the mentholated taste.
Sometimes people prefer the flavors to be balanced and some prefer one flavor to be more overpowering than the others. OG Reds Watermelon Iced consists of apple juice, watermelon, and menthol flavors. The watermelon is just a bit more dominant in this mix, which could be great for some, and a bit much for others. In my opinion, I would enjoy it more if the apple flavor was slightly more pronounced in this mix.