Expanding its portfolio of brands to deliver a unique and thrilling taste with every collection, Propaganda E-Liquid is back at it again to deliver yet another fascinating line of premium e-liquid while trailing past successors, such as Propaganda, Propaganda Salts, The Hype Collection, and Vape Pink. These are all outstanding flavor creations by the mixologists at Propaganda E-Liquid, and this new collection of Cloudmouth Vapors e-liquid flavors is set to entice your taste buds even more.
About The Manufacturer
Established in March 2014 and founded by two people, Nicholas DeNuccio and Nicholas Bull, the two set out to create what would become one of the industry's top-selling e-liquid companies with just $200. Though $200 doesn't seem like much and definitely isn't enough to start a top-selling e-liquid brand, somehow the two managed to do it. Propaganda now manufactures six e-liquid brands with 23 flavors, it has a staff of 21 people, it has sold more than 1.5 million bottles of e-liquid per year, it's available in 40 countries around the globe, and there are more than 5,000 retail locations in the United States that carry these brands.
About Cloudmouth Vapors
Cloudmouth Vapors is the next collection added to the momentum generated by DeNuccio and Bull, offering a wildly delicious line that consists of candied e-liquid. Each flavor portrays extraordinary quality, from the time of it being manufactured to the finished product, everything is top notch, including the ingredients that were used and the unique labeling. If you're one that is a sucker for candied vapes crafted to perfection, then we're sure you'll enjoy this line of four tasty flavors by Cloudmouth Vapors. Each flavor is packaged and available in a 100ML bottle, and you can choose from a variety of nicotine strengths, including 0MG, 3MG, 6MG, and 12MG.
Cloudmouth Vape Juice Flavors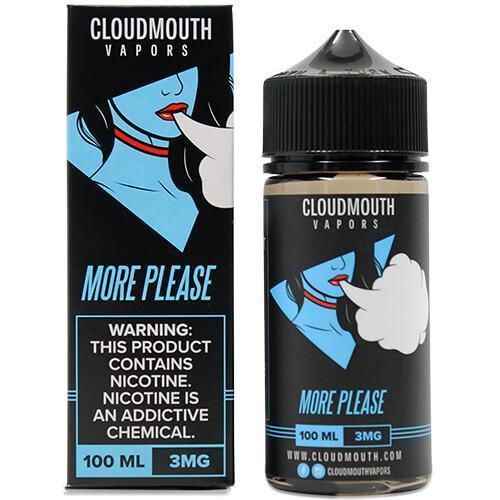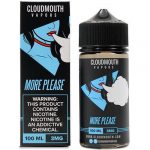 More Please Vape Juice is the perfect way to describe this flavor, though it doesn't reveal even the slightest hint of the actual flavors that go into creating this monumental tasty masterpiece. The best way the creators thought to describe this flavor within its name is to let you know that you'll politely ask for more, in hopes that you'll have the opportunity to further satisfy your tastes. From the moment you take a draw and inhale this vapor, you'll immediately taste a blue raspberry candy that is the culmination of a variety of complex flavors, all precisely blended to deliver a perfectly balanced all-day-vape. While there isn't any indication of the flavors that went into creating this authentic sweet raspberry candy flavor, if you break it down by the millisecond of each draw, you'll notice hints of this and that, that build this flavor up while you break down and ask for "More Please".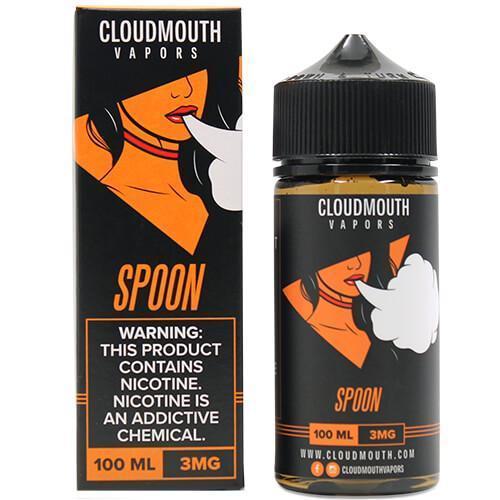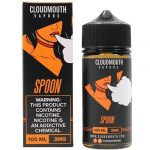 The odd name of this vape juice is one that will spark a bit of interest until you finally realize that Cloudmouth Vapors Spoon vape juice is merely a play of words to secretly indicate that it's a cereal flavor and each draw will taste as if you just engulfed your mouth with a large spoon full of cereal and milk. As you sit back and take your first draw from your device and tank combo, if you close your eyes and imagine for just a moment, you'll see a Spoon, coated with fruity cereal and drenched in a silky sweet layer of milk. Open your eyes and you'll relive the experience as the taste overcomes your senses with small pieces of fruity flavored cereal and soothing milk rolls over the taste receptors on your tongue, only this time you aren't imagining it, it's the real deal, just in the form of vapor.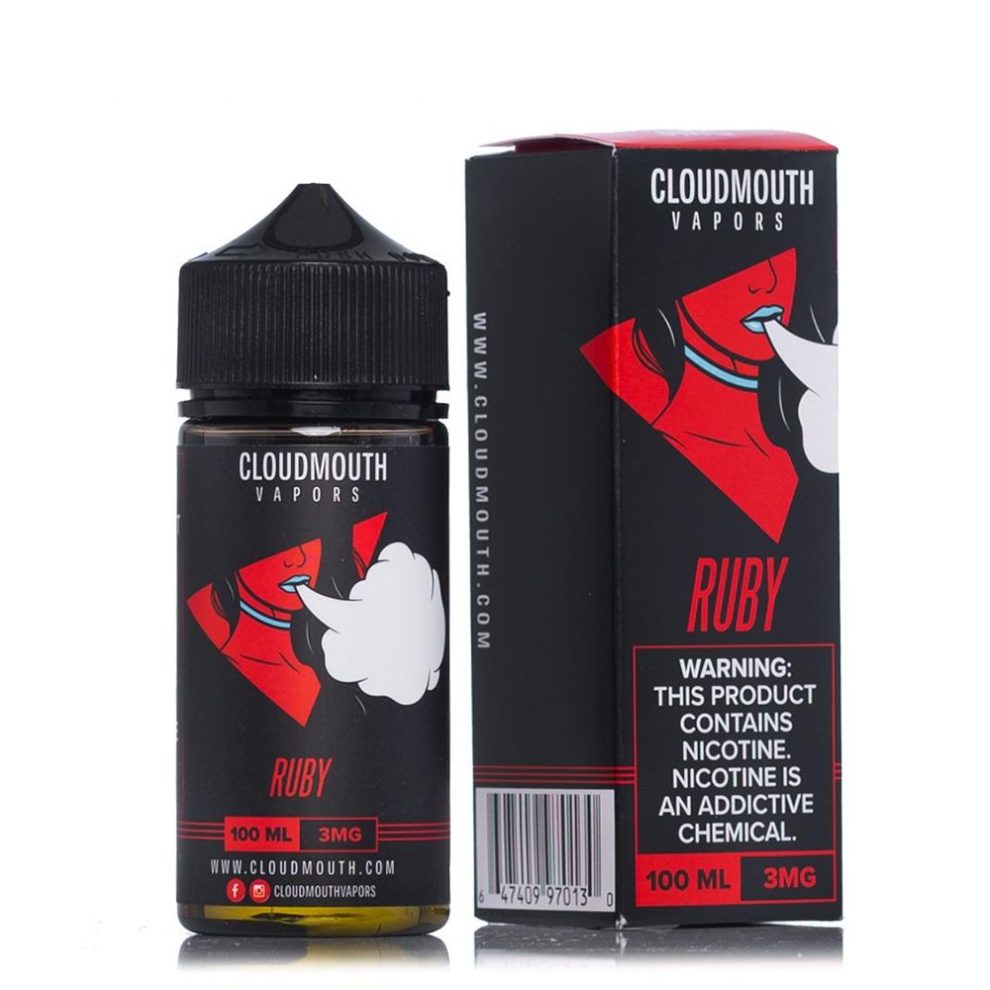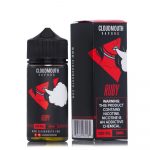 Though its name will remind you of a seductive woman that has a way of pulling on your heart strings, Ruby Vape Juice is actually far from that. The name Ruby was used to best describe this delicious crafted strawberry flavor, giving you an inclination of its ruby red taste or the stunning quality that went into creating it. There are many strawberry flavored vapes available on the market, but this Ruby Vape Juice flavor seems a bit more complex, more precise, and delivers a sense of satisfaction from start to finish. From the moment you take a draw, you immediately taste the Ruby strawberry, then quickly following up is a surprising kiwi flavor, while the finish taste results in a strawberry kiwi hard candy vape that is sure to leave you excited and wanting more.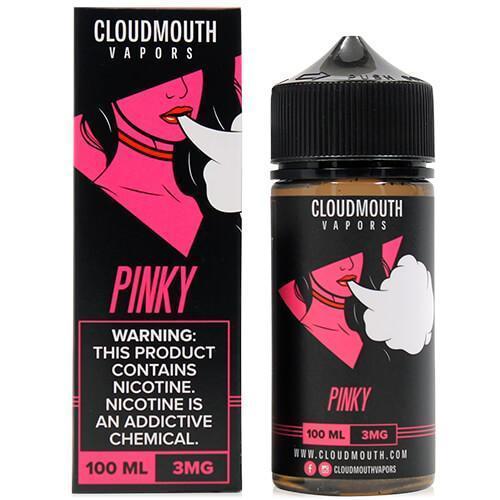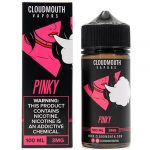 The Cloudmouth line is quickly gaining a solid reputation for its candied vape juice flavors, and Cloudmouth Pinky Vape Juice is one that is helping propel the brand to success. It's an intricate flavor creation that consists of watermelon and honeydew but truly tastes as if there is something more in this stunning blend. The complexity of both the watermelon and the honeydew seem extended as if each flavor was perfectly formulated to deliver the best representation of the two fruits. To spark more interest in your tastes, both the watermelon and honey were paired with one another with a smooth, candied flavor experience that's sure to become your next all-day-vape.