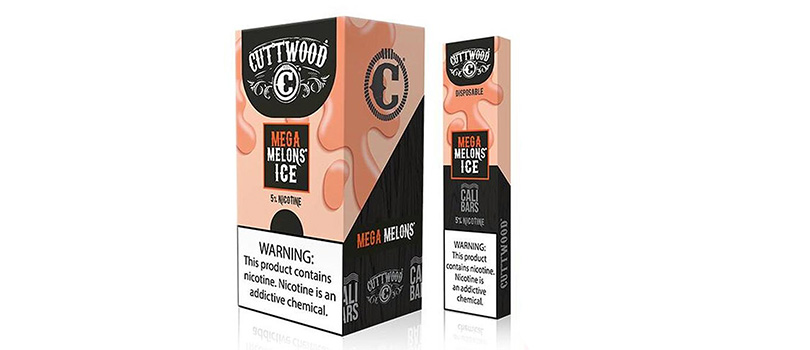 What do you get when you combine two of the most legendary names in vaping, who are known for creating the most fascinating vaping experiences on the market? You get utter, pure vaping satisfaction. This is what happens when Cuttwood and Cali Bars collaborate, creating disposable vape bars with a list of outstanding flavors from the famous Cuttwood line-up. Users all over the world can now rejoice as the same flavors they've grown to know and love from Cuttwood are now available in a small, disposable vape bar. This provides convenience, comfort, great taste, and overall satisfaction.
About The Cuttwood Cali Bars
The Cuttwood Cali Bars are the newest and most desired collaboration from two of the industry's most recognized brands. They have created a disposable vape bar device that is not only portable, sleek, and enjoyable to use but they've created vape bars that deliver an outstanding taste packed with incredible performance. The device is compact, making it perfect for stealth vaping. It features an all-in-one design that uses disposable vape technology. There aren't any confusing buttons to press or instructions to read over, as it offers a draw-activated firing mechanism. It boasts a built-in 280mAh battery and shares a 1.3ml e-liquid capacity using Cuttwood salt nicotine e-liquid. This will allow upwards of 300+ puffs so that you get a lengthy, enjoyable vape.
Cuttwood Cali Bars Flavor Profile
Bird Brains Ice: Just as a box of fruit cereal that you simply cannot get enough of, Bird Brains Ice isn't much different. It's a delicious cereal vape that will have you reliving your mornings over and over again with each draw. To create the most authentic experience, a cooling ice flavor is added, making it taste as if you're getting the fruity cereal and the cold milk.
Boss Reserve Ice: It is one of the most unique flavors within the line-up of Cuttwood, and they are especially known because of this magical flavor. It consists of golden honey graham cracker that is roasted with nut clusters, creating a pleasing taste. It doesn't stop there though. It is then covered with creamy milk and layered with just the right amount of sliced bananas. The experience is then completed with an icy cool finish.
Mega Melons Ice: When you bring together three of the most fascinating fruit flavors into one delectable combination, you get an out-of-this-world tropical flavor that you simply cannot get enough of tasting. It consists of mango, cantaloupe, and papaya, creating a wonderful trio of flavors. It's then topped off with a finish of cool ice that makes perfect for those sunny days.
Tobacco Trail Ice: Tobacco fans all over will love this flavor, and many have already said it's one of the best tobacco flavors on the market. If you truly enjoy tobacco vape flavors, here's one that will overload your tastes with flavorful goodness. It offers mild sweet tobacco flavor with a slight hint of honey. The flavor is finished with an icy cool finish to leave you refreshed and wanting more.
Unicorn Milk Ice: This remarkably crafted flavor is one that anyone can appreciate. It is one of Cuttwood's most popular flavors. It provides the perfect blend of flavors, including strawberry and four unique creams. It isn't finished there though. The tasty treat of flavors is completed with a touch of icy cool to finish it off leaving you refreshed.