Killer Kustard by Vapetasia is an enchanting collection of custard flavors. Vapetasia's Killer Kustard line is the smoothest, richest and most delicious custard flavor blends that you'll ever try. The award-winning flavors aren't your everyday, run-of-the-mill custard blends — the intoxicating flavors of Vapetasia's Killer Kustard bring an explosion of flavor to your taste buds unlike any other custard blend on the market.

Killer Kustard Vape Juice Flavors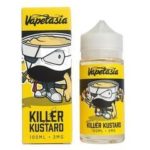 Vapetasia's original Killer Kustard is the custard vape juice of your dreams. This is a succulent blend of vanilla and custard, made to create the most delicious, creamy vape juice you've ever tried. The original Killer Kustard blend is one of the smoothest custard vape juice the industry has to offer. With every puff, the creamy vanilla flavor delivers your taste buds a perfectly blended custard flavor that's exploding with flavor hitting every taste receptor on your flavor palate. With every exhale, the sensational custard flavor combined with notes of vanilla create a rich all-day-vape juice that will have you giving away your other vape juices to your friends.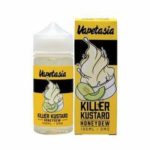 Honeydew custard flavor is something that you'll never be able to put down. Killer Kustard Honeydew takes the taste of custard, honeydew and a hint of vanilla to make your entire day better. As you inhale Killer Kustard Honeydew, the taste of ripe honeydew smacks your taste buds with sweet goodness. Custard fused with the honeydew taste and hints of vanilla give the sweetness you crave. Your taste buds will tingle with delight as the flavors dance around your taste buds. As you exhale, the custard flavor flows out of your mouth with honeydew and vanilla flavor like you've never tasted before.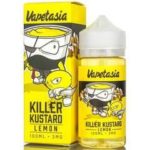 This tangy lemon twist on the traditional custard flavor is something that is on a completely new level. This custard flavored vape juice has a balanced amount of tart and sweet. With every inhale the lemon flavor causes your taste buds to hum with the familiar citrus tingle. Creating a vape juice that has the tartness of lemons without being overwhelming has proven to be difficult, however, Vapetasia took the challenge and left everyone in the dust. With every exhale, the custard combines with the lemon creating a delightful zingy zesty flavor.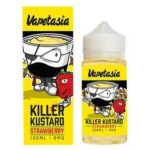 Killer Kustard Strawberry is where custard advocates and strawberry fanatics can finally meet in the middle. With the intense, freshly harvested strawberry flavor hits your taste buds they will jump for joy. Then, the custard flavor mixes with the strawberry to create a vape juice that has just the perfect amount of creamy sweetness. As you inhale, juicy strawberries dance across your taste buds in an elaborate waltz. As you exhale, the custard flavor joins the strawberries in their waltz to create a perfectly choreographed dance that is like no other. 
Conclusion
Killer Kustard by Vapetasia brings you custard flavors that will kick your sweet tooth to the curb. The Killer Kustard collection of four delicious flavor blends the combine a delicious custard flavor with lemon, honeydew and strawberry choices that turn these custard flavors into a well-rounded flavor experience. Don't miss out on the #1 mouth-watering custard flavors in the industry with Vapetasia's Killer Kustard.
If you're wanting to get your hands on Killer Kustard Ejuice for the lowest price possible, our friends at West Coast Vape Supply has an unbelievable deal that will allow you to experience three of the four flavors within the line. The Killer Kustard Vape Juice Bundle by Vapetasia gives you the opportunity to get three bottles of ejuice, totaling 300ML, and you decide which three flavors best fit your taste. With many to choose from, why not experience them all and find your next all-day-vape? It's as easy as visiting West Coast Vape Supply and ordering a bundle for the lowest price on the market!