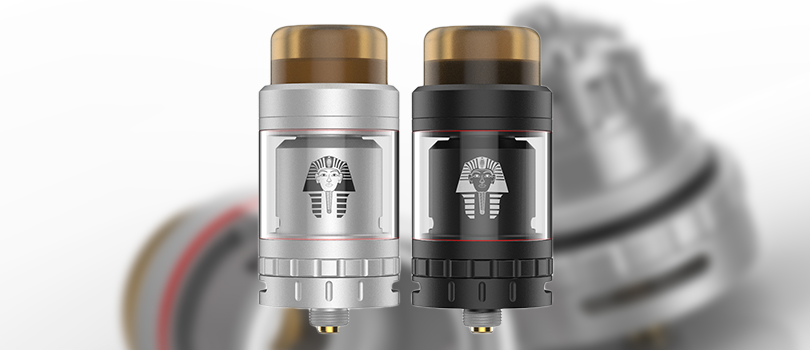 The Digiflavor Pharaoh Mini RTA is the latest addition to Digiflavor's arsenal of high-performance rebuildable tank atomizers. In a joint effort between Digiflavor and Rip Trippers, one of the most infamous YouTube reviewers, comes the miniaturized version of the original Pharaoh RTA. Digiflavor has put out a slew of very popular products that's placed them on the vaping map, such as the new Drop RDA, Aura RDA, Siren 22, and new compact mods like the Ubox Kit. This new edition incorporates details that have been thoroughly considered to produce the best flavor you can get out of any RTA, using features like an interchangeable deck system that's the height of this design.
Meet The Digiflavor Pharaoh Mini RTA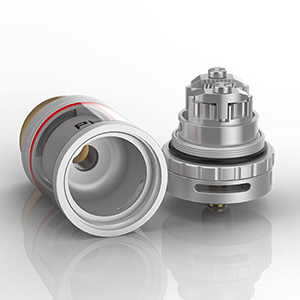 The Pharaoh Mini RTA by Digiflavor is constructed of high-quality stainless steel and glass materials. It offers a reasonable 24mm diameter to give way to just enough space to house all of its incredible internal features. It starts off with a proprietary "Rip Tip" donut styled drip tip that's received its name by the none other than Rip Trippers himself. While the Rip Tip comes pre-installed, the Pharaoh Mini is also compatible with both 810 and 510 drip tips. Just under the drip tip reveals a threaded top fill system that features 3 large fill ports, preventing the potential of a mess. Though the Pharaoh Mini received a very compact design, it offers the ability to change from a 2ML or 4ML e-liquid capacity using two different glass tubes. Continuing to examine this rebuildable tank atomizer externally, it offers dual bottom slot adjustable airflow control and a very appealing overall appearance.
The internals of the Digiflavor Pharaoh Mini RTA is where this tank really begins to shine. For starters, it sports a super domed top cap interior, an interchangeable deck system, and a spring-loaded T-bone clamp build deck that comes pre-installed. This deck makes building and installing coils a breeze. Furthermore, it's easy to wick, boasts a juice flow control feature, and offers the perfect amount of airflow to help you find the balance between both flavor and vapor.