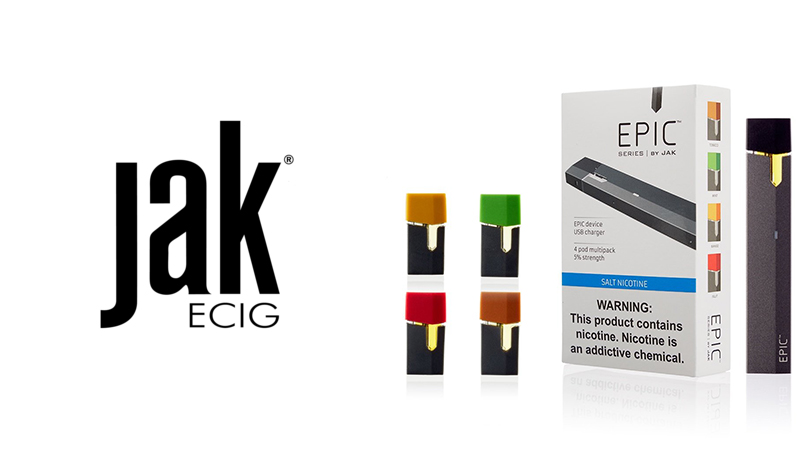 Headquartered in Illinois, JAK ECIG has become a brand that delivers in every facet, from its JAK Disposables to its JAK Starter Kits, being a customer of this brand is truly rewarding. For those that primarily focused on the online shopping, you may not be aware of JAK ECIG, so we're delighted to inform you of this brilliantly crafted vapor products brand. JAK ECIG is a vapor products manufacturer that has been around since 2012, serving a hefty offline customer base through retail distribution channels. As a result, the company has positioned itself as a leading independent privately owned brand, which speaks volume in such a populated market.
In today's addition to our Product Watch category, we're going to share the EPIC Starter Kit Preview, which is a pod-based ecig product created by JAK ECIG. Although JAK ECIG has built a solid reputation for its disposables and starter kits, the immense growth of pod systems created a spark in its research and development team to create a pod system that's better and best represents the JAK ECIG brand name. With that said, the EPIC Series was born.
EPIC Starter Kit
The EPIC Starter Kit is an all-in-one pod system kit that combines the rechargeable EPIC device with EPIC pods. The begin with, the EPIC device has been built to deliver a sleek and portable design, lavished in smooth curves, modern lines, and an overall brilliant appearance where its appeal matches its comfortability. What's most impressive about the EPIC device is its compact size and user-friendly design. It was developed by a team of engineers that wanted to create a product that's not only comfortable to hold but also very comfortable to store when not in use, meaning the EPIC device will easily fit into your pocket or handbag when you're more mobile.
Crafted to perfection, the EPIC device is very user-friendly. There aren't any buttons to control the device, an LED indicator light is equipped to indicate when the device needs to be charged, and the pods can be installed and replaced with ease. The EPIC pods are an extraordinary addition to this kit, as the EPIC Starter Kit includes 4 EPIC pods with various flavors, including tobacco, mint, mango, and fruit. Each pod uses a salt based nicotine and has a 5% strength, allowing you to receive a satisfying experience with each draw. The EPIC pods have a 0.75ML e-liquid capacity, allowing for lengthy vape sessions during moderate use. To charge the device, a USB charger is also included that will allow you to charge the device with ease.
If you're interested in a portable pod system that's geared towards comfort, appeal, and performance, we encourage you to check out the EPIC Starter Kit by JAK ECIG!