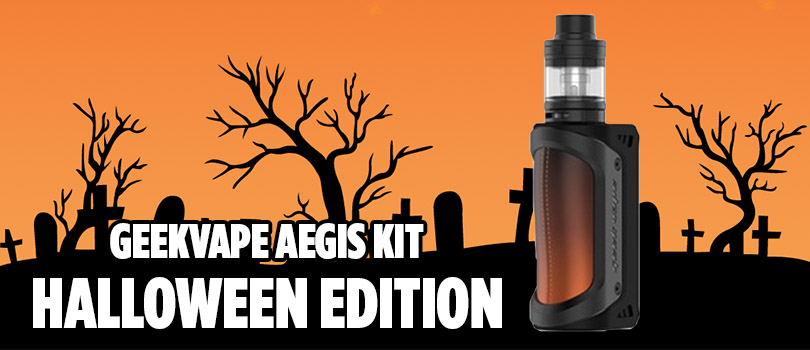 Blistering with Halloween spirit, the GeekVape Aegis Kit Halloween Edition is a surefire way to get your heart racing due to its exceptional appearance. Though you would think this Halloween Edition Kit would give you the scare of a lifetime, it certainly doesn't because of its advanced built-in protection features. What you will get is a special edition Aegis Mod and the Shield Tank, GeekVape's new high-performance sub-ohm tank. This combination aims to deliver an incredible design based on Halloween and a shockingly pleasing experience.
The GeekVape Aegis Kit Halloween Edition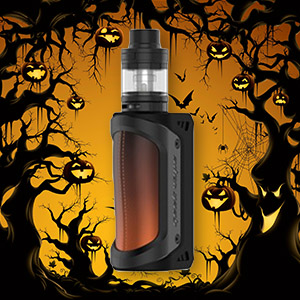 Constructed of aluminum, zinc alloy, and silicone materials, the GeekVape Aegis Mod offers both high quality and durability that you can count on. It entered the market not only with the focus on delivering a visually appealing experience but also made protection of the device and user a top priority. The Aegis Mod offers some of the greatest protection features, such as being IP67 waterproof and dustproof, and MIL STD 810G-516.6 military grade shockproof. Using one of the most advanced chipsets, the Aegis Mod shares real rated power, sporting 0.015s instantaneous firing, seven equipped protection features, a maximum power output of 100 watts, a minimum resistance of 0.05Ω, and a full temperature control suite and five total output modes. Furthermore, the Aegis Mod is one of the most versatile products on the market, having the capability of housing either a single 18650 or 26650 battery for superior battery life.
The appearance of the Aegis Kit Halloween Edition is an important factor, as the pumpkin orange gradient further enhances the already beautiful visual appeal that the Aegis Kit offers. It's coated with sleek lines, beautiful curves, a 3-button control face, and a 0.91″ OLED display that's neatly organized. A hidden micro-USB port is onboard as well, but its new pumpkin orange color gradient on its durable terrain is where it really stands out and offers that Halloween feel.
Paired in this kit is the GeekVape Shield Tank, a new highly advanced sub-ohm tank designed to match the GeekVape Aegis Shielded Mod with ease. It features a stainless steel body with a stealth black coating and uses pyrex glass. A top-fill design is included for easily filling the tank, while a wide bore delrin drip tip rests atop. Along with dual bottom adjustable airflow control, precision machined 510 threading, a 4.5ML e-liquid capacity, and compatibility with GeekVape's IMR Coil, you'll receive an exceptional vaping experience filled with incredible flavor and vapor.