The Horizon Tech Arco 2 Sub-Ohm Tank is the most recent addition to Horizon's large arsenal of products, now taking place of the original Arco Tank. While Horizon Tech has been on the map many years now for past sub-ohm tank products, such as the highly popular Arctic Tank Series, Spartan Tank, Ultima Tank and a list of others, it hasn't quite led the way for atomizer tanks in quite some time. However, the time has progressed, old patterns have changed, and a brand that was once a crowd favorite is beginning to make some traction with its latest release, the Horizon Tech Arco 2 Sub-Ohm Tank.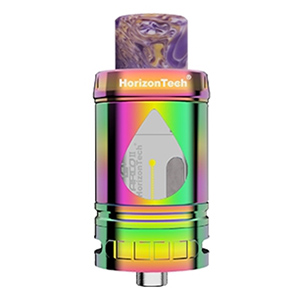 The new Arco 2 Tank by Horizon Tech is the improved upon version of the original Arco Sub Tank, maintaining the superb lifespan of the original, yet making improvements on its start-up time, its wicking system, its performance, and significant improvements to the coil heads. To begin with, the Horizon Arco 2 Tank is constructed of stainless steel and glass. It uses high-quality materials for parts like its Delrin wide bore drip tip and a vacuum-plated glass tank. While the Arco 2 Tank's main features are something I would prefer to dive into first, it's a must that you quickly learn of its 25mm diameter that now allows for a large 5ML e-liquid capacity. Along with a great capacity, the Arc 2 Tank now features a twist-off top fill design sporting dual fill holes. One thing I definitely want to share is the appearance of this tank, although its features are more discussion worthy. The design looks flawless, unique, and very personal. The Arco 2 Tank features color matched drip tips to match the bright and vibrant color of the tank and overall gives off a fancy appeal that's easy to rock with.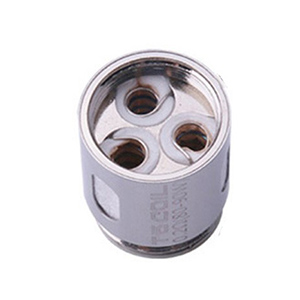 If you've managed to read along this far, you're already aware of the Delrin wide bore drip tip, so to complement its airflow it features dual adjustable airflow control with dual airflow slots, giving you the capability to dial-in on airflow output and overall performance. One of the Horizon Tech Arco 2 Sub-Ohm Tank's most prominent features is the use of the Horizon Arco 2 stainless steel coil heads that can be used for both variable wattage and stainless steel TC modes. An added bonus to this is that the Arco 2 Tank is also compatible with the original Horizon Arco Coil Heads, giving you more options than ever before. Included with the sub-ohm tank kit are two Arco 0.2Ω T6 triple SS coil heads capable of 80 to 90 watts, which are also compatible with the SMOK TFV8 Tank. Just when you think that completes this futuristic  tank offering, then comes the bomb of its new and improved upon wicking material. The flax material has become a piece of interest to consumers and manufacturers as of lately, so Horizon Tech has designed the coil heads to utilize a special combination of wicking materials, including flax cotton, flax paper, and cotton to improve its wicking capabilities and flavor output. The use of this material now acts as a new triple layer e-liquid guiding system. For those that don't already know, flax paper can hold a substantial amount more of e-liquid than regular cotton and has a higher burning point as well, so this could greatly reduce dry and burnt hits during your vaping sessions in the future.
While many manufacturers have gained loyalty due recent tank developments, Horizon Tech is beginning to make its way back into a leading position with new and innovative features equipped on the new Arco 2 Sub-Ohm Tank. Though it's too early to tell now at the time of writing this Arco 2 Tank Preview because we're still a month out from its official release, this new tank certainly looks and sounds promising.