Ever since the launch of the disposable vape market, users have been amped to squeeze out every bit of use they can to make their devices last that much longer. Although these devices are extremely cheap, people want them to last, and taking advantage of a product is like a sixth sense. As the old saying goes, give someone an inch and they'll take a mile, and none of us are any different from that statement. From our mobile phones that we combine with battery packs to our televisions that we add streaming devices to, we're always looking to gain more. Disposable vapes are no different, and one way to extend their life is to recharge their battery, despite being "disposable".
Why Recharge A Disposable Vape?
That brings us to our first question, why do you need to recharge a disposable? By recharging your disposable device, you are not only lengthening the time you can use it but you are also ensuring that you utilize the entirety of its contents. In other words, you're getting more puffs and vaping it completely. Without being recharged, the device can only be used until the battery has depleted, and this often happens before you've gone through all of the vape juice inside of the device.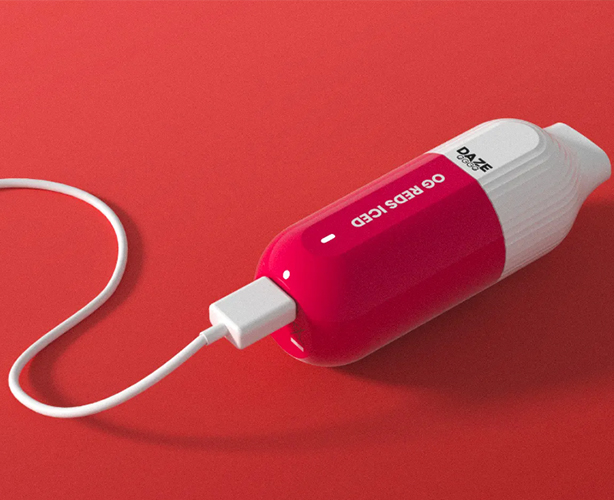 Although manufacturers pair battery and vape juice capacity to the best of their knowledge, the truth is, that the battery is the first to go, and that means there is still vape juice inside of the device that you've paid for, which is being unused. Ultimately, the solution is to recharge the device.
Reasons Why You Should Recharge A Disposable Vape
To use it longer or to increase the puff count.
To make sure that the battery lasts longer than the vape juice.
To vape all of the vape juice entirely.
Can You Recharge Disposable Vapes?
Although some disposables are not intended to be recharged, technically, they can be recharged if you are experienced enough or have the knowledge to do so. There are many instructional videos on YouTube on how to recharge these devices, however, it has become pointless to worry about recharging non-rechargeable devices. Manufacturers have started making disposable vapes with the ability to recharge them by adding an equipped charging port. You can see in the video below, that doing this is very extensive.
Recharging disposable vapes became a huge safety concern for manufacturers, as it became very popular for the reasons specified above. To combat this and to prevent users from potentially causing harm to themselves, they've started including a charging port. This has also allowed manufacturers to start using smaller batteries in these devices. By using a smaller battery, users can achieve the same or higher puff count because it allows for a larger vape juice capacity.
What Disposables Are Rechargeable?
There are several disposable devices that are now rechargeable. It has now become an industry standard, as most manufacturers are still in a race to offer the highest puff count. We will list below 6 of the top disposable vapes that are rechargeable.
As you can see, there are many devices available that are now rechargeable, and the ones shown above are just some of the most popular. While recharging a non-rechargeable device is a way for you to "cheat" the system, in 2022 it just isn't needed. Why jeopardize your safety and those around you when you can buy a device that already has the feature built-in? Furthermore, buying a device that is rechargeable means it will likely have a smaller battery than non-rechargeable devices, thus allowing manufacturers to make the device even smaller, more compact, and portable.
How To Recharge A Disposable?
If you've come to this article for an explanation of how you can recharge your non-rechargeable disposable, unfortunately, we cannot give you that answer. We think it's absolutely pointless when you can easily buy a device that is made to be rechargeable, such as a lost mary vape. Now, if you're wondering how you to recharge a disposable that is rechargeable from the manufacturer, that is a simple one that we don't mind answering. These manufacturers have made it just as simple as any other part of these devices. They are made to be ultra-convenient, so it's as simple as plugging the USB into a USB outlet, then plugging the micro-USB end into the port on the device. Wait roughly 30 minutes and your device should be fully charged. Of course, you'll need to read the packaging on the device to see if there is an indicator of how long the battery takes to charge.