Gifted with nice curves, a unique design, and a fresh appeal, the all new iJoy Exo 360 Mod Kit looks like it may just be another hit from the iJoy brand we've come to love over the past couple years.  The new Exo 360 is iJoy's take on large power and large battery life right at a time when other manufacturers are releasing similar products that offer a 4-battery configuration and high wattage capabilities.  Keep reading to learn more about the new iJoy Exo 360.
[mks_button size="medium" title="GET THE IJOY EXO 360 MOD HERE" style="rounded" url="http://bit.ly/2oDShZZ" target="_blank" bg_color="#000000″ txt_color="#FFFFFF" icon="" icon_type="" nofollow="1″]
[mks_separator style="dashed" height="2″]
iJoy Exo 360 Mod Kit Includes
When you purchase the Exo 360 Box Mod Kit by iJoy, you'll receive the Exo 360 Box Mod itself, the Exo XL Sub-Ohm Tank, an XL-C2 Coil, a XL-C4 Coil, a replacement glass tube, a micro-USB cable, a 510 drip tip adapter, a vape band, user manual, and warranty card.
iJoy Exo 360 Features and Specs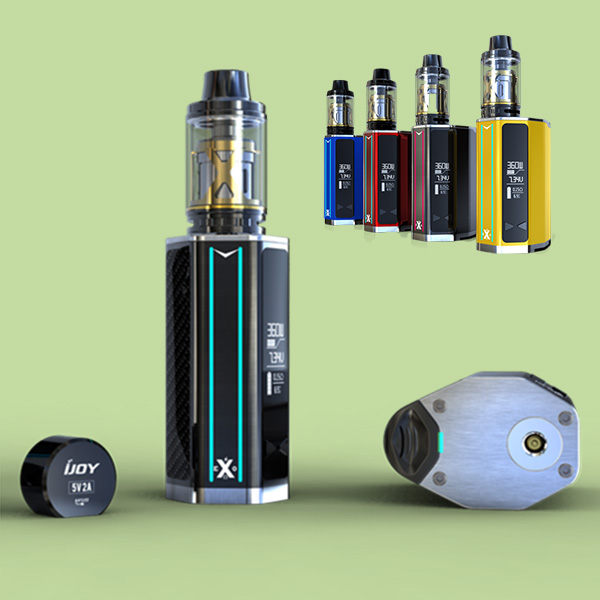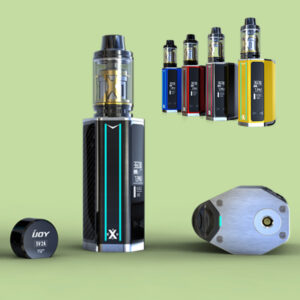 The Exo 360 Mod offers a similar shape to the Reuleaux RX2/3, yet slightly different.  The front facing of the device offers a unique design aimed towards appeal, while just to the right there is an OLED display screen that boasts a vertical stack.  Though information is very limited now, it looks as if the back of the Exo 360 has a removable battery cover, which should hold a battery itself.  As you are already aware, the iJoy Exo 360 takes four 18650 batteries that will allow it to scale up to 360 watts or it can hold just two 18650 batteries that will allow it to scale up to 220 watts.  As you would expect, batteries are sold separately.  The total size of this mod is 58x40x84mm.
Like other 4-battery mods that have been released recently, the Exo 360 also features an adapter that can be screwed onto the top 510 connection, which will allow you to use the Exo 360 Mod as a power-bank.  Due to the large size of the device, it supports an atomizer size of 30mm, but comes with the iJoy Exo XL Tank to complete as a starter kit.
iJoy Exo XL Tank Features & Specs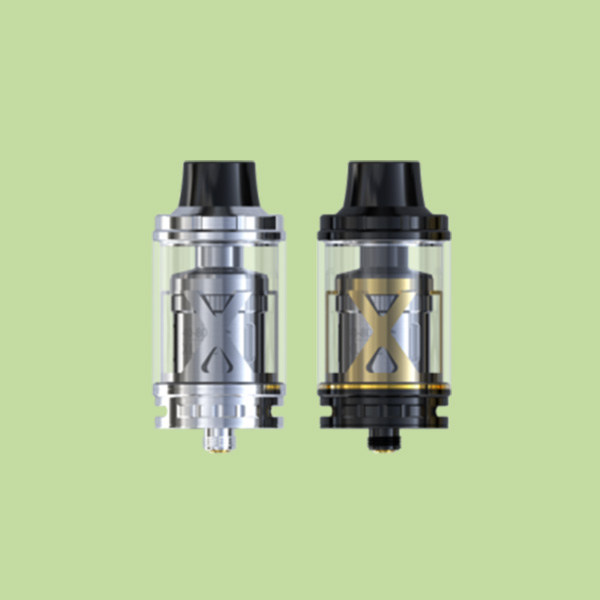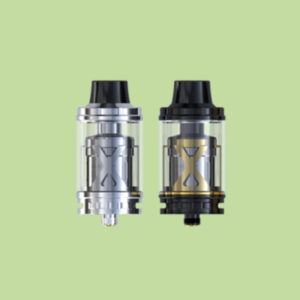 The Exo XL Sub-Ohm Tank looks similar in appearance to iJoy's Limitless XL Sub-Ohm Tank, however there are some slight changes to differentiate the two.  First off, the Exo XL is constructed of stainless steel, it only weighs 63g, and has a size of 26×56.6mm.  It of course utilizes a 510 threaded connection, and it uses pyrex glass for its tank portion, which offers a large 5mL e-liquid capacity.
You can expect a cone shaped delrin mouth piece and dual adjustable airflow control located at the bottom base of the tank.  This tank offers something that many tanks do not have the capabilities to reach, which is super high wattage.  The iJoy Exo XL Tank uses an XL-C2 Coil that is 0.3ohm and is rated for 40 to 80 watts, while it also uses a XL-C4 Coil that is 0.15ohm and is rated for 50 to 215 watts.