The all new RDTA Box by iJoy is a new all-in-one mod that incorporates a high wattage, dual 18650 mod with a rebuildable dripping tank atomizer, and not your standard sub-ohm tank like most all-in-one mods offer.  These RDTA's offer the same experience you would receive from the best drippers on the market, yet it comes complete with a tank, eliminating the hassle of actually having to drip to get that same great experience.
I've found that the iJoy RDTA Box is a fantastic mod for any vaper to own, as it delivers the all-in-one design, a mod that is capable of delivering immense power (along with being easy to use), and a tank that is not only very versatile, but also makes it easy to get the best flavor and vapor production.
Appearance
Since using the RDTA Box I've had some odd looks from friends and the public. And, I agree with them, the RDTA Box by iJoy doesn't look the best in the world.  I've had some people tell me it looks like some transformer type shit, while others are saying it's something related to tron.  However, all of them, including myself, agree that the mod is pretty damn big.  So yes, even though I'm going to praise this mod throughout this review, I do understand it's big, a bit clunky, and doesn't have the best feel in the world.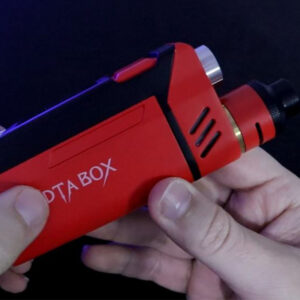 The top of the RDTA Box of course boasts the RDTA, which features a delrin top cap, a housing with adjustable airflow control, and just below that is the 12.8mL tank that's built into the mod itself.  For visibility of the e-liquid in the tank, there are three slits cut out on each side of the device, letting you know just how much e-liquid is in the large RDTA Tank.  Moving back up towards the top of the device, beside the RDTA there is a silver knob that allows access to the tank.  It's a bit of an eye sore for the mod, but it makes filling very simple and easy.
On one side of the device there is a large battery cover that makes up most of the device.  At the bottom of the battery cover, oppisite from the control face, there is a design cut out with an arrow pointing downwards to show which way to pull the battery cover off the device.  That cut out design also acts as ventilation for the device.  On the control face, there is a large square fire button towards the top, then just under it there is an OLED screen that features a visually appealing vertical stack to display wattage, power strength, voltage, resistance, puff count, and the remaining battery life.  Just below that sits two chrome-plated adjustment button, and a little further down is the micro-USB port.
Features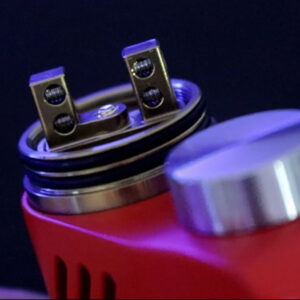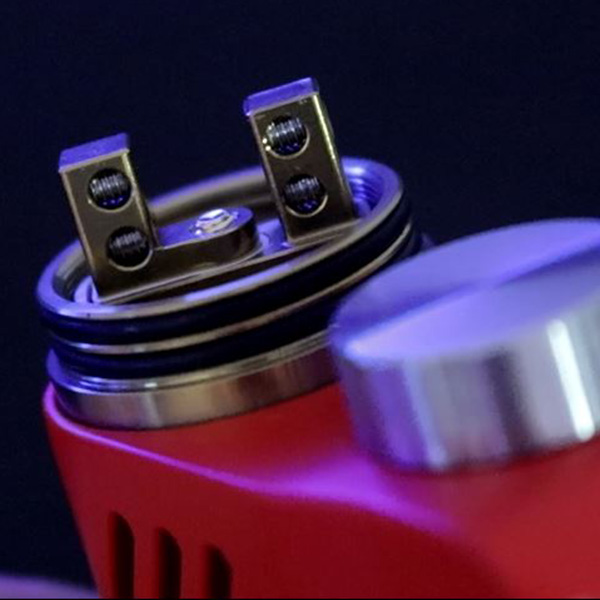 The iJoy RDTA Box is an outstanding mod, despite its large size.  It offers a slew of features that make this device one I've come to love, such as its ability to scale from 5 watts and up to 200 watts, its 0.05 minimum resistance, its temperature control feature that allows for Ni200, Stainless Steel, and Titanium, and of course one feature that I love the most about this device, its four setting output mode, which allows you to choose from hard, normal, soft, and user defined — a customized working waveband.
Now I must not forget to mention things like its ability to be firmware upgraded, its large 0.96″ OLED screen that has a vertical stack, its easy sliding battery door, and its ability to hold two 18650 batteries.  In addition, you must understand that a large part of the reason why this device is so big is because it's an all-in-one mod that features an RDTA that boasts a 12.8mL tank — the tank lights up when you press the fire button, which allows you to see how much e-liquid is in the tank.  But the main feature I want you to recognize is simply the RDTA part of this overall device.  It has an integrated combo RDTA platform, which allows you to use the IMC3 Deck, which is a velocity style deck that comes pre-installed, or you can use the included IMC Coil that is pre-built for the RDTA.  The pre-installed coil, which you see in the provided at the top of this post, works flawlessly, but after the video I began noticing that the wick wasn't continuing to perform (I used the coil for like 5-6 days). Of course I resorted to the included velocity style deck, which I'm still currently using now and loving.
Performance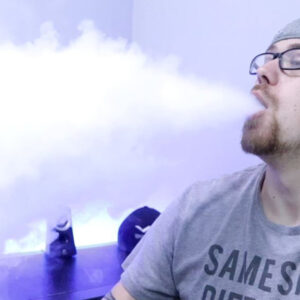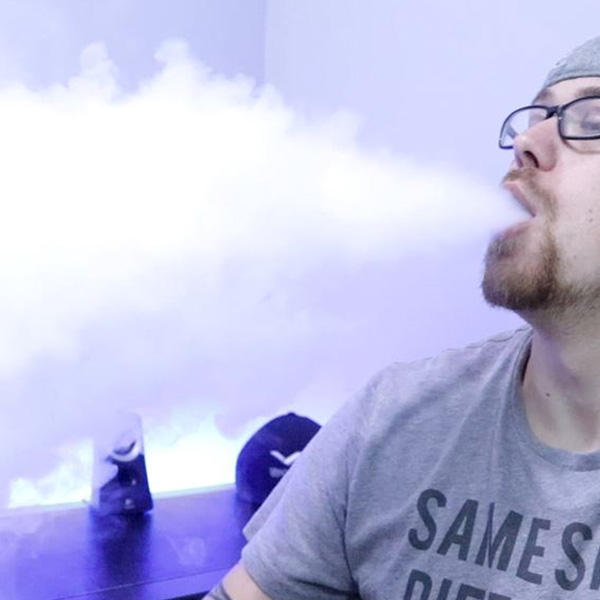 At first I wanted to not like this device.  In fact, I just knew I wasn't going to like it, and instead of letting it collect dust after this review, I knew a family member of mine wanted it, so I was going to give it to them.  However, after using the RDTA Box by iJoy, I immediately fell in love with it and couldn't let it go (I ended up buying one for that family member).  It just performs so good, the flavor is amazing, the vapor production with the Alien Clapton coils that I'm using is awesome, and the 12.8mL e-liquid capacity this thing has just makes this device even better.
You see, I love using RDA's, but I absolutely hate dripping.  However, to get what I believe is the perfect experience, you have to drip — that is until I met RDTA's, which is just like a rebuildable dripping atomizer, except that there is a tank below the deck where your cotton hang down to.  That said, I still get that RDA type experience, yet I have a large tank constantly feeding e-liquid to my coils where I don't have to drip.  I honestly don't like the large size of this mod, but I look past that because it offers such a great experience, be it from the chipset, the RDTA, and even something as simple as the battery compartment design where you can push the battery out with ease instead of relying on the standard battery strap found in most mods.
iJoy RDTA Box Mod Review
Appearance

Features

Performance
Summary
The iJoy RDTA Box Mod is a stellar device, one that immediately grew on me. I truthfully do not like its large size, but its great performance, its easy operation, and the amazing experience that it offers won me over easily. I stand by this product 100%, and I feel it's the best all-in-one mod I've used to date. Stop waiting and just get one for yourself, then come back to this review and thank me later!!