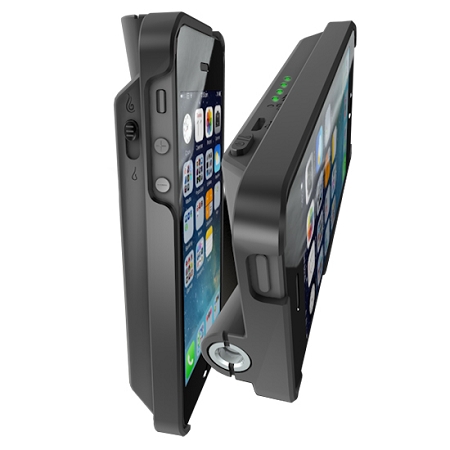 As our e-cigarette market continues to progress, we're going to start seeing more and more tech gadgets being morphed into our already techy way of receiving nicotine. Some may be a bit silly, while others like the Lotus VapeCase can actually be very beneficial to use. Let me tell you about the Lotus VapeCase.
The Lotus VapeCase is a protective casing that wraps around your mobile phone. However, the VapeCase is quite a bit different from the casings you're used to seeing. The VapeCase is actually a variable voltage device that lets you vape directly from your phone. Though it doesn't have the functionality to interact with your phone, it can definitely be a space saver.
Hard to believe? Indeed, but it's very real and available. Here's a list of the features the VapeCase holds.
2000mAh Li-ion battery (rated at: 3.7V)
4 Stage Variable Voltage – 2.75V, 3.5V, 4.25V and 5V
LED battery level indicator
Micro USB charging port
510 threaded connector
510 to eGo adapter also included
And, any advanced device must of course have safety features to back it, right? – The VapeVase surprisingly has them.
15A Power protection
Over / under charge protection
Self shutoff short-circuit protection
Currently, the VapeCase is only made for the iPhone 5 and 5s. However, in the coming months it will be available for more mobile phones. Here's a list:
iPhone 5c
iPhone 4s
Samsung Galaxy S4
Samsung Note 2
Samsung Note 3
HTC One
Once available for my HTC One, I'll definitely be adding the VapeCase to my collection. I've already heard the VapeCase wasn't all that it's cracked up to be from a friend that owns one, but the space saver inside of me is hungry for this new product. I honestly like the idea of not having to carry around multiple devices that fill my pockets. The battery seems like it would hold me over for half a day or so, and it has variable voltage functions, so I'm not sure how you can go wrong with this device? – What are your thoughts?