The Noros RDA by Metro/252 is simplistic in design but is a marvel in vaping technology.  I had the chance to grab one at VaperSlam 2, it was hard work because they were selling fast, and told the guys I would let everyone know exactly what I thought.  The 22 mm was already sold out past the serial number I wanted so I settled with the 28.5 mm stainless steel serial number 0666, as you really can't have the Vapin Demon using anything else – settling is hardly the right word, but I had to pretend to want to spend less money for the sake of my wife who was standing next to me.

Appearance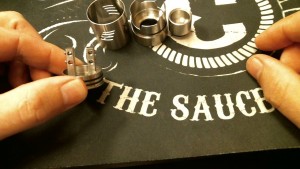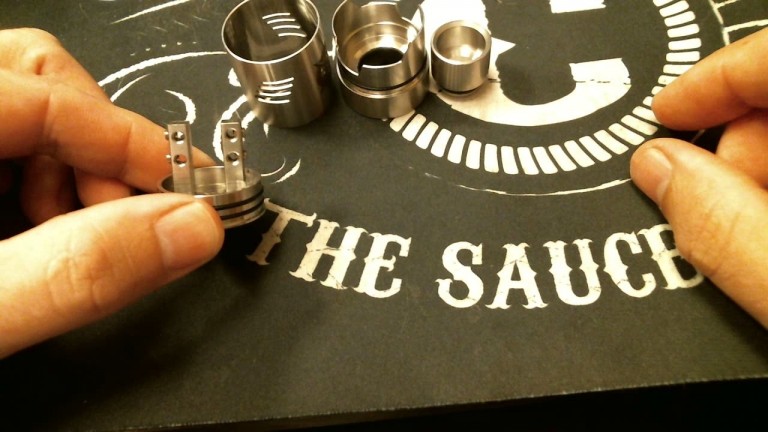 Available in 304 stainless steel and gun-metal, the Noros is absolutely seamless and the machining on this beast is awesome.  From the packaging to the pre-made coils, they have put a lot of thought, care and attention into the product. With the Legion crest on one side and Noros emblazoned on the other, you would be hard pressed to mistake this RDA for any other.  The massive airflow control channels are angled on either side, not only for the sake of appearance but also for functionality.  The massive 2 post deck design is well milled, the posts are straight and parallel with each other and all in all the Noros looks mean.
Features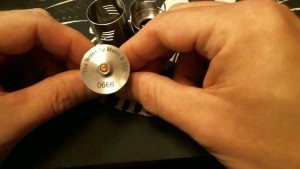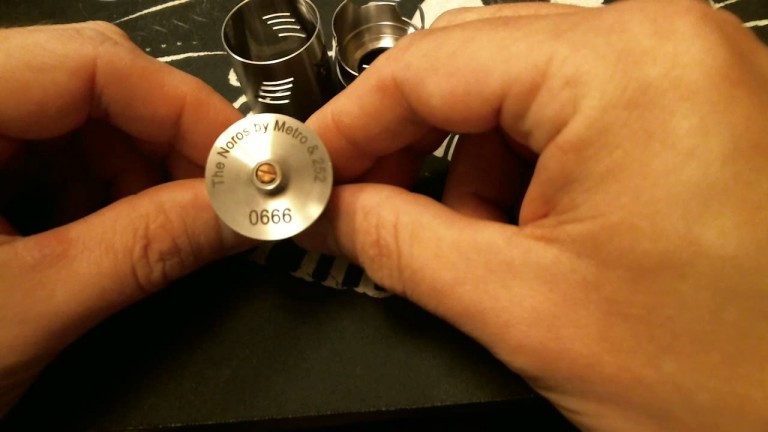 The Noros a simple two post deck design with 2 post hole in each leg.  It features a copper positive pin through the 510 connector, Peek insulator and the choice of stainless steel or copper positive post – you get both with your purchase, it is just a case of switching them out.
The 5 mm juice well is ample to keep you vaping for a while, the lowest section in the airflow control sits just above the lip so you have little chance of spillage from the Noros, unless of course you are like me and try to empty a bottle of e-liquid into the top cap.  The RDA comes equipped with a stainless steel chuff cap, wide bore Delrin chuff cap and 510 Delrin insert for those who wish to step down to a regular 510 drip tip.
The airflow system is designed for complete customization of your vaping experience, one side of the airflow fins close all 4 airflow channels at once, on a diagonal to give the air a swirl as it enters the chamber, while the other side of the fins is stepped to give you the option to have the bottom pair wide open while the top is completely sealed.
Performance
If you hate ridiculous airflow, massive post holes and enough space in the deck for an hours worth of e-liquid, the Noros is not for you.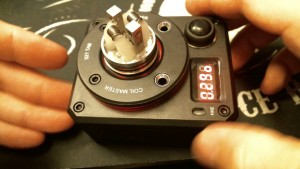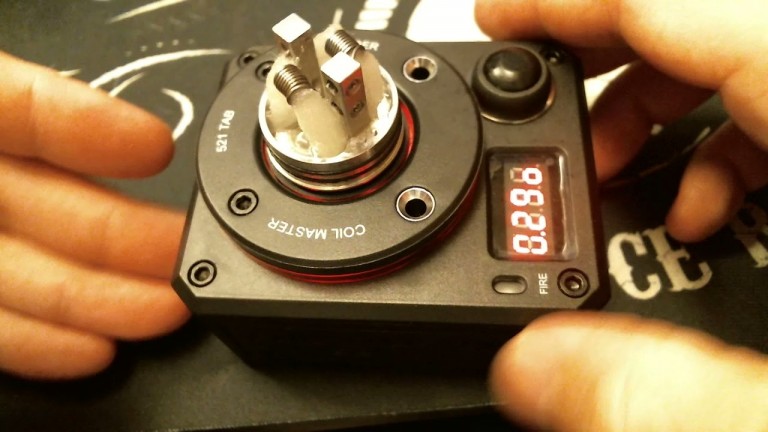 If its supposed to turn, it turns smoothly, if its supposed to fit together, it fits seamlessly.  I guess what I am trying to say is that the company took the time to engineer this thing right, the threads are smooth, the legs are straight, you don't get this kind of quality out of China.
The two post deck design is not original, we have already seen it from a couple of other manufacturers but, as with the others it works well.  I think we are going to slowly see the 3 post designs fall away as more developers realize that vapers are happier when they can fit more wire and cotton into a deck without giving up any functionality or power, and the way this thing is built I could put 4 4 mm coils inside without a problem.
The airflow system is, as I said previously, ridiculous.  Fully open, it feels as though you are breathing regularly with nothing in your mouth.  You have one side that can be stepped down, closing off two of the milled slots while keeping the others partially open or go to the back side of the internal fins to open up a section of all 4 at once.  I absolutely love the diversity of this airflow control system, as although new vapers would never use a system like this, you can adjust it so low that you can actually get a good mouth to lung hit from the RDA.  If you are, on the other hand, like me and want to build at point zero stupid on a series box, the airflow can be wide open and you wont burn your face off.
Building on the deck is simple.  As with any 2 post system, you have so much space to work in, the hardest step is deciding how big you want to go.  Over the course of the last 4 days I have seen 6 mm coils, claptons, twisted alien dooda hickies, you name it.  If you aren't afraid to build like a beast, this behemoth can hold whatever you ask.  It comes with pre-made Clapton coils that work amazingly but I am a simple man and will always revert to single strands of 22 gauge Kanthal.
The only other question that needs answered is how does it vape.  With the 5 mm juice well in the deck, dry hits are few and far between.  As for conversion of electricity into vapor, you are looking at an RDA that hits like a freight train out of the box, great for competition or daily vaping.
– point to note, when building at point zero stupid, the Delrin chuff cap really helps with the "not burning your face off part".
If the Noros is something you are interested in investing in, you can find it on sale right here.  You won't be disappointed.
As always, enjoy your vaporizer and vape safe!