Creating a world of imaginable flavors, stellar performance, and offering a high capacity nothing sounds better than yet another addition to the disposable vape market. This newly developed device comes with a lot of perks, even though your time with it is short-lived. Don't mistake those words for a device that doesn't come with quite the capacity, because if it is the capacity that you want, you will definitely get it from this device.
What should you expect? You can expect a high 8mL capacity, long battery life, a massive 3000 puff count, 50mg of quality salt nicotine, a draw-activated firing mechanism to make the whole process of vaping simplified, and as many as 12 different flavors to suit any taste preference you may have. It's an exciting experience from beginning to end, so please allow us to tell you all about this new device in this PHYRE Disposable Vape Review.
The PHYRE Disposable Vape
The PHYRE Disposable Vape is a disposable vaping device that features a cylindrical shape, a rounded body for comfort, and a compact design that makes using the device extremely enjoyable. It is small, portable, and super convenient, making your time with the device a pleasure each and every time.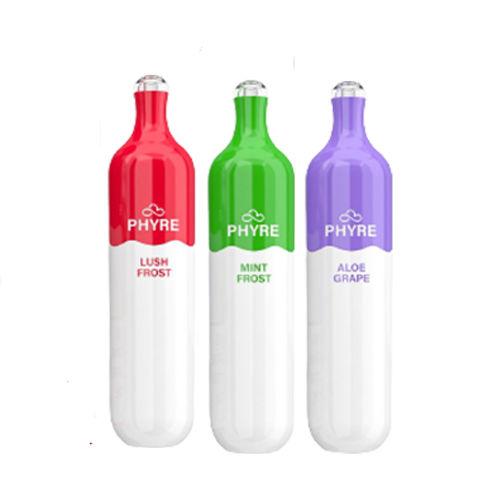 Within the small housing is a high-capacity battery that ensures you receive every last drop from the device. The PHYRE Disposable Vape makes use of its entire structure, allowing enough room for a massive 8mL vape juice capacity. It is home to 50mg of salt nicotine, giving users smooth vapes every time that gives them a sense of quality. When you combine the large vape juice capacity and a high-capacity battery, you can expect an extremely large 3000 puff count. The device also features a draw-activated firing mechanism, meaning there are no buttons you have to worry about pressing for confusing settings. It is as simple as taking a puff and the device is automatically activated, the vape juice is heated and turned into vapor. This entire process is done in an instant.
PHYRE Disposable Vape Flavors
There is a selection of 12 different flavors to choose from. Each flavor has been perfectly crafted to provide the most amazing taste experience. The flavors combined with the smooth and enjoyable quality of the vape juice, which also combines with the satisfaction of 50mg of salt nicotine, there is nothing more pleasing. The flavors available consist of Aloe Grape, Aloe Watermelon, Boost, Lychee Frost, Mamba, Mint Frost, Peach Frost, Pina Loco, Strawberry Grape, Strawberry Mango, Strawberry Banana, and Lush Frost. They are all very complex flavors that deliver such a delicious taste each time you take a puff.
Our Thoughts
The PHYRE Disposable Vape is definitely one to add to your list if you are looking for a new disposable device to add to your collection. There are many flavors to choose from, so we just know you'll find a favorite flavor out of the bunch. With its large 8mL capacity, high capacity battery, and with a large 3000 puff count, there simply isn't anything to complain about. Everything you could ask for is there, and it comes pre-filled, pre-charged, and ready to provide vaping pleasure at its finest.