This Sigelei Kaos Spectrum Mod Review should be the defining factor towards if you're going to pick this mod up for yourself or not. Many of you doubt it because of the LED light bezel that surrounds its colored TFT screen, while others see it as a new feature that only enhances the use of a mod. Some of you are even stuck on which is better, the Sigelei Kaos Spectrum or the SMOK Alien. In my opinion the Kaos Spectrum wins it easily… let me tell you why though.
GET THE SIGELEI KAOS SPECTRUM MOD HERE
---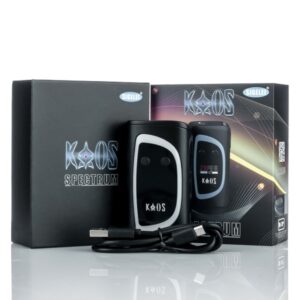 Appearance: In the appearance category, the Kaos Spectrum is incredible. It was designed to look the best and that's what it does. First off, it stands just 88mm by 45mm by 30mm, and is constructed of zinc alloy, meaning it passes the test on durability. It has a 3-button configuration with a large round button on the side of the device, while two adjustment buttons rest of its screen on the front. Just under the buttons there is a color screen, then surrounding it all there is a large LED light bezel, which we'll talk more on later in the review. As with most devices, a 510 connection sits at the top, just to the right of it says Spectrum, the backside of the device has a leather inlay for appearance and grip, and the side of the device has a micro-USB port.
Features: Many of its features are geared towards its appearance, such as the 0.96 inch TFT color display screen that changes color depending on wattage, mode, and current battery life. Along with its LED light bezel that stretches nearly the entirety of the front of the Kaos Spectrum and allows users to change up to 6 colors for a different look. With this bezel, there is an option for the bezel to be lit only while the screen is lit, on continuously, or turned off entirely. Aside from that, there is a micro-USB port for charging and future firmware upgrades, and a latched bottom battery cover that can hold two 18650 batteries. It allows you to range from 10W to 230W, has a minimum resistance of 0.1Ω, offers full temperature control with stainless steel, titanium, and nickel ni200 support, as well as TCR. Lastly, the Sigelei Kaos Spectrum has a unique and detailed pre-heat function that really lets you dial in on the performance of this device.
Performance: As for its performance, you can expect all of its features to work just as described from the manufacturer. Sigelei is known for producing some of the best performing mods on the market, and they didn't short not one bit with the Sigelei Kaos Spectrum. The wattage feels true, it offers a consistent hit, and if you mess around with the pre-heat function a bit, you can get even better performance from it. Ever since I purchased this device, I have stopped using my SMOK Alien and continued using the Kaos Spectrum.