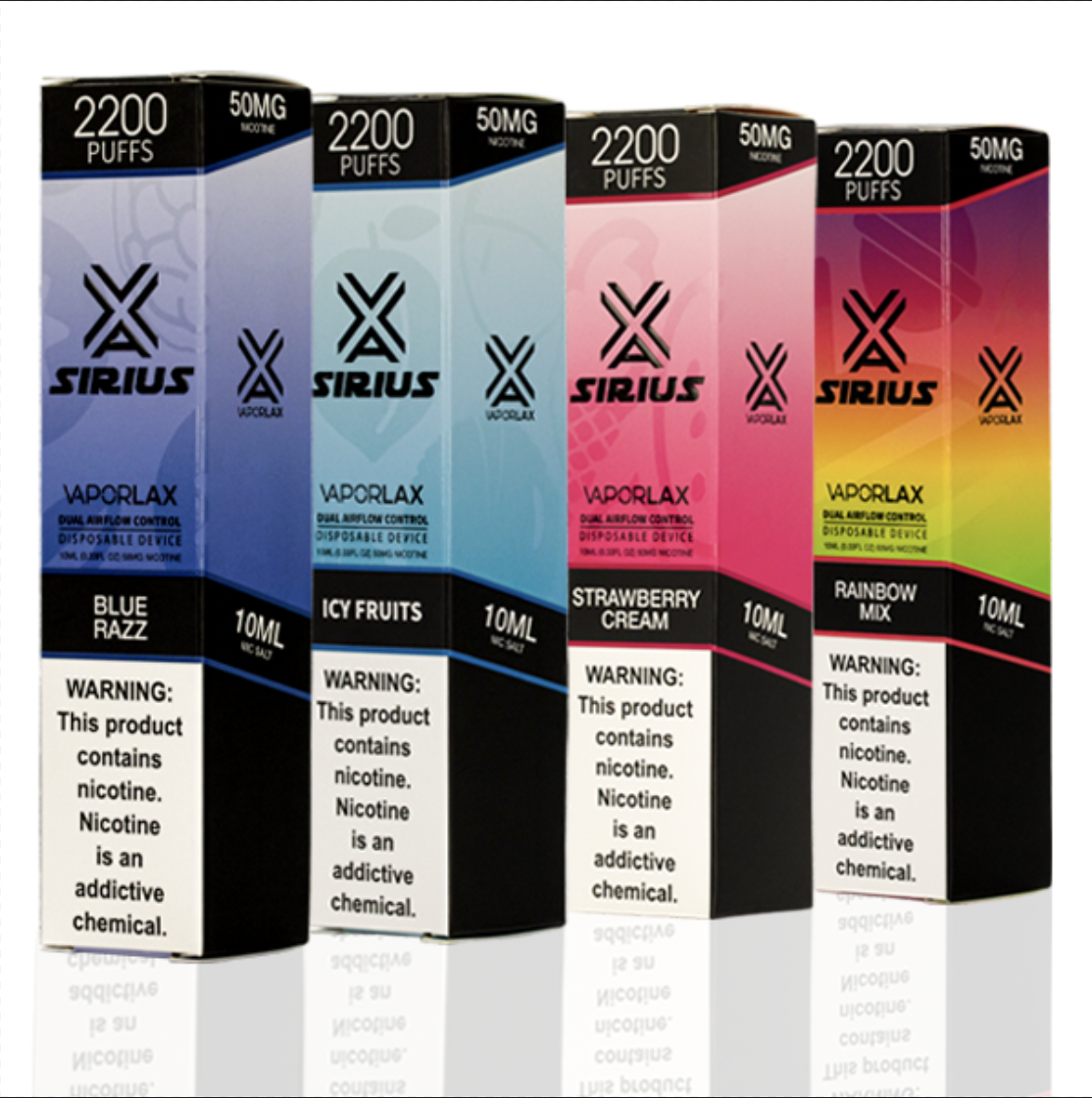 In a world of hundreds of brands and styles of disposable vapes, it is important to find which ones deliver the best flavor, last, the longest and have the highest quality to ensure you don't get a defective unit. Sirius Disposable Vapes are available in 18 flavors and contain 10mL of prefilled nic salt juice in a 50mg nicotine strength. The Sirius vape is a massive disposable vape that lasts at least 2200 puffs and has an industry-leading defective rate of 0.1%. This low defective rate is due to the quality control testing that VaporLax does at the factory before each Sirius disposable is boxed and shipped. The current vape industry disposable vape defective rate is 2%.
Best Sirius Disposable Vape Flavors
Even though I typically prefer fruit or fruit and ice disposable vapes, the Strawberry Cream Sirius vape was one of my favorite flavors. The Strawberry Banana, Crush Grape, Rainbow Mix, and Tropical Punch round out my top five flavors in the Sirius line. Other flavors that are available in the Sirius line are Blue Razz, Cool Mint, Icy Fruits, Banana Ice, Peach Ice, Lush Ice, Captain, and Pineapple Peach Mango.
Strawberry Cream Sirius
The Strawberry Cream Sirius vape has a strawberry flavored base and whirls in the perfect amount of cream flavoring. The cream flavor does not taste artificial like many dessert vapes often do. I've found this one to be my favorite vape in the Sirius line because of this nice balance of creamy and fruity flavoring. This vape is definitely for vapers that tend to like sweeter flavors.
Strawberry Banana Sirius
The Strawberry Banana Sirius uses the same strawberry base as the Strawberry Cream, but instead of a light cream flavor, there is a ripe banana flavoring. A well-done strawberry banana vape is typically a top seller for any vape line due to its popular mix of flavors. Tastes just like a strawberry banana smoothie.
Crush Grape Sirius
The Crush Grape flavor has a punch of purple grape flavoring that tastes just like a grape soda or grape pop (depending on what part of the US you are from). The Crush Grape is a sweet grape flavor that is a nice change of pace from the regular strawberry, mint, apple, and blue razz flavors that most companies primarily market.
Rainbow Mix Sirius
I'm not sure the exact fruit flavors that are in the Rainbow Mix, but it explodes with sweet and sour flavors right from the first puff. This mix of sweet and sour leans more towards the sweet side. I would consider it somewhat of a candy vape flavor and is a great option for vapers that have a sweet tooth.
Tropical Punch Sirius
The Tropical Punch vape also contains a mix of fruit flavors but does not have quite as intense a flavor as the Rainbow Mix. The Tropical Punch has more of a smooth fruit punch flavoring that seems to have an apple base, while the Rainbow Mix is more of a candied fruit vape. The Tropical Punch Sirius has a mix of authentic fruit flavors that make it a nice all-day vape option.
Sirius Recommendation
The Sirius Disposable Vape by VaporLax is definitely an impressive disposable vape. First off, the size of the disposable itself is surprising because it is very large due to the 10ml tank. Each Sirius will last about a full week for most vapers which makes this vape a pretty good deal. I would definitely recommend this product to vapers that like disposables or for vapers that are traveling because of how long it lasts. The industry-leading defective rates also make me feel better about purchasing the Sirius. I am sick of buying disposables that are duds or work for only one day.