The all new Smok GX350 Mod is a new device that delivers a four battery configuration, high wattage, and without a large footprint.  With the last year, Smok has delivered some of the most popular mods within the market, and the all new GX350 Mod is on path to become yet another due to its unique design, its high wattage output, and its extreme versatility.
Smok GX350 Mod Kit Includes
When you purchase the Smok GX350 Kit, you'll receive the the GX350 Mod, a TFV8 Cloud Beast Tank, a V8-T8 0.15ohm Octuple Coil Head, a V8-Q4 0.15ohm Quadruple Coil Head, a replacement glass tube for the tank, a user manual, as well as some spare parts.
Smok GX350 Features and Specifications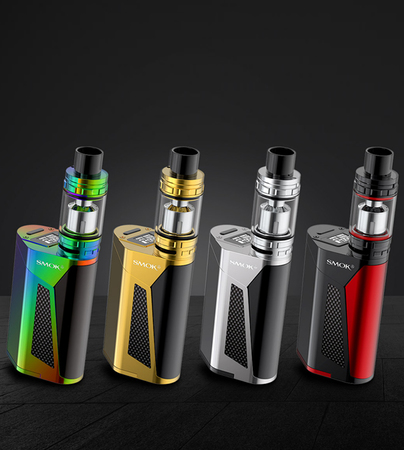 The GX350 Mod will be available in 4 different color options, all coating a high quality zinc alloy construction.  The mod offers an ergonomic design, it has an innovative firing button, a classy carbon fiver inlay, and it also has a compact design — just 58×40/4×84.5mm in size and a 151mm perimeter.  Furthermore, you can expect a massive intuitive OLED display screen, a latched bottom battery door, and a USB port that is used for future firmware upgrades.
What's most impressive about this new device is that it's powered by either two or four 18650 batteries, which are sold separately from the kit.  When using the 2 battery configuration, you have the ability to reach 220 watts of power, but when you use all 4 batteries you can reach up to 350 watts of power.  As with many mods available today, this new and exciting addition to the Smok family also offers temperature control, which allows you to range from 200 to 600 degrees, and fire down as low as 0.06ohm.  Other features includes a puff monitoring system, a 12-second cut-off, short-circuit protection, over-heating protection, and low battery warning.
Smok TFV8 Features and Specifications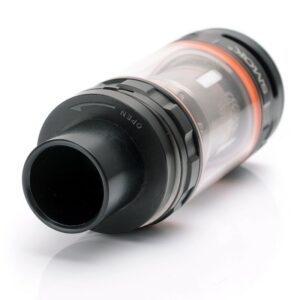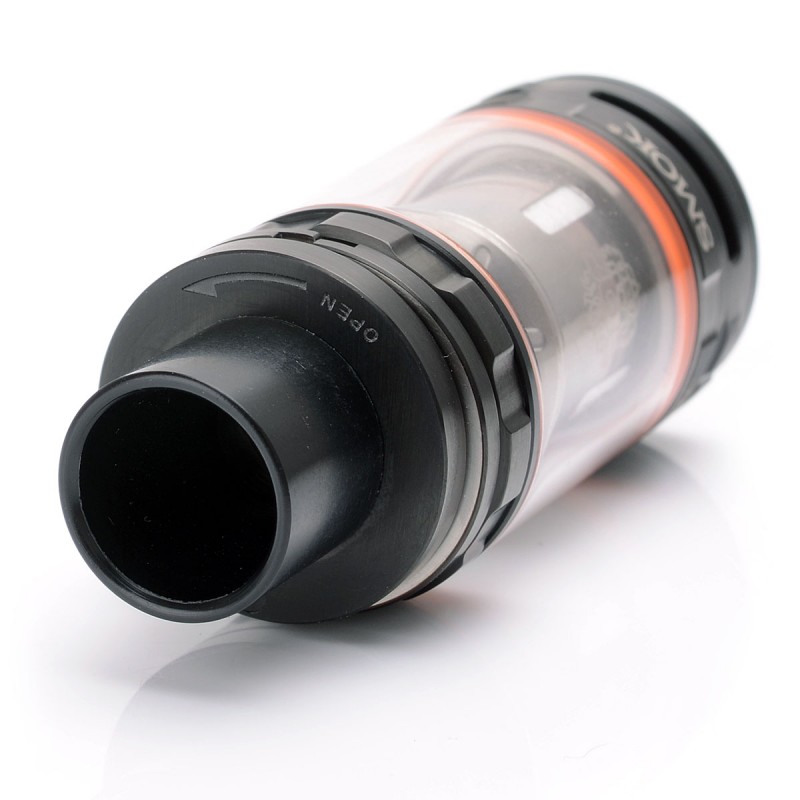 We're quite aware that the TFV8 isn't anything new, but we do want to list its features and specs since it's included in the Smok GX350 Kit.  With this incredible tank you can expect a stainless steel construction that is coated with a few options as far as its colored finish.
It offers a top fill design with a swivel top cap, a wide bore delrin drip tip, adjustable airflow control, along with a pyrex glass tank that has a 5.5mL e-liquid capacity.  One thing to note about the TFV8 is that it uses a large assortment of high performance coils, making the combination of the GX350 and the Cloud Beast Tank a monstrous pairing.