Introducing the SMOK Resa Prince Tank, a sub-ohm tank that's structurally sound and fabricated with complexity using a very appealing resin material. Based on the original Prince Tank, SMOK decided to add a touch of flare with a resin shell, while still delivering impeccable performance from the use of the V12 Prince Coil Family. This incredibly designed tank delivers everything one could ask for, including quality, appeal, and performance, a trio of perks that will make the Resa Prince Tank go down in history as one of the best and most innovative tanks of 2018.
Meet The SMOK Resa Prince Tank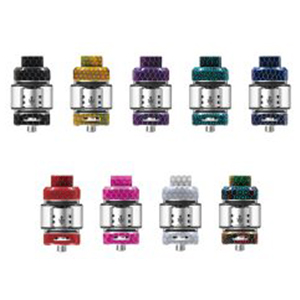 Meet the SMOK Resa Prince Tank, a high-performance sub-ohm tank constructed of durable 304 stainless steel, as well as additional protection and appeal with a visually stunning resin shell. The resin shell adopts SMOK's popular Cobra design found with drip tips included in the TFV12 Series tanks. On top of its appealing body, it also features a matching 810 resin drip tip with the traditional Cobra design to complete its look. While the actual tank portion of this unit is constructed of borosilicate glass, it features a bubble design that allows for a larger 7.5ML e-liquid capacity. To fill the tank there is a push button positioned towards the top that when unlocked the top part of the tank slides open to reveal a top fill feature. Moving towards the bottom reveals dual adjustable airflow control with large air slots for superior airflow. Further enhancing the performance means utilizing the V12 Prince Coil Family, a combination of three included coils. Enjoy a very open, airy and high-performance experience with the V12 Prince-Q4 Coil that is a quadruple coil and has a resistance of 0.4ohm. The V12 Prince-X16 Coil is a sextuple coil and has a resistance of 0.15ohm, delivering a slightly stiffer draw and an ever greater wattage range. The V12 Prince-T10 Red Light Coil is the newly redesigned decuple red light coil that has a resistance of 0.12ohm — this coil emits a red light each time the tank is activated/in use.
If you were a fan of the original TFV12 Prince Tank, you're going to love this reimagined version that features a resin shell. Its performance is top notch and the looks are even better. When viewing this tank it's easy to see how the use of resin materials have given manufacturers another way to interest us in products, be it they deliver the same performance as another or not. The open airflow and high-performance coil options is certainly what makes this tank, but the resin shell and its high appeal is what makes it better.