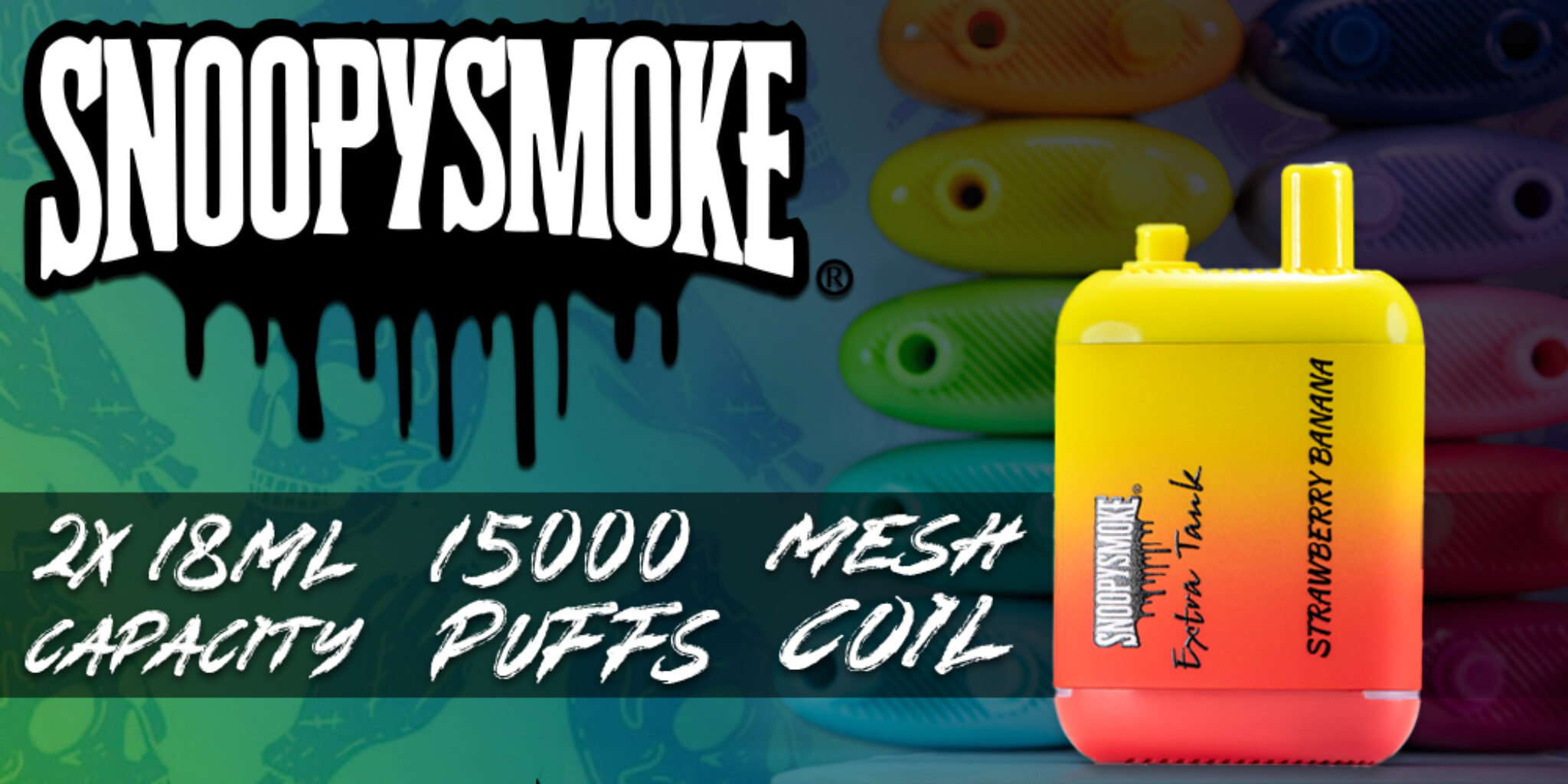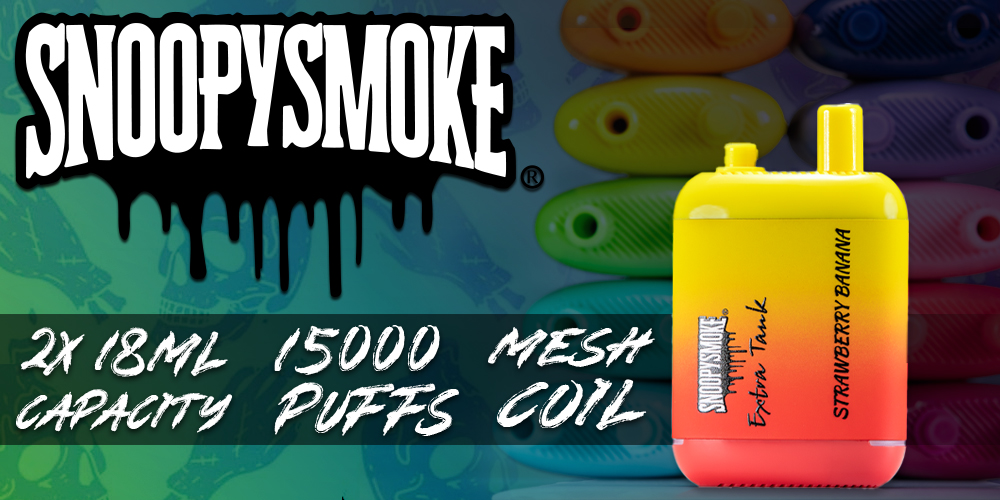 Disposable vapes are popular because they are compact, have great flavors, are satisfying, and require almost no effort to use. All you need to do is open the packaging, remove a few stoppers, and inhale. The draw-activation does the rest. Nothing to fill. No fuss. No muss. 
Now that disposable vapes are rechargeable, the only real limit on their e-liquid capacity is coil life. Designed for temporary use, there is no swapping coils in a disposable. They are engineered to kick out a specific number of puffs for a set duration.
Huge gains have been made with anti-burn technology and mesh coil structures, but there is no mouth-to-lung (MTL) coil yet invented that can avoid a decline in flavor density and vapor production after vaping 15-20ml of nic salts. Even with the standard low-wattage outputs of disposable vapes, they eventually get worn down. 
This is a shame because the lithium-ion batteries in a disposable are good for more than just 3-5 charging cycles. The Snoopy Smoke Extra Tank addresses this limitation head-on with a unique solution. And by increasing the longevity of the device, it gets more use of the lithium-ion battery and reduces waste. 
Snoopy Smoke Extra Tank Specifications
Nicotine Strength: 50mg
Puffs: ~15000+
E-Liquid Capacity: 36ml (18ml x 2)
Battery: 650mAh (USB-C Rechargeable)
Battery Life Indicator
Snoopy Smoke Extra Tank Features
Two 18ml Tanks
Individual Coil Per Tank
Individual Air Flow Tank
The Snoopy Smoke solved the coil life quandary the old-fashioned way. The name says, "Extra Tank", but it could just as easily be called Snoopy Smoke Extra Coil. It is essentially two entirely separate and rather high-capacity disposable vapes linked to a single battery.
The tanks are parallel, and the battery is in the middle. The same flavor is found in both tanks. Good for an estimated 15,000 puffs, the Snoopy Smoke Collection features some great flavors. Instead of swapping in a new pod or coil, you simply switch which side the mouthpiece is on and puff away.
Despite being essentially two disposable vapes in one compact device, the Snoopy Smoke Extra Tank is not notably larger than the industry standard for disposables. The 650mAh battery is also typical for a modern disposable, but the overall device capacity of 36ml is greater than a bottle of salt nic juice. Each tank has a durable mesh coil design, which is necessary as each individual tank holds 18ml, which is nearly as much e-liquid as its long-lasting rivals.
Snoopy Smoke Extra Tank Review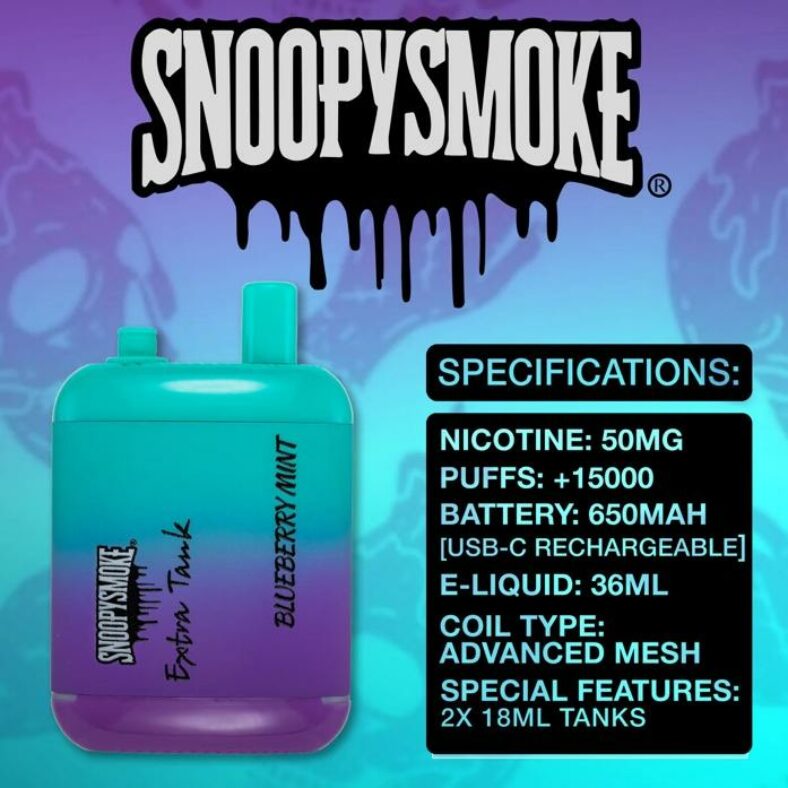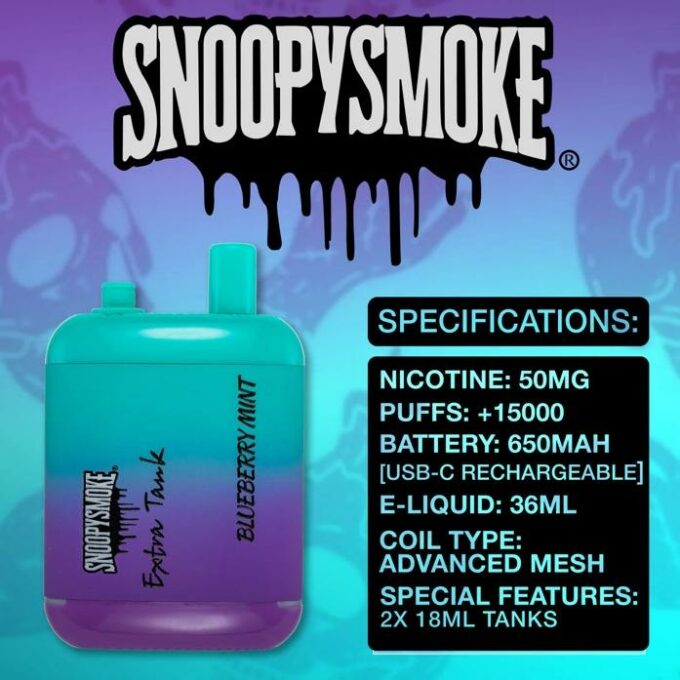 It is understandable if an adult vaper might think that a device with an extra tank and 36ml capacity would be bulky. This turns out not to be the case, as the Snoopy Smoke Extra Tank is easily fit in the palm of the hand, and it uses the rounded square shape first popularized by the BC5000. It does have a bit more heft to it, but that difference is measured in grams.
The mouthpiece of the Snoopy Smoke Extra Tank is quite small, and this is by design. There are essentially two disposable vapes here. One is plugged with a silicone stopper and the other with a small mouthpiece. After vaping the first tank, simply swap the stopper to the empty tank and the mouthpiece over to the untapped one. The perfectly cylindrical mouthpiece keeps the size down when compared to the slightly larger fixed mouthpieces found in its rivals.
The Snoopy Smoke is really two high-capacity disposables merged into one. There was some concern about the airflow, but each tank was engineered as a discrete unit. The draw activation operates crisply, and the flavor production is excellent. If you seek huge clouds and love vape tricks, a 50mg nicotine strength, 3.7v disposable vape is not the best tool in the box. 
Snoopy Smoke Extra Tank Flavors
Adult vapers have made it very clear they prefer sweet fruit and dessert-inspired flavors in their nicotine vapes. In disposable vapes, the addition of a cooling element also appears to be mandatory. 
The Snoopy Smoke Collection delivers these greatest hits. They are formulated soundly, which is crucial since this is a device that contains 36ml of e-liquid and will stick around for a while. 
Bahama Mama
Blueberry Raspberry
Pina Colada
Columbian Coffee
Strawberry Banana
Frozen Strawberry Cream
Black Ice
Triple Berry Ice
Strawberry Kiwi
Tropical Rainbow Blast
Grape Ice
Blue Razz Ice
Lush Ice
Cool Mint
Pink Lemonade
Watermelon Ice
Strawberry Peach Mint
Strawberry ice
Blueberry Mint
Snoopy Smoke Extra Tank Recap
Perhaps someday there will be a more elegant solution to switching tanks and getting more performance out of a compact disposable. But the swappable mouthpiece and stopper of the Snoopy Smoke Extra Tank couldn't be easier to use. It is a brawny little device that packs a ton of flavor, satisfaction, and puffs into a package not much larger than disposables with a third of its e-liquid capacity.
Snoopy Smoke Extra Tank Rivals
Realistically, there are not many disposable vapes in the same class as the Snoopy Smoke. Essentially two disposable vapes in one, it is good for three times the puffs of such luminaries as the Lost Mary OS5000 and EB BC5000. But there are a couple of credible alternatives, which approach or exceed five-figure puff counts. 
Flonq Max Disposable Vape
With an honest puff count of approximately 8500, and a rumored capacity boost and updated display coming this fall, the Flonq Max is one of the few disposable vapes equipped to make a run at the Snoopy Smoke Extra Tank. The flavors of the Flonq Max are almost unbeatable, formulated expertly for the American palate. It is a reliable and robust device with a supremely taut draw, and the carefully designed ergonomic mouthpiece does provide advantages of the removal chimney on the Snoopy Smoke, although it doesn't quite hang in there when it comes to longevity.
RabBeats RC10000
Probably the closest equivalent to the Snoopy Smoke Extra Tank is the RabBeats RC10000. Hitting the magic 10k puff count mark, it has anti-burn technology to prolong flavor excellence and coil life. Brought to you by the same people who created the Lost Mary, Funky Republic, and EB Create disposable vape collections, the flavors are extraordinarily good. Obviously, the devil is in the details with disposable vapes, the most popular flavors are offered in every device and the same group of flavorings are used to create the tastes that adult vapers love. But between its excellent draw and great taste, the RabBeats RC10000 stands toe-to-toe with the Flonq when it comes to delighting the palate.
The RabBeats RC10000 also has an impressive suite of features. You can monitor the e-liquid remaining and battery life. No small deal when operating a disposable vape that can last many days.
IceWave X8500
Powered by ZoVoo, the IceWave X8500 is a longer-lasting and chillier companion to the Drag Bar B3500. It is a sleek design, festooned with a bit of industrial art, and featuring screens that monitor battery life and remaining e-liquid. Holding 18ml of frigid and delicious nic salts, Ice Wave flavors were formulated for American vapers. They feature delightful fusions of sweet and cold flavors. The lean and taller shape is quite convenient, making this cutting-edge disposable a great option for anyone seeking long-lasting performance. 
Prime Bar 8000
The tasteful and pared-down appearance of the Prime Bar features more colors than the Flonq but is similar in its restraint. The puff count of 8000 puts it in rarefied air, not a match for the Snoopy Smoke Extra Tank but with few peers. An assortment of prime flavors makes it a great choice for any adult vaper who prefers the nic salt and disposable vape experience.