In this SnowWolf XFeng 230W Box Mod Review, I'm going to share the features, specifications, and give a glimpse into my thoughts concerning this mod. If you're a fan of Sigelei or the SnowWolf brand, you should know that the XFeng Mod is one of the more simplistic designs in the SnowWolf line-up, at least compared to what we've been seeing released from the brand within the last year or so. However, don't let its more simply crafted design detour you, this new device does feature a unique front and back plate to give it some jazz. And there's more to it, so continue reading to learn about the SnowWolf XFeng Box Mod!
---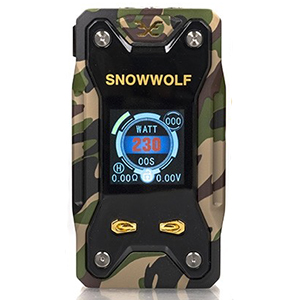 Appearance: As stated, the XFeng Mod bares a simpler design if you compare it to the most recent releases slapped with the SnowWolf branding. It isn't as simple as the original SnowWolf 200W or SnowWolf R, but it isn't sitting on the same playing field as the SnowWolf VFeng either. You can expect a little jazz from it, however. For instance, the sides sport ventilation slots that give it an enhanced appeal, while the front and back clear plates certainly give it that unique look. What you don't see, until you power the device on, is that there is a 1.30-inch LCD color display.
Features: When it comes to the features of the SnowWolf XFeng, I feel you'll be highly impressed, just as I am. Sure, we've seen mods that have power, temp control, and other features, but the XFeng offers even more. For starters, it holds dual 18650 batteries and offers a 3-button control face. It can reach up to 230W, while it supports a minimum resistance of 0.05 ohm. In addition, it boasts temperature control, up to 570 degrees Fahrenheit, and TCR functionality. Its colored display is where you'll enjoy this mod even more, visually and physically. Navigating through its functions and settings are easy, and its clearly visible colored display only helps. To make things even greater with this screen, you can switch between various display arrangements, making your experience with this mod that much more enjoyable.
Performance: As for the performance, I wasn't too impressed, nor was I let down in any way. Using this device honestly felt as if I used any other. However, you can say that many of the devices today resemble each other when it comes to performance. There are those that feel as if they're more accurate when it comes to power, giving off harder hits, but the XFeng didn't quite have that. All in all, using the SnowWolf VFeng will present a nice experience, where you receive consistent draws, great battery life, and features like temp control that perform just as they should.
---
Conclusion
While the XFeng Mod doesn't quite look as fancy as most of the mods you see today carrying the SnowWolf branding, it does offer unique styling, a compact design, as well as plenty of power. I tend to favor smaller mods, along with ones that aren't oddly shaped, so this one fits the bill quite nicely. While it is a mod with a small footprint, it still yields heavy-hitting power, your ordinary temp control functions, and it's capable of holding dual 18650 batteries. Overall, there's simply nothing that will disappoint you if you own the SnowWolf XFeng.