Blistered with class and sophistication, the new Stentorian Basilisk Box Mod is an extraordinary offering through high appeal, top-notch quality, and a performance that isn't like any other. Resting your eyes upon this brilliant box mod will immediately give you the feeling of a high-end experience and using the mod will continue to generate that effect. Stentorian Vapor has no doubt unleashed some incredible mods, such as the AT-7 Box Mod and the RAM Squonker, but nothing can compare to the all new Basilisk Box Mod, a hard-hitting, high-end resin dream mod.
---
GET THE STENTORIAN BASILISK BOX MOD HERE
---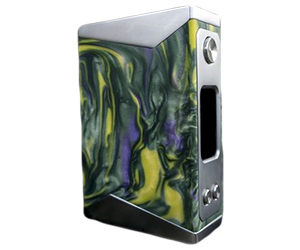 The Basilisk Box Mod by Stentorian Vapor features a remarkable appearance graced with high appeal due to its unique resin colors. Each Basilisk Mod is unique to one another, meaning no two colors will be exactly alike. Enhancing the already well-gifted quality of this fabulous offering, it uses a brushed stainless steel frame to secure its structure and increase overall durability. Maintaining the high-end appearance, the Stentorian Basilisk Mod boasts a three-button control face using a large firing button and two smaller adjustment buttons. Additionally, there is an OLED display with precise readout, making the viewing experience a pleasurable one.
Great looks, a superb quality, and an overall fantastic outer experience is nice and all, but the internals will be the part that moves this device forward into your collection. Not only does it look high-end, but it performs that way as well. It offers up to 200 watts of vaping power with a minimum resistance of 0.1Ω, ensuring that nearly any tank or atomizer attached will fire instantly. The power is hard-hitting and consistent, yet there is a unique DIY mode that allows for a more custom experience, which is tailored specifically for advanced users. To power this monstrosity of a device, the Basilisk Mod is capable of housing two 18650 batteries using a bottom-push type battery compartment for convenient battery replacement. Though that doesn't complete the many features incorporated into the Basilisk, we do want to inform you on its spring-loaded 510 connection that delivers a secure and solid connection each time an atomizer is attached.
There is no doubt in our mind that the new Stentorian Basilisk Box Mod is the next big thing to enter the vaping market. It boasts the high appeal that many seek and add to their collection, it uses high-end quality materials that makes this device both structurally sound and durable, and it offers a performance that stretches higher than its price tag, a perk that is certainly unusual when compared to other products in its class.
---
If you want to be one of the first to get your hands on this device, The Cloudy Vapor is currently accepting pre-orders. All pre-orders will also receive a random gift. Estimated time of arrival for the Stentorian Basilisk Box Mod will be the first week of October (2017). When ordering use pre-order coupon KeepitClassy for 15% off this product (only good while in pre-order).