Incredibly unique, highly innovative, and extremely advanced, the Tesla Double Barrel CP Couples Kit is an outlandish kit suited to knock your socks off! It's the first regulated dual atomizer mod on the market that was designed for hardcore vapers that want an extreme vape. Imagine a powerful regulated mod capable of up to 220 watts, two brilliantly designed RDTA's capable of supply two different e-liquid flavors, and one vaper to experience it all, at the same time! Meet the all-new Tesla Double Barrel CP Couples Kit!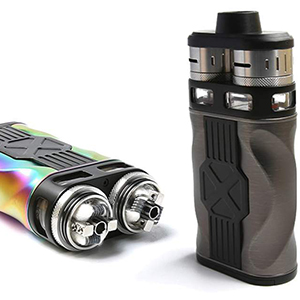 Combining the Tesla CP Couples Double Barrel Mod with two CP Couples RDTA's, you'll find everything about this setup is extreme. The mod starts off offering a reasonable size of just 94mm by 55mm by 28mm, while still maintaining the capability of holding two 18650 batteries. With extended sessions due to the dual battery configuration, you'll also be pleased to take advantage of its large power output with a 220-watt reach. In addition to great power, the Double Barrel CP Mod features several output settings, such as Normal, Soft, and Hard to truly define both taste and vapor output. Adopting the industry's latest tech, you'll also have access to a slew of temp control settings with the support of Ni200 Nickel, Titanium, Stainless Steel 216, as well as TCR adjustments. As a result of its extreme design, the Tesla Double Barrel Mod is regulated and features a built-in chip that guarantees a safe vaping experience while using such an advanced setup. To zoom through settings and operate the device efficiently, it utilizes a four-button control face and a 0.96 inch OLED display. One of its most prominent features is that it allows you to switch to a specific atomizer and control it individually. Run one atomizer at 100 watts, run the other at 50 watts — the choice is yours.
Positioned above the Double Barrel Mod are the two CP Couples RDTA's, rebuildable dripping tank atomizers designed specifically for this Tesla CP Couples Kit. Each RDTA is constructed of stainless steel for superior durability and quality, it features dual adjustable airflow control (one slot on each atomizer), and offers a large 4ML e-liquid capacity, totaling to 8ML. The build deck features a velocity style deck capable of both single and dual coil configurations with a large surface area for highly complex coil builds.
The Tesla Double Barrel Kit, though extreme, is an incredible addition to the vaping market because of its high versatility. Not only do you get to use a great mod with plenty of power and output options, but you also get to experience multiple e-liquid flavors on the fly, experience multiple wattages and power outputs on the fly, and receive two different vaping experiences with the switch of a button. Is it an extreme setup or a smart one?