During your time vaping many of you may have come across some rather expensive mods, but very few of you if any have seen a mod quite as expensive as Asmodus' new Plaque 150W High Roller Edition Box Mod.  This new brilliantly crafted mod will set you back $1999.95, and that doesn't include shipping either — just five cent from being two thousand dollars, who cares about the cost of shipping at that point, right?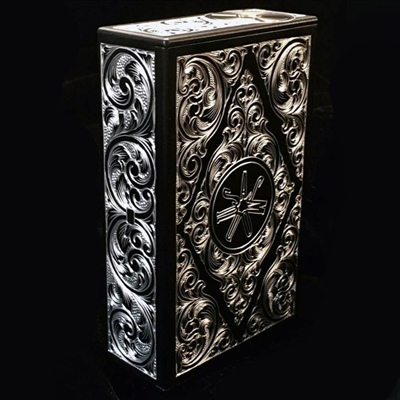 You may feel as if we're pulling your leg, taking you for a fool or feeding you nonsense, but this isn't the 'trick' part of October, nor is it the 'fools' part of April.  This is a real device, a real working mod, and a real big price for a mod that was only designed for those high roller vapers out there.  The question is, who in their right mind would pay this much for a mod, and what makes it worth the $1999.95 price tag that comes along with it?
There are some vapers that have an obsession to mods, some that hold large collections, and some that seek out mods that carry a hefty price tag, but I'm not quite sure there's a vaper out there that's paid this much for a device.  However, there is that one guy out there somewhere that has the money, has the obsession, and will give his right nut and left arm just to have something no one else or very few have.  We already see this type of behavior in the footwear market, where people are paying the same price for a pair of kicks that was the result of a collaboration between Adidas and Kanye West — they're called Yeezy's.
What makes this mod so different and what gives it the right to have such a large price?  Well, other than its appearance, it offers 150 watts of power just like many other mods available on the market, but it's powered by two 18650 batteries and a GX-150-HF chipset.  Still not impressed?  From the eyes of Asmodus, this hunk of metal deserves such a value because "it features custom deep, high quality hand engraved aesthetics throughout the body of the mod, along with having an amazingly vibrant finish."  They claim that this mod has undergone countless hours of custom work, saying that it's a true piece of art that deserves to be displayed in a museum.
I'm not sure if you all are thinking what I'm thinking, but it looks like a 5-year-old started scribbling all over this mod with with an engraver and set a two-kay price tag on it to make the quick and easy.  No, I'm joking, seriously.  The Plaque mod looks incredible, and I'm sure it in fact took hours of tedious work to deliver the stunning appearance that it offers, but I don't think targeting the guy with the mod addiction to get a quick lump is the right way to do this — you have to milk him for the two-kay, dummy!
No really, I can't see anyone paying this much for a mod, and I most definitely wouldn't.  What about you?  Are you a high roller vaper or do you know one that is?  Share this post with your baller ass vaping friends and they may just become Asmodus' next victim.