Back at it again, Flum Vapor has released yet another extraordinary device to add to its collection of disposables. The Flum Pebble Disposable Vape is the latest and greatest of them all, and it comes with more appeal, more style, a better design, performance, great tastes, and a high puff count to match. It's the best Flum vape device we've seen yet, and we're excited to share all of the information about it in this post. Stay tuned, we're just getting started!
Flum Pebble Disposable Vape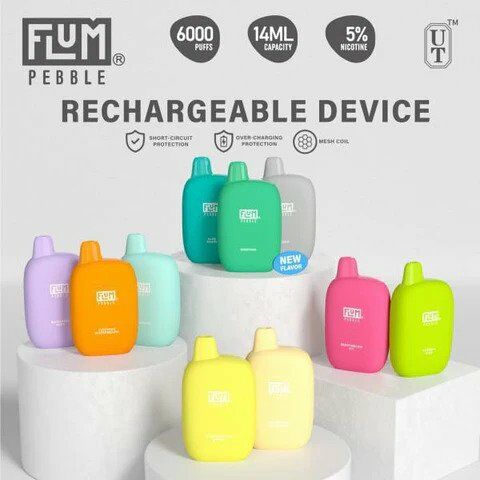 The Flum Pebble Disposable Vape is a premium vaping device that has somewhat of an oval shape, boasting a curved body that is extremely comfortable to hold. The mouthpiece was also designed for comfort, allowing your lips to wrap the smooth top. The device is also very compact and portable, giving you the opportunity to bring it with you anywhere. While the outside of the device looks pleasing, the inside is even more impressive, as it sports a large integrated rechargeable battery with enough milliamp hours to go the distance. For those times when needing to recharge, there is also a Type-C charging port equipped to ensure you're never left stranded. Alongside a hefty battery, the Flum Pebble also features an incredible 14mL vape juice capacity for weeks of vape time. Of course, to provide safety and convenience, the Flum Pebble comes with a full protection suite and an automatic firing mechanism. The end result is 6000 puffs to explore with the most remarkable flum flavors.
Flum Pebble FAQs
Flum Vapor Collection
While the Flum Pebble Disposable Vape is the latest device to join the series, there is a whole Flum Vapor collection that exists. Below we'll list the Flum Vapor collection, which consists of various devices ranging in puff count, battery size, capacity, and available flavors. Experience popular devices like the Flum Float Vape, Flum Wafer, and more.
Flum Float Disposable Vape
Flum Gio Disposable Vape
Flum Ultra Disposable Vape
Flum Nic5 Disposable Vape
Flum Pebble Disposable Vape
Flum Mi Disposable Vape
Flum Wafer Disposable Vape
Flum Neno Disposable Vape
Within the collection, you'll discover all different types of flavor profiles, stretching from the famed Flum Float Red to the delicious Flum Pebble Strawmelon Apple. Unleash your taste receptors and experience all that the Flum Vapor collection has to offer.