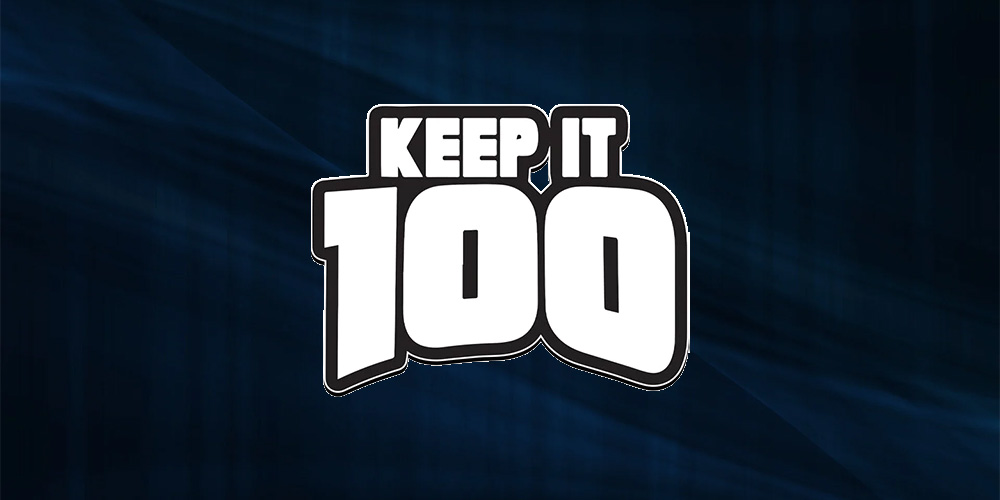 Keep It 100 is a brand of premium vape juice for use in electronic cigarettes, more specifically, vape mods and pod systems. The company was founded in 2014 by two dedicated vapers who wanted to create top-quality vape juice. Since then, the company has gone from strength to strength and now offers over 20 unique flavors, ranging from fruity to savory.
Each of Keep It 100 vape juice flavors is crafted with only the finest ingredients, sourced both domestically and internationally. All ingredients are carefully selected to ensure that they meet the highest standards of safety and quality. Additionally, all their products are manufactured in an FDA-registered facility that complies with Good Manufacturing Practices (GMP).
The team at Keep It 100 takes in their products and is committed to providing only the best vaping experience. Their vape juice comes in three different nicotine levels (0mg, 3mg, and 6mg) so that users can find a suitable level for them. The company also offers a variety of unique blends, such as the popular "Strawberry Shake" flavor which combines sweet strawberry with creamy vanilla for an unforgettable taste.
Whether you're a seasoned vaper or just starting out, Keep It 100 Vape has something for everyone. Their e-liquids are designed to give you an intensely flavorful and enjoyable experience every time, so why not give them a try? If you're looking for top-quality vape juice flavors in various nicotine levels, then Keep It 100 Vape is the brand for you! The team at Keep It 100 is passionate about vaping and strives to provide the best products on the market. Their dedication to quality, safety, and customer satisfaction sets them apart from other brands in the industry. Try it today and see what all the fuss is about.
Keep It 100 Flavors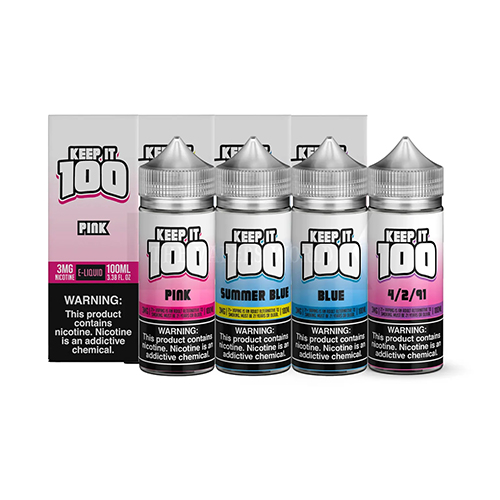 Blue: Enjoy this amazing concoction of flavors that brings you the perfect mixture, and the best taste. This incredible flavor combination consists of raspberries and blue raspberries, bringing together a pairing that anyone would appreciate puffing on.
Iced Blue: Adding a bit of excitement to your vape, this flavor offers everything you love about "Blue" and showers it with the cooling sensation of ice-cold menthol. The blend is sure to become your favorite with its mix of raspberries, blue raspberries, and menthol.
Trop Blue: Indulge in this fantastic flavor profile that impresses you and your taste buds. From the first puff to the last, you'll enjoy everything about this mixture of blue raspberries, sweet strawberries, and tropical fruits.
Summer Blue: There isn't anything quite like this delicious flavor creation that has become a favorite for many vapers worldwide. The incredible blend combines blue raspberries and lemonade, perfect for recreating a blue raspberry lemonade flavor.
BAL: When looking for a flavor different from what you are used to vaping, this is definitely what you need. This flavor profile is absolutely delicious, savory, and sure to satisfy your tastes with loads of strawberry milk flavor.
Fusion: If you never thought you would find another more amazing blend than what you're vaping now, luckily, you just found it. This excellent blend mixes together strawberries and kiwis for a fantastic fruity combination.
FTC: It seriously couldn't get any better than this concoction that we just know you're going to fall in love with from just the first puff. It combines those famed crunchy squares with milk to recreate the taste of a cinnamon cereal flavor.
4/2/91: It's definitely someone's birth date, so why not help them celebrate and experience an amazing flavor that you'll never want to stop tasting. This delicious flavor recreates the taste of birthday cake, giving you a celebration with each puff you take.
Pink: There is nothing more pleasing than this craving-eliminating flavor. It combines a juicy strawberry flavor with a sweet candy flavor, giving you a deliciously sweet treat that will become one of your all-time favorite vapes.
MLOW: Just imagine that taste of marshmallows and cookies, all combined with one another to create a treat that you'll love vaping any chance you get. The mixture of flavors perfectly mimics your favorite marshmallow treat.
Orchard: This apple-focused flavor is everything you have hoped for, giving you and your taste buds a unique experience of an orchard. It is a decadent flavor profile that combines apple cider and donuts into one amazing vape.
Maui: When you're ready for the taste of paradise, this is the flavor you should be thinking about. It offers the taste of Maui, or at least what you think would represent it by combining guavas, lychees, and passion fruits together.
Bacco: There aren't many tobacco flavors on the market that deliver an experience that will keep you coming back, except for this one. It is a perfectly concocted blend of tobacco that offers rich and bold notes you'll be familiar with.
Foster: Dazzing yourself in loads of flavor with this special creation. It is a blend that combines banana, cinnamon, and vanilla flavors to create a delicious banana foster dessert. This all-day vape is sure to become one of your favorite vapes yet.
Dew Drop: Experience an outstanding flavor profile that mimics your favorite dew soda flavor. This amazing blend features a mixture of lemon and lime and combines it with a soda flavor to create a familiar taste you'll love puffing on.
Purple: If you are truly wanting a flavor that you simply cannot get enough of, this is the one to consider. It is a delicious blend that brings together a mix of grape candy, sugar, and lemonade for a one-of-a-kind vaping experience.