We're sharing the Top 3 Best Color LED Vape Mods, which will list the best mods that have incorporated colorful LED's to enhance the appeal of a device. With an abundant amount of mods already available on the market, new color LED vape mods are emerging more often. There's only so much you can do with the outer appearance of a mod, so manufacturers are beginning to turn their sights towards enhancing the casings of mods with colorful LED lights. Fortunately, these LED lights are cool, fun to use, and they drastically change the appearance of the mod in various ways. Some offer a subtle look, some are more geared towards being fancy and adding bling, while others were designed to feature a more aggressive look. You'll see those differences in the list we've compiled below.
The Top 3 Best Color LED Vape Mods
1. SMOK T-Priv Full Kit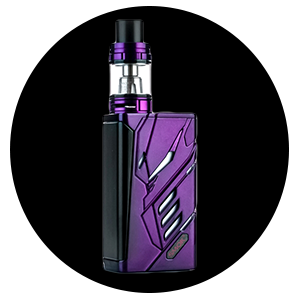 The new SMOK T-Priv Full Kit combines the SMOK T-Priv 220W Mod with the SMOK TFV8 Big Baby Beast Tank, one of my favorite tanks of all time. This mod delivers plenty of features, such as the ability to reach up to 220 watts, three setting output mode that allows you to take advantage of hard, normal, and soft settings, then there's also temperature control, a top mounted OLED display, and an innovative firing mechanism. Holding two 18650 batteries and being constructed of zinc alloy, this is a fantastic mod to both use and own, no doubt. However, what makes this beast of a device fit onto this list is its aggressive appearance, partly due to the 9 color LED lights on the device that you can change to your liking. The 9 colors include cyan, white, rainbow, red, green, blue, yellow, magenta, RGB, and you can even choose between different light display styles, such as fade, jump, or you can stick with normal. The SMOK T-Priv Full Kit includes the TFV8 Big Baby Beast Tank, a sub-ohm tank I literally use every day and on multiple devices. It sports a 24.5mm diameter, a stainless steel and glass construction, it has a top fill design, a 5mL e-liquid capacity, dual adjustable airflow control, and uses the baby turbo coil family. The kit includes the V8 baby T8 coil and the V8 baby Q2 coil, which I use. The T8 will allow you to reach up to 100 watts, but has more of a restricted type airflow, while the Q2 will allow you to reach up to 80 watts and has a really wide open airflow.
GET THE SMOK T-PRIV FULL KIT HERE >>
2. Sigelei Kaos Spectrum Mod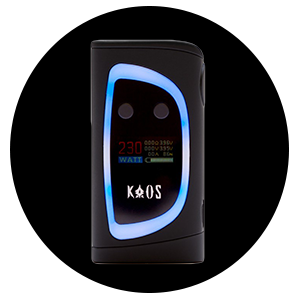 The Sigelei Kaos Spectrum is one of the best color LED vape mods that I've owned. In fact, out of all the mods I own, and I own many, I prefer to use my Sigelei Kaos Spectrum with the SMOK TFV8 Big Baby Beast Tank. The two perform great and I love the look of them both. Though I don't use the LED lights as much these days, it's still a nice option to have if I feel in the mood for a different look or to get people talking. The Sigelei Kaos Spectrum is a super simple device, yet comes packed with plenty of features. Using this device you can reach up to 230 watts, there's a bypass mode, a preheat function, it's firmware upgradeable, and comes with a full temperature control suite. Moreover, it has a nice 0.96 inch TFT color display that changes color depending on current settings, it features a three button control, it's constructed of zinc alloy, 2.5A max charging current, holds two 18650 batteries, and offers plenty of safety features. The cool part about all of this is that it also features an LED color light screen bezel, which allows you to run through up to six colors, truly giving the mod a different look with each choice.
GET THE SIGELEI KAOS SPECTRUM HERE >>
3. Limitless Ply Rock Pulse Pod System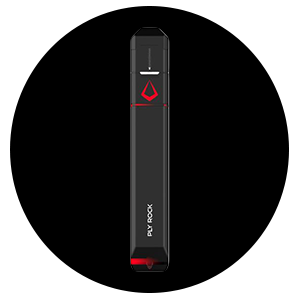 While it isn't necessarily considered to be a "mod", it does feature color LED lights along its chassis. We want to keep this list as diverse as possible, while still staying true to our goal, which is compiling a list of device's that feature color LED's to enhance appearance and other characteristics of the device. The Limitless Ply Rock Pulse Pod System is an ultra portable pod system that sports an all-in-one design. This AIO design utilizes refillable pulse pods that offer a 2mL e-liquid capacity and a proprietary connection. While its plug and play connection, 380mAh built-in battery and 8-watt output is impressive for such a device with such a small footprint, our focal point for the Limitless Ply Rock Pulse Pod System is its modern and aggressive design that's equipped with LED accenting. These color LED lights run down the sides, base, and front of the device. It's also button controlled, allowing you to sift through multiple colors to further its appeal.
GET THE LIMITLESS PLY ROCK PULSE POD SYSTEM HERE >>