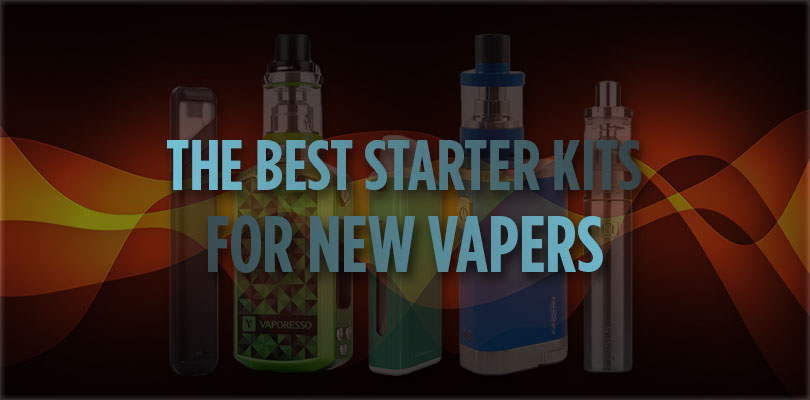 Feast your eyes on the top 5 best starter kits for new vapers. In this article we list five compact, high performance and very versatile starter kits with the full details, pros and cons of each product. This list was created with the consumer in mind, as there are many different types of vapers that exist. Some enjoy high wattage and a box shape, some prefer portability, while others might prefer simplicity. This list will target all audiences, helping you find the best starter kit.
---
1. Vaporesso Tarot Nano Starter Kit
The Tarot Nano Starter Kit by Vaporesso remains to be one of the most appealing, compact, and versatile starter kits to ever exist. The starter kit consists of the Tarot Nano 80W TC Mod and the Veco EUC Sub-Ohm Tank. It includes two coil options, a spare glass tank, spare o-rings, a micro-USB cable, and a user manual. What's fascinating about this compact powerhouse is its appearance, first off. It offers modern appeal, various color and look options that are certainly enticing, and a matching tank to top off its overall theme.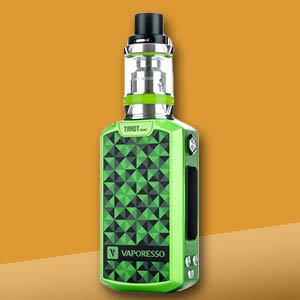 What makes the Vaporesso Tarot Nano Starter Kit one of the best starter kits for new vapers is its variable wattage power that allows users to reach up to 80 watts. Along with a solid power offering, the Tarot Nano has a built-in 2500mAh battery, meaning users will be able to enjoy using the device for lengthened periods. Though we feel this kit suites the new vaper perfectly, it does offer some advanced features that we feel are still compatible with users that just started vaping because of the equipped safety features. The Tarot Nano sports a temperature control function that will reduce e-liquid consumption, increase battery life, while allowing the user to dial in to a specific temperature to maximize satisfaction. The "TC" feature supports Ni200 Nickel, Titanium, and Stainless Steel heating elements, while also allowing users to fire down as low as 0.15Ω and adjust temperature from 280 to 600 degrees Fahrenheit. Furthermore, the Tarot Nano uses an extremely accurate OMNI board that's capable of delivering various features, such as a Bypass mode, low voltage protection, short-circuit protection, low resistance protection, low battery warning, and due to it having the ability to be upgraded in the future, the device will advanced in both features and performance as technology for these devices progress.
As for its toppled tank, the Veco EUC Sub-Ohm Tank provides a 510 threaded connection, a 22mm diameter, while sustaining a reasonable 2mL e-liquid capacity. It's offered with a durable stainless steel construction, while delivering capable features to share an overly satisfying vaping experience, such as a top fill design, top adjustable airflow control, while in the meantime being leak resistant to avoid the common messy part of using e-liquid products.
---
[mks_icon icon="fa-check-circle" color="#81d742″ type="fa"] Pros: The Tarot Nano Starter Kit has a compact design, fits comfortably in the palm, looks remarkably appealing, while also delivering in both battery life, power, and overall performance.
[mks_icon icon="fa-times-circle" color="#dd3333″ type="fa"] Cons: The Tarot Nano Starter Kit offers great features and is more advanced than any of the other starter kits on this list, but may come off as too advanced for some new vapers.
[mks_button size="large" title="GET THE VAPORESSO TAROT STARTER KIT HERE" style="rounded" url="https://www.southbeachsmoke.com/vaporizers/vaporesso-tarot-nano-80w-tc-kit.html?A=4368″ target="_blank" bg_color="#dd9933″ txt_color="#ffffff" icon="" icon_type="" nofollow="1″]