For years Uwell has been at the top of the game when it comes to vapor products, and it has gained most of its reputation for developing some of the industry's most recognized tanks. It has since started to dabble in the device market by producing high-performance vaping devices that quickly gained attention and solid reviews, and recently it has taken a stab at the market for pod-based devices, which has been quite successful from devices like the popular Uwell Caliburn. The Uwell Amulet Watch Pod System is the latest to join its series of pod-based devices and this one will certainly be the highlight of the market for some time to come.
The Uwell Amulet is merely just another vape pod system, yet it's anything but ordinary. In fact, as wild as it may seem, the Uwell Amulet is ultimately a watch that also acts as a vaporizer, or to be more specific, a pod system. While you are immediately thinking that it's just another gimmick to try and urge you into paying for another device that you'll eventually toss for something better, the Uwell Amulet is quite impressive. Its straps wrap around your wrist and display the date and time just like any other modern smartwatch of today.
Watches were fazed out at one point due to smartphones but within the last few years have made a significant comeback due to the technology that is being coupled with them. Some watches now track your steps and help you stay fit, some watches will allow you to connect with people and stay up to date on social and news, and the Uwell Amulet Watch Pod system allows you to vape. Just like the others that fill a void and offer greater convenience, the Amulet does the same thing. You no longer have to worry about carrying around a pod system or device in your pocket, you can tell the time and date just like any ordinary digital watch, and when it's time for a quick draw or two, simply pull it from the watch band and replace it when you're finished. We're in the year 2019 people, we knew this was coming!
Uwell Amulet Watch Pod Preview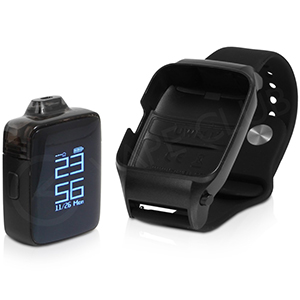 To enlighten you on the world's first watch pod system, it stands at 47.7mm by 37.58mm by 17.2mm, so it's obviously super compact and fits on your wrist nicely. You could even take it back old school and strap it around your ankle if you want to see if you can resurface that trend (only late 80's and early 90's kids will know what I'm talking about — I'm getting old). The entire chassis is constructed of PCTG, silicone, and polycarbonate material, giving insight into its incredible durability. Though small in size and durable in its construction, it still manages to come with an integrated 370mAh rechargeable battery and equipped with a micro-USB port for charging.
Much like any other modern watch of today, the Amulet comes holstered in a watch straw carrying case, it features a release switch for those times when you're ready to vape, and besides that you're able to view the time and date on its OLED display touch screen, as well as making appropriate selections from the touch button. Aside from its tech and having built-in features, such as protection features and being able to view data on the high definition display, using the Amulet has been made super simple due to the draw-activated firing mechanism, which allows you to take draws without having to manually press a button. The device also sports a 2ML capacity pod that boasts an integrated 1.6-ohm coil, and filling the watch vape pod system is simple as well, due to its bottom fill system that utilizes a silicone plug.